Top 11 Social media marketing tips that every business owner must know to succeed online in 2020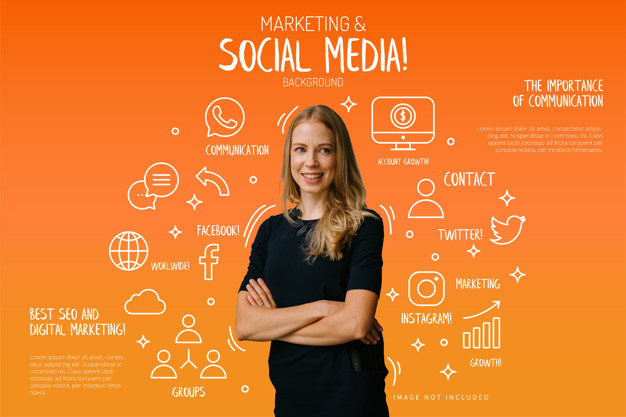 Originally published on vishal.digital
For many small business owners getting started on social media can be overwhelming.
It is mostly because they are unaware of the advantage each platform can offer
and how social media marketing can boost their online presence.
Most of the small business make mistake in not knowing who their customers are, who their competition is against, how to keep their audience engaged and which right platform to choose.
One of the best benefits of social media is to connect directly with fans and potential customers.
If the strategy is implemented right that it can be great for building brand awareness, loyalty, and an effective lead generation.
In this blog, I will show you 11 social media marketing tips that every business owner should know before they're starting their journey on social media.
Tip#1. Having Smart Goals and objectives for your social media marketing activities
Smart goal defination
Every good business has good goals, so your social media should be too.
And it must follow the SMART Framework – That is Specific, measurable, attainable, relevant and timely
For example:-
Increase unique visitors to our site by 3X from social networking sites in 5 months
Increase FB fans by X members in 8weeks
Increase blogs/newsletters subscription by X% in 4months
Increase twitter mentions by 500% in 6months
Make your goals on metrics that will have a real influence on your business. The right data encourage business owners to let know that their investment in social is paying off.
Tip#2 Know your social media audience
Most of the marketing experts will say that the first step in creating a successful campaign is to know your audience very well. The same thing holds true for social media.
It is very essential, that you need to figure out to whom you're reaching on social media and where they can be found. To do this process you need a buyer persona.
A buyer persona is an imaginary representation of your ideal customer.
Few of the factors which should be considered while making the buyer persona are
-Age
– Location
– Income
– What is their pain point?
– Brands they follow
It is important to relate your audience, without understanding their pain points, you cannot promote your product which will be going to solve their pain point.
Hence it's necessary to have a buyer persona for creating better content, which can provide value to the users according to their needs. So that they can relate and interact with your post ad, which increases the engagement rate.
You can always ask help from a Social Media expert to get started.
Tip#3 Do a social media audit
If your business is already on social media, then its the right time to evaluate what has been done till now.
Social media audit is a process where one evaluates the ongoing social media strategy, to know what worked and whatnot.
auditing in social media marketing plays an important role, gives you a clear picture of all your social activities
it is a single
Here is Hootsuite's link for social media audit.
Tip#4 Create a social media calendar
Every good social media strategy requires regular publishing and keeping the audience engaged. To do that you need lots of good content ready, social media calendar
Above is the example for the social media calendar
A social media calendar helps you stay organized and helps you in posting the right content to the right social platforms at the right time.
It can be used to track the performance of the past and strategies for future posts
For content tip: start with the 80-20 rule:
80 percent of your content should inform, educate, or entertain your audience and 20 percent should be to promote your brand or sell your products.
Tip#5 Spy on competitors
If you're starting out then it is very important for you to check for the competitive analysis. Because the competitors have already tried and tested recipe of what works and what doesn't.
So use that to your advantage. Obviously you don't want to copy from the competitors, instead, you can learn from them and improvise the strategy. Which can save you from the long learning curve
The best way is to start with the big players, they have most followers count and engagement rate.
You can use facebook pages to identify your biggest competitors and you can compare them with your own page metrics such as activity, engagement and audience growth
You should keep an eye on their email strategy too and their content. A good email marketing tips can get you the good result
The most important thing is to look at the engagement rate, competitors with high engagement rates are the one should focus on.
---
For more social media marketing tips : Click here!
---
Need help? with social media for your business growth then contact Social media expert