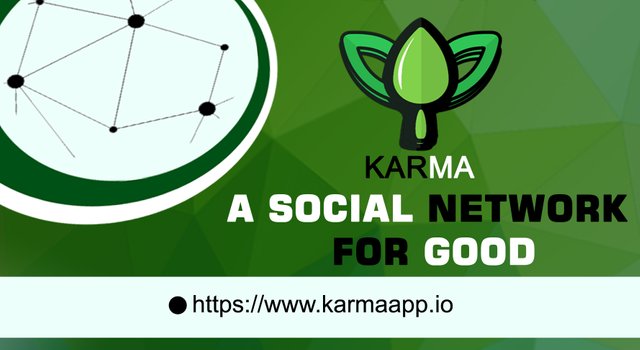 ---
What is the KARMA App?
KARMA is a decentralized mobile application built on EOSIO contract devices. At KARMA you can publish content in the form of photos or videos. Published content must have the value of goodness in the form of original content, interesting, educative and of high social value. Every user who contributes to this mobile project will receive a KARMA coin. KARMA rewards can be obtained through likes / upvote points provided by community members on the KARMA platform.
---
Philosophy of Development of DAPP KARMA
You will find many moral values ​​contained in this highly sophisticated technology. If observed from the side of technology development, the KARMA application is designed to drive human action on charitable and honest deeds. This will ensure that there are many people who are in need of donations and to whom it is appropriate for us to contribute. The community has broadly opened the community's resilience towards a higher level of social sensitivity.
This of course will provide a fairly concrete definition of this application. I myself will define KARMA APP as one of the decentralized applications that moves people to do good deeds. So far we can also go from this room and move to the hemisphere of the African continent and some other places that are in a food crisis, and moniter. This situation will encourage community members to be actively involved in various humanitarian activities.
If you explore this further, we will get one quite interesting review. Almost every year in the hemisphere there are various crises that hit human life. Whether it is in the fields of health, food, clean water, or moniter conflict. There is nothing wrong if those interpretations will enable community members to establish foundations that are engaged in social, charity, humanity, or other financial assistance.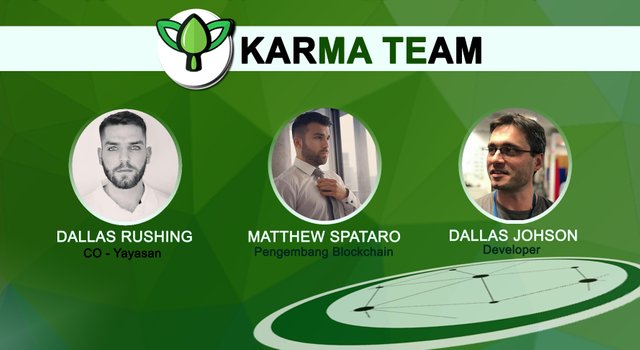 ---
KARMA APP Developer
The success of the launch of charity-based applications is inseparable from the participation of team members. They are great people who have designed this application so that it can be used by the general public. It is important for us to know who are the people involved in developing this application.
Quoted from the official KARMA App page, the team involved in making this application are great people who have talent in the world of the wall of the Blockchain gi. They are trusted people who have involved themselves to develop applications built on the EOS Blockchain.
They are great people who have decades of experience in marketing and development. They have focused on creating one application that can change the world that will change the way we interact with each other's interface.
---
Interacting To Login KARMA app
Karma is a decentralized application that can be accessed via Android and iOS mobile. To interact with the interface in this application the user must first have a wallet called the EOS wallet name.
There are several media to get eos wallets. For example through the application meet.one, Eos Lynx, tokenpocket and so on. Of the three wallets, I advise you to register in the els lynx application. Registration of eos wallet on eos lynx is very easy. Users only need to enter the name of the account they want to register by entering 12 characters consisting of letters and numbers. The payment process at Lunx can be done by credit. Users will pay a total of 14. 000 rupiah which can be transacted via a cellphone card.
If successful, you will get a private and public key. To enter the karma application, you only need to enter the private key. You will be directed to the room after copying several requirements made by the community.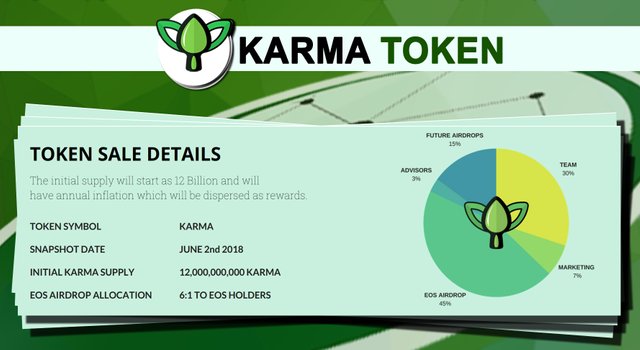 ---
Getting Karma Rewards
Users who contribute according to the rules of the community will get rewards in the form of KARMA coins. there are around 30 million KARMA that will be distributed to users at the beginning of the 30 day period. In addition, every day KARMA will be produced in the amount of 1,297,1400. The prize will be shared with each user who meets the requirements.
The prize is distributed on several levels:
Content will be paid for 90% of the total upvote.

25% photo content, 75% video content.

Developer of 10%, which is used for sustainable development funds.
KARMA coins have been traded in several markets, including the Bancor, dragonex, Bigone, and OTCBTC networks.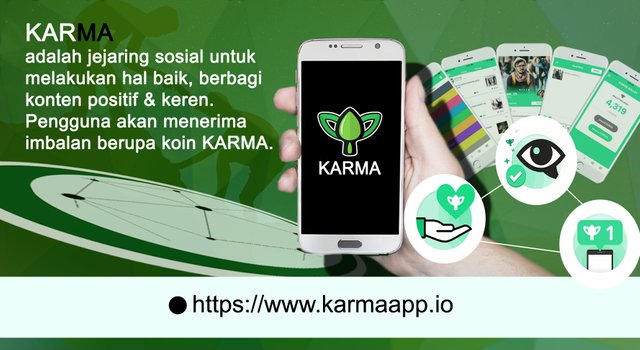 ---
Other Unique Features in Karma
1. Space in the KARMA application.
You will get several features available in this application. KARMA has many things that you want like other social media. The features in this application consist of upvote, downvote, comment, share, category, and also user profile, and wallet.
In addition, users will simply place their inspirational ideas through the post space. Finding interesting ideas of course will get incredible inspiration to share at KARMA. Karma has provided space for users to interact with the interface and provide value to other people in the world. All can be done by just pressing the click button.
2. Power Up Improves Upvote Quality
This concept was created almost the same thing as in blockchain steams. At KARMA users can strengthen KARMA to add upvote values ​​by placing KARMA in the upvote power section. The deadline for moving it to power only takes 3 days. Users can also withdraw this after removing it from power, the transaction will also occur for 3 days.
This initiative is given to increase the upvote value to be stronger. What is different from steem is that the transaction process at KARMA runs in a short period of time and without any compensation. In this case the user is given the right to manage their wallet as well as possible.
3. Avoid Abuse
Videos or photos published on KARMA must be based on the terms and conditions set by the community. All community members have the same responsibility to improve the products produced by other community members. To avoid cheating, KARMA gives an initiative to users to downvote. In addition, users are allowed to report things that are suspected of being spam. The report will work for 3 times a warning. After getting a report posting will be frozen. Downvote features and spam reporting are the only way to avoid cheating in the KARMA community.
---
What needs to be highlighted from the KARMA app?
Of the many DAPPs that were present at the beginning of this year, KARMA has really been the center of my attention. There are several models of tokens on social media platforms that are intended for rewards, security, spam, trolling and avoiding Sybil's attacks. The supply limit of tokens will certainly avoid transactions against the whale's ferocity and monopoly. All projects are designed to ensure who is most entitled to get tokens based on their performance.
I have explained that this is quite long, until it is interesting to then issue an opinion about this application. It is not wrong if I try to emphasize that nothing is impossible to improve. Karma is one of the new applications and has ventured to be marketed to the public.
I just want to ask, why doesn't KARMA bring police bots to avoid content plagiarism? Why is the role of control only charged to users to do reporting or just by downloading? I prefer to see this project work automatically to ensure that there are fraudulent actions carried out by the user. Maybe I am more interested in seeing the ceetah working in Steem.
Much more than that, How safe and honest is this application? How can governance work well to minimize inflation? It seems that there will be further efforts to control inflation, change the amount of compensation, and control the marketing of tokens.
In my search on the internet it was explained that there were around 455 EOS used to attract KARMA daap resources from EOS. What will happen to the next transaction?
It seems that users also have obstacles to be able to directly access this application. If the user is charged to first have an EOS account, is this the only way?
So far there are many things that I have not yet explored from this application. Including what if this application becomes an open source application?
While waiting for answers to the question. There is nothing wrong if you try to surf directly in the KARMA App.
Images designed by @ponpase
Note: I am not a financial advisor, there is no coercion to take further action. The above reviews are obtained based on searches on the internet network and experience using the KARMA app. If you have the latest information from trusted sources, please correct my review in the comments column.
Information Source:
---
Vote To Witness
https://steemit.com/~witnesses
By : @ponpase| From Indonesia
For : Science, Life, Spirituality, Inspiration, Nature, Philosophy.