Recently, Amazon launched a new service called Spark, which is remarkably similar to Instagram's photo-sharing service combined with the categorization functions of Pinterest. However, Amazon has bested their rivals in one important way: the images on Spark are more intelligently shoppable than the sometimes cumbersome method employed by Instagram.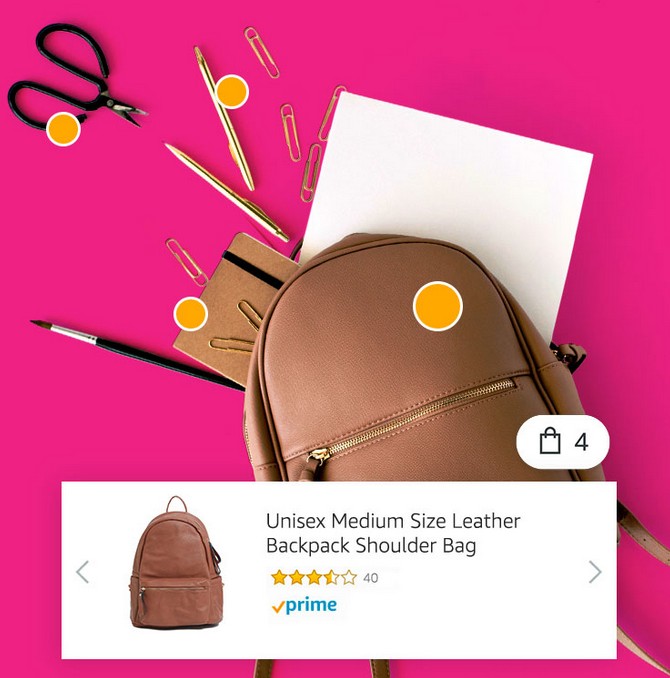 Sample image of the shopping experience on Spark, courtesy of Amazon.
Spark takes the customer photo-posting functionality of the main Amazon site and gives it its own ecosystem within the iOS app, including the ability to shop directly through product photos. Spark is designed to encourage Prime members to share photos and product suggestions. One must join Amazon Prime and meet certain criteria or already be a member with a shopping history on Amazon to post on Spark, although all customers with an Apple device can use the app. The photo-centric service gives it a greater sense of social sharing than merely shopping the main site.
With this new service, Amazon is paying selected influencers and brands to curate content on the new platform in exchange for a commission, similar to the Amazon Associates program. Paid content is notated with the hashtag "sponsored." Only invitees to the program are being paid for their content at this time, however this is a step towards turning Amazon into a paid platform for all users.
It remains to be seen how this new service may affect the quality of people's reviews if there is a financial incentive to contribute. It works for Steemit, but will it work for Amazon? Will shoppers trust the reviews if the reviewers have been paid for their words? For years, people have receive products for free or reduced prices from various Amazon review services in exchange for a review. While those reviews are hopefully free of bias, it's subject to speculation as to how many of those reviewers did their best to give the products a positive spin to ensure a consistent flow of goodies from vendors.
Amazon Spark left beta and went live to the world on July 18, so it's only 10 days into its lifecycle and much remains to be done. On July 30, Amazon users who previously left product reviews using their customer profile on the main site will be able to import those posts into Spark, adding much more content to the fledgling service.
Spark contributors are called Enthusiasts, a label similar to the Reviewer designation found on the main site. All Spark users are linked to their customer profile on the main Amazon site, and most information shared on Spark is publicly viewable, although purchase history remains private. Spark allows users to follow others, similar to all social media sites, however, it currently doesn't allow users to search for individuals by name. Spark users show support for the contributions of others with "smiles," which is similar to a Facebook "like."
If you liked this article, please support @Hartiverse by upvoting and using my Amazon Associates link for your shopping: http://amzn.to/2uGuKfU or Try Amazon Prime 30-Day Free Trial

Thanks!