Source

Introduction
---
Our modern lives have evolved in such a way that having a presence in several digital platforms can sometimes be considered as a requirement to have the type of interactions we all need in order to experience life to the fullest. The digital world has been taking over every aspect of our lives, and this trend will further continue in the coming years, with a forever increasing integration between our physical self and our digital profiles.
One of the most important types of platforms in which people tend to invest a lot of their time, is in those where they can meet potential partners with which they can have successful relationships and share a happy and loving life.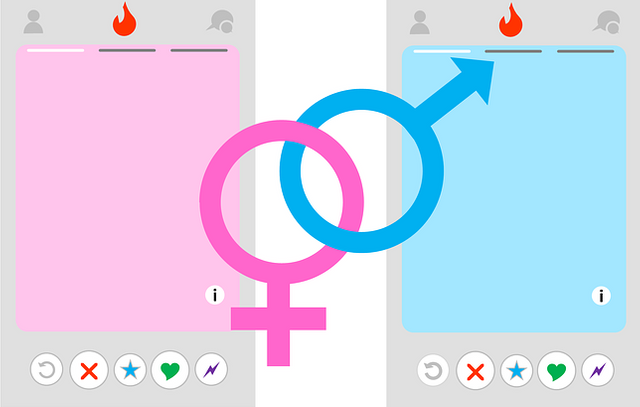 Source
This niche has very popular projects like Tinder, OkCupid, among others, but there are always opportunities for new platforms to emerge, especially if they implement new technology with a lot of potential to be properly exploited, and are able to offer new developments that are more sophisticated than what's currently available in the market.
Such is the case of Viola.AI, an innovative project whose platform is designed to leverage both blockchain & artificial intelligence technology, to develop a disrupting solution that can surpass what earlier competitors are able to offer to the market.
However, if we want to properly understand the potential impact that this platform can have in the market, the first thing we need to realize is how bad are the shortcomings that are negatively affecting the current users.

Current problems affecting today's dating platforms
---
There are 2 main problems that damage the experience people have when using this type of platforms:
Catfishing + scams: catfishing is a common term but its meaning is not always very clear, it is defined as:
Catfishing is common on social networking and online dating sites. Sometimes a catfish's sole purpose is to engage in a fantasy. Sometimes, however, the catfish's intent is to defraud a victim, seek revenge or commit identity theft. Source
There have been several cases reported in the news (and there are surely many more that remain unknown) of people being scammed by fake online profiles in dating apps, what happens is that the scammers create these profiles using the pictures of good looking people, and they start to act on a predatory way, hunting for lonely and vulnerable users that are desperately trying to know and connect with other individuals. Once they manage to gain their victim's trust, the scammers start to ask for material gifts, especially for money, using several of their well-trained excuses.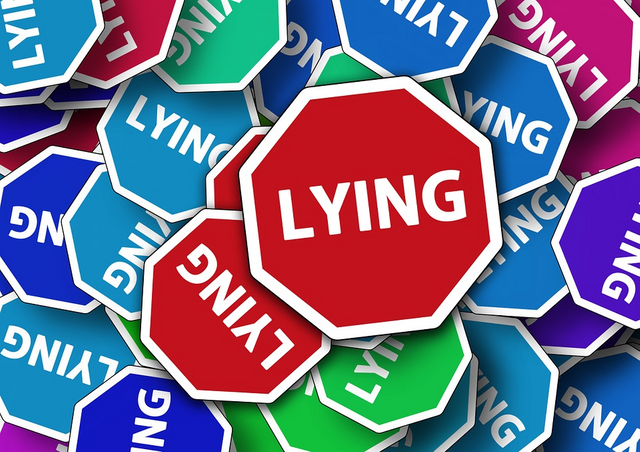 Source
The end result is that the victim never meets the person they were interested in, because the profile was never authentic in the first place, and even worse, they end up with less money as a result of the gifts they sent to the scammer. This is one of the most dangerous things that can happen when meeting people through online platforms, and so far developing strategies to stop this type of scammer have been quite challenging.
Hacking: suffering from hacks can leave personal information exposed on the web, and malicious actors can use this information to blackmail people and cause damage to their lives. There have been several hacking incidents within dating platforms, and sometimes, the private information of popular individuals has been leaked.
Avoiding hacks have always been extremely difficult, it is a never-ending race between the sophistication of the security measures and the hacker's skills, however, by implementing blockchain technology with its inherent decentralization, the level of security against hacks is undoubtedly increased.
There is also a third problem that affects the dating platforms, and it is the potential lack of sustainability in case the majority of users are able to successfully find a partner, once the user stops being single, it is very likely that user will stop using the platform, which might put the platform at risk in case the number of users begins to decrease.
All of these issues can be solved thanks to the technologies that Viola.AI implemented in their platform.

How can Viola.AI offer new solutions to the market?
---
What makes Viola.AI different from the traditional platforms is the implementation of 2 technologies that are changing the world on their own.
Artificial intelligence: this will allow the platform to interpret the information shared by the users and analyze it in such a way, that the platform itself would be able to figure out the best matches for potential partners, and not only that, it can also continue to provide valuable advice to the couple throughout the years, even after they get married, becoming in what could be considered as the first smart love advisor of the digital world.
The AI will also be used to confirm the authenticity of each and every user, by scanning in real time the face of the person and comparing it to the already uploaded pictures in other social media platforms like Facebook or Instagram. This will prevent scammers from creating fake profiles and will considerably reduce catfishing incidents, this will probably restore some of the confidence in this type of platform that might have been lost due to the number of fake profiles that is currently in existence.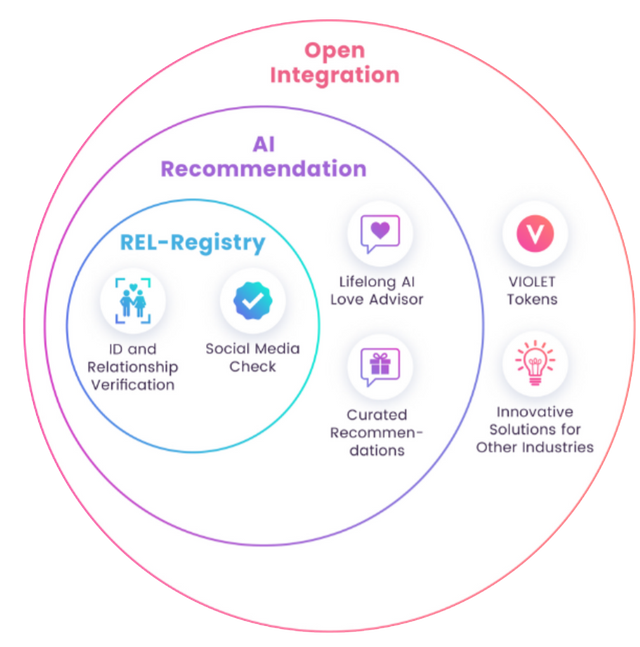 Source
Blockchain technology: having our information stored on a blockchain with decentralized nodes all over the world can add a new level of protection that doesn't exist in the traditional centralized model. With a decentralized network, there is higher protection to the integrity of the user's private information, which means, the consequences of suffering from the hacks mentioned before, are greatly reduced, besides storing the information on a distributed ledger also allows for higher protection and more transparency to take place.
Blockchain also makes it possible to implement a tokenization system that can encourage users into sharing their information with the platform, by offering rewards in the form of crypto tokens, in this case, the token is called VIOLET, and this dynamic will allow the AI to fine-tune its analysis process in order to improve it as time passes, the more information it can gather, the better the AI will get.
Lastly, blockchain inherent immutability makes it a perfect technology to use when it comes to storing important information of all kinds, in the case of Viola.AI, its users will be able to register their own marriage in the blockchain and receive the corresponding certificate, since it is a borderless platform, handling the marriage documentation will be easier in case the couple moves to another jurisdiction.
Both of these technologies, besides helping to solve the issues related to catfishing and hacks, allow the Viola.AI team to develop the REL-Registry, which they define as a "Global and Publicly Verifiable Relationship/Marital Registry and ID System". Source

AI + Deep Learning allow Viola.AI to remain relevant to its users, even after they stop being single
---
Viola.AI is not just a platform that makes it easier for single people to find dates, it plans to be much more than that by providing help and guidance to its users regardless of their relationship status, by integrating Deep Learning techniques, Viola.AI will be able to serve as a lifelong love advisor that everyone can use when they need help with relationships problems.
It can give recommendations on how to manage difficult situations, and it can even recommend products and services from the integrated marketplace based on the Deep Learning analysis of the partner, and given the high divorce rates in modern societies, it is fair to say that a platform such as this one might be of help when the time comes for the couple to overcome the inevitable conflicts that arise in all relationships.
It is important to notice that there will also be the option of communicating with the community and receiving answers from other people in similar situations.

Exploring the mobile application
---
The first thing we need to do is to install the mobile application, it can be downloaded from the following links:
When opening the mobile app for the first time, we would need to log in using our Facebook or LinkedIn account, and then we will start interacting with the artificial intelligence through the chat, this is where we need to indicate all of the necessary information to properly complete our profile. In the following picture we can see the different features that each user will find once they are inside the app: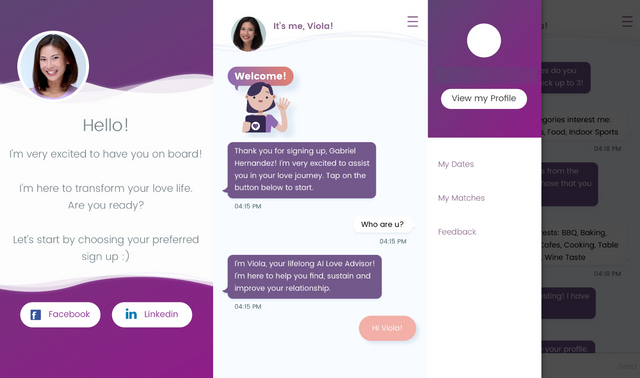 When tapping the "My Dates" option (which can be seen in the first picture from the right) we will find the following interface: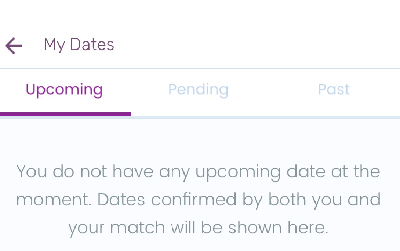 With time, each user will find a list of dates in each of the 3 sections. The same happens with the "My Matches" option, the interface is very similar: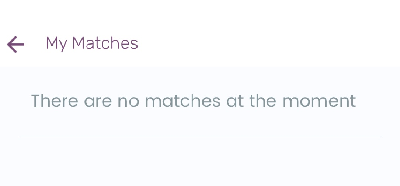 When taking into account everything that has been mentioned so far, it might be a good idea to put things in perspective by listing both the positive and negative aspects of this project:
Positive aspects of Viola.AI
It caters to all individuals throughout the different stages in a relationship and to single people as well, which makes this platform one that can serve its users for their entire lifetime.
It uses breakthrough technology to provide new solutions that weren't possible before.
It offers monetary rewards in the form of the VIOLET tokens if users decide to share their information with the AI so it can improve itself.
Negative aspects of Viola.AI
There is no way to sign up through a PC, only using mobile applications, which could negatively affect the adoption.
When opening the mobile application it requires a Facebook or LinkedIn account in order to log in, it would be better if users could create their Viola.AI account without needing other accounts in different platforms.
The AI behind the chat could be better because it didn't understand some basic questions.
The iOS app crashed one time when I was checking previous messages in the chat with the AI.

Conclusion
---
Viola.AI is certainly a very ambitious project with great ideas that can only be achieved by leveraging both AI & blockchain technology, the project is capable of offering well-needed solutions to the market, but there is still a long way to go regarding the development of the platform, the mobile application mentioned before is a Minimum Viable Product, so it is still a work in progress.
Nevertheless, once the team at Viola.AI is able to finish the development of everything it is planning to do, this project could very well become one of the leading dating platforms thanks to its sustainable business model where it also caters to married couples, and thanks to its advanced features that no other traditional platform can offer.
I give this project a 3 star ranking due to the fact they are challenging themselves into developing something that is entirely new, however, they need to keep improving the app, the AI and eventually add all of the remaining features, another worrisome fact is the number of users that was estimated in the whitepaper has not been achieved, according to numbers from State of the Dapps, Viola.AI had 21 users in the last month, and the target from the whitepaper for 2018 & 2019 were 1.5 million and 8.5 million respectively.

More information about this project can be found in its website Viola.AI and in its State of the Dapps page.
Viola.AI on social media







DISCLAIMER
This is not a financial advice. Please do your own research before investing in cryptocurrencies or any digital asset. This blog post is done for entertainment and knowledge purpose only.