Well hello there, I hope you encountered this at a good time, well cheer up, what I'm about to tell you will undoubtedly put a smile on your face.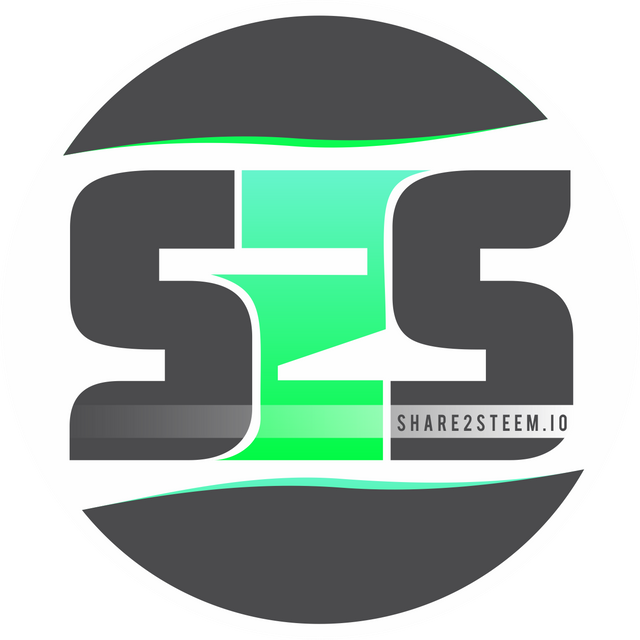 Question: do you have a twitter account that gets on your nerves because you don't earn from it? I know I do and I also have a bunch of other social media profiles that just lay dormant or used "for fun". I found this cool dapp on stateofthedapps that gives you the option of earning while having fun on social media
Share2steem gives the ability to "Automatically share your social networking activity on Steem and get rewarded for it !"src
What are the benefits?
There are a lot of benefits for being a part of this platform, for both individual and the collective steemit community, here's a few
Marketing: Posts made on other social media are instantly sent to steemit, so as a user of s2s, you get to promote your blog on steemit, as well as the community as a whole, this is done by simply using the #share2steem tag anywhere in your post on the available social media outlets and your content posted there gets sent to the steem blockchain
Earning: Steemit is a community that content creators can possibly earn from what they create and it is no dofferent for s2s users. This means that by simply using the s2s tag on your verified account, you're elligible to receive upvotes.
Community Upvote: Being a part of the S2S community also gives one the option to earn from the community curation trail. The trail is voluntary to join and users of the community can decide to reward each other by being a part of it. The curation tool is flexible and you can regulate the frequency, vote weight and number of votes your account will give out.
Delegation Earning: Users of s2s also have the option to voluntarily delegate steempower to the community account and receive daily reward based on their delegated amount. Delegation is simple and is done using steemconnect.
Referral Bonus: the referral program ensures that any user that joins the community will reap you 4% of their reward from their posts, here's my referral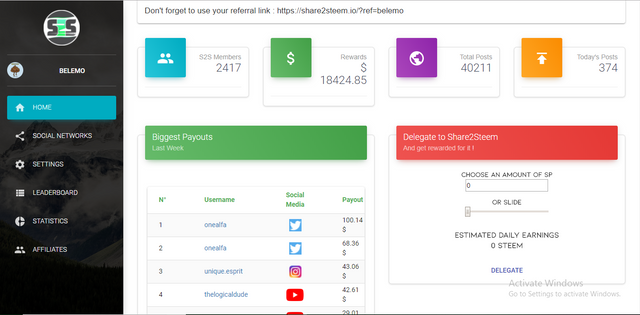 I'm Sold, How Do I join?
To be a part of the community, you first and foremost have to be a part of the steemit community, if you aren't, you can simply sign up here. If you already have a steemit account, then you visit share2steem.io and simply log in using steemconnect app to have full access to your portal.
After logging in, the next step is linking your social media account/accounts to your steemit profile. Users can currently link Twitter, Instagram, Medium, Twitch and youtube to their steemit account.
linking your account is a simple process that basically involves making a small change to your bio with a set of numbers that you will be asked to include to it. Once your account is verified, you may take your bio back to it's previous state.
Observations
The elephant in the room is the absence of facebook and it is important that it be added as one of the other media outlets
There is no explanation about how the platform works on the main site. There should be some sort of brief explanation as to how it works embedded somewhere on the platform.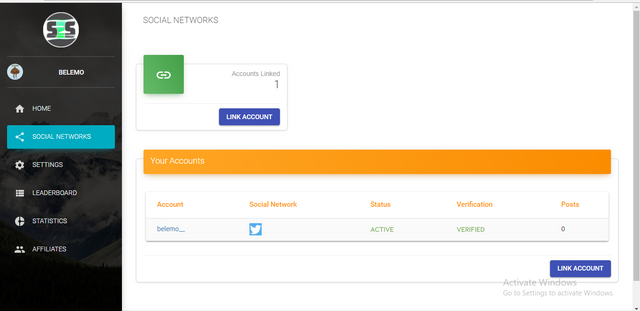 Summary:
Using share2steem gives one a means to earn from using social media by simply including "#share2steem" anywahere within the post. It is another fun way to earn from steemit, as well as market steemit to the outside world and hopefully bring in new investors. It is simple to use once you understand it and is playing a vital role in taking steem to the moon. I'd say it's a solid 3.5/5 but could have been higher if not for the minor issue mentioned earlier