Hello again, having a beautiful day I hope. I've had quite the hectic day; I made a 5 hour trip back to my place and had to go straight back into it because I totally love doing this.
So how have you been? I bet you've been Busy with life, see what I did there? I couldn't be less cheesy but don't blame me, blame stateofthedapps, Busy is the third most used social dapp according to the ranking and just as expected, it is an affiliate to steemit. According to it's corner on the Stateofdapps hotel, it is "Next generation social network and communication platform. Post and upvote posts."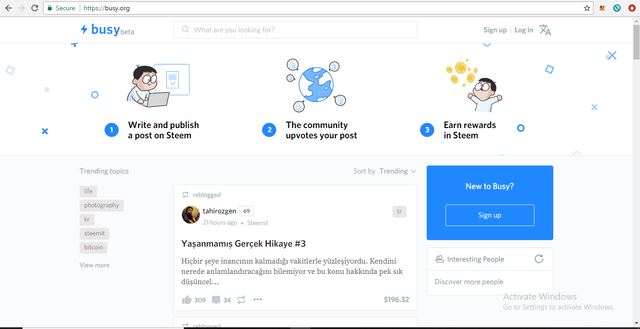 Lets Get Busy
Busy was designed to create another web based medium to access steemit. It has a simplistic interface that works for both mobile browsers and laptop browsers with slight difference in their appearance.
The first step is getting to the platform. To do this, you simply go to busy.org on your laptop or mobile phone. I use Chrome browser on both my windows laptop and android device and my review will be based on their interface.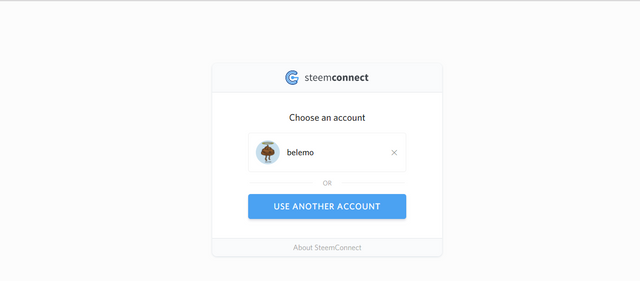 After you get to the site, the next step is logging in and to do that, you simply click on "log in" at the top right corner of the screen and you'll be redirected to steemconnect, after you input your username and key, you'll be granted full access to the platform. If you don't have a steemit account, don't worry, you can create a steemit account in basically the same way you would on steemit, it's a pretty simple and straight forward process. You could get an instant account if you pay to a third party like @steem.ninja or sign up for free and join the queue.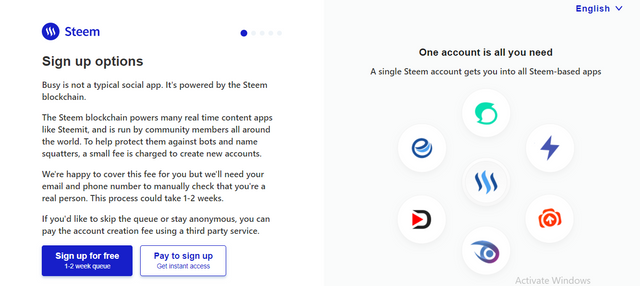 The User Experience
Busy is rated 3rd in the stateofthedapps hierarchy for social dapps so I reckon it has a lot of users who use it for different users. My reason for including busy as one of my dapps for accessing steemit are simplicity, ease of access and the fact that it gives me that social feel.
In my quiet corner, I think Busy is sort of an ironic name because of the laid back appearance it gives to steemit. It transforms the once serious looking interface into a laid back social media-esque platform. The "like" button that replaces "upvote" for example is a nice touch.
The Steemit Experience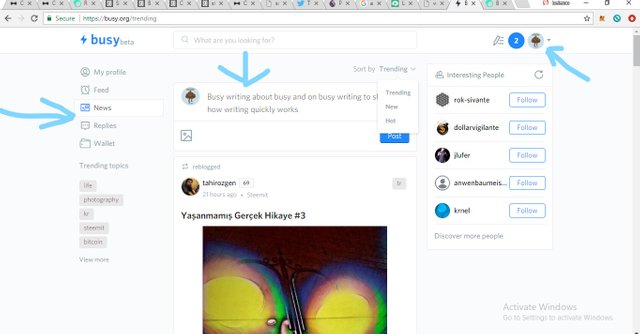 Blogging: As we all know, blogging is a key part of being on steemit and with Busy, users are giving two ways to make posts depending on what they like to work on. You can decide to make the elaborate blogs by clicking/tapping on the pencil(is it a pen?) icon on the left side of the "bell" icon at the top right of the screen with a standard text editor to aid blogging or you can make a quick post.
Notifications:
Users of Busy can easily see their notifications by clicking/tapping the bell beside their profile photo. You can see notifications for when you're mentioned in a post or comment, when you receive funds in your wallet and when another user replies your blog comment.
Steeming:
To view your page, you simply click/tap on your profile photo at the top right of the screen and you will be taken to your profile. In this place, you can view your recent activities(comments, replies, wallet. The usual stuff) and you could also see your voting power and the value of your upvote at that point in time. Busy also allows you edit your profile and also allows you view your profile photo as well as others photo(its kind of a big deal to me).
One interesting thing about using busy is that when you go to the wallet, you can see the current value as well as market activity concerning steem and sbd in the market, so it saves me a lot of stress.
The search bar at the top of the screen can be used to easily locate users on steem, in the event you met the love of your life and forgot her username or something like that.
Note: If you use ginabot, I told ginabot to open notifications with busy and you can do that too through that minnowpower site for your personalized ginabot settings.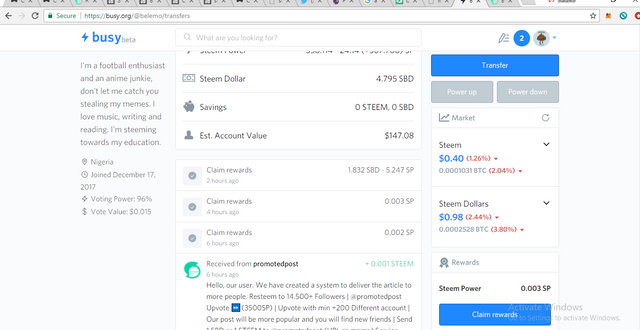 Observation
Every now and then I post using busy, though I'm aware users receive random upvotes, I haven't been randomly lucky or maybe I'm doing something wrong.
Recommendation
Making an app will improve ease of access and more users, I suspect.
I also suggest that the draft autosave feature be added.
Thank you for reading my blog, I look forward to seeing you soon but until then, stay safe and have a wonderful night