Good day beautiful steemians, hope you're having a good day where ever you are, I know I am. I just consulted the Oracle and it asked me to tell you that everything is well taken cared of, so don't sweat it. You're fine
If you've been in the Stateofthedapps hotel for socials recently, you'd have encountered an oracle, the steemit Oracle. What I'm about to divulge is extremely confidential but the oracle actually works in the shadows and takes pride in that fact, choosing to work seamlessly for the furtherance of steemit, decentralization and a other blockchain realated projects that promotes the adoption of different crypto. The higher ups have never mentioned this to me but considering the projects I've worked on in the weeks I've been part of the team, i say it's subtly about winning together.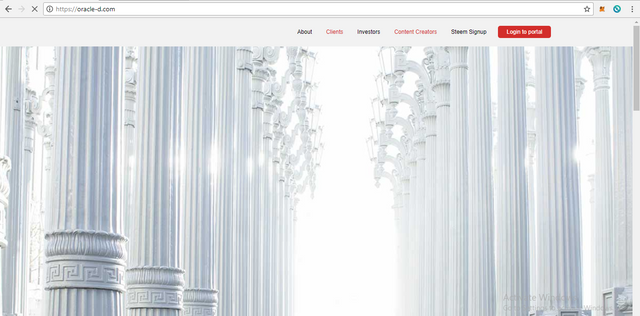 What or Who is ORACLE-D?
If you take a stroll to their corner in the Stateofthedapps Hotel, you'll find it to be depicted as a platform that "aims to utilize the Steem blockchain for its clients in a way that writers can perform certain tasks and get rewarded" It further states that "With this new and unique system Oracle-D allows everyone on the steem blockchain to continuously add value to the steem blockchain by doing a broad variety of tasks like writing reviews, filming tutorials, sharing content and much more!"
To get a clearer picture of what Oracle-d is about, you only need to visit their main website, but here's a summary of what the Oracle has to offer;
The Outsourcer: The Oracle uses blockchain technology to engage clients with highly professional, smart and hard working people with a range of skillsets, who voluntarily choose to perform work on your behalf.(source)
The Community Builder: Oracle-d is focused at building communities within and outside the blockchain and they achieve this through promoting these products, brands or companies through marketing and creation of quality related content.
How Can I Meet The Oracle?
The first question is in what capacity will you like to meet the Oracle? here are two ways
**INVESTORS**
Oracle-d designed five easy steps to explain how invest ment works and can be found here, here's a summary
Step 1: You're to purchase and hodl, sorry I mean hold steem
Step 2: Decide which project you would like to be a part of
Step 3: Your project is then passed on to content creators
Step 4: The created content gets reviewed by Oracles to ensure it is of good quality
Step 5: Users are produce good quality work are rewarded with Steem. The client also receives a fair amount of steem as dividend for investing.
As an investor, you're also given the option of allowing other investors input funds into your project and help kickstart your project.
**CONTENT CREATORS**
Content creation is done deliberately and at a conducive time for the creator. The Content could be in any form(writing or multimedia), will be vetted by an Oracle and then be rewarded after it has been vetted to ensure it is of good quality
There are basically two types of content creators that work under the detailed instructions of the Oracles
**PRO CONTENT CREATORS**
I know they are given special tasks with higher rewards as compared to the other set of content creators.
**OPEN USERS**
As an open user, you log in to your oracle-d portal using steemconnect and meet a simple dashboard with;
Dashboard: basically an overview
Projects: here you find the currently available projects that if you choose to perform, will have to adhere to certain instructions in achieving them
Posts: basically displays pending posts and completed posts on the steemit platform.
**Type of Content Created**
Oracle-d content creators present content in array of ways on steemit, as well as on social media.
Steemit Content: content creators are urged to make quality posts for the particular client and then are vetted by an Oracle before being rewarded. Oracle-d content creators use a built in text editor that keeps track of the users activity and aids the work.
Social Media: If the task is taken by the content creator, the individual will be asked to promote a certain brand, product, promotion, event or project on social media channels(mostly twitter)
**Reward Structure**
Content creators are rewarded with juicy upvotes on their post that meet the requirements of the oracle.
There are also certain tasks that are done solely on social media(often Twitter) and after the task, Oracle-d will also reward the content creator on steemit by dropping some love on any selected post by the content creator
**IMPORTANT POINTS**
No need to spend your capital: you simply hold Steem, set your tasks, and reward professional people for participating in your project with newly generated cryptocurrency.(source)
The client purchases and holds Steem in their wallet. They then 'proxy' the vote to Oracle-D. This simply allows us to use the influence to create new cryptocurrency. We cannot sell or run off with your tokens (it's impossible) (source)
From the above point, At no time are ANY of your tokens out of your control, nor are the keys to your wallet ever given up (source) .
**RECCOMENDATION**
As a content creator, it is impossible to make full use of the platform while on mobile phone browser and I think that should be looked into
There's this glitch that happens while using the text editor; Once the last word in a line is made to become a link, everything that comes after it on the same line is also forced to be part of the link, so I have to unlink then type something after what i want to be linked, and then link again.
To know more, you can visit the discord server and meet some of the oracles and content creators or browse through the main site.