A Comprehensive Guide on Fantasy Premier League (FPL)
Intro
Greetings fellow Steemians! It is time for the post all my followers and football (soccer) fans have been waiting for. In the following post, I will explain 1) what FPL is, 2) how to join, 3) how to play, 4) the strategies, 5) and the prizes.
What is FPL?
Fantasy Premier League, commonly abbreviated by players as FPL, is a free-to-play weekly fantasy football (soccer) game that is officially sponsored by the Barclay's Premier League. There are over 7,555,750 players this season, but this does not account for individual players having multiple accounts or inactive players. FPL is a global game where you compete with millions of players for weekly, monthly, and end-of-season prizes.
How to Join
Log in via a social media or email account OR sign up for a Premier League account:
Note: Whichever method you choose, you must enter your personal information, team preferences, and email notification settings

Fill out the personal information section including your first and last name, email address, password, gender, DOB, and country/region of residence.

Pick your favorite team and any other teams you would like to follow.

Choose your email notifications/preferences.

Agree to FPL's terms and conditions by checking the box.

Click "Complete Registration".
How to Play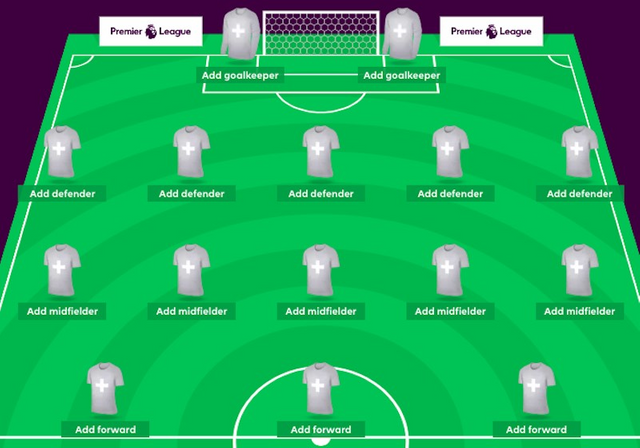 (World Football Index)
Once you join, you will have £100 million to spend on your fantasy squad of 15 players, which must consist of 2 goalkeepers, 5 defenders, 5 midfielders, and 3 forwards. Spend frugally and choose your team wisely :)
Before the first matchweek of each season, you are allowed to make unlimited transfers. Each gameweek, you will be allowed 1 free transfer. For every additional transfer you make, your fantasy team will face a 4 point deduction.
Each matchweek, you must choose a starting line up of 11 players. You need a minimum of 1 goalkeeper, 3 defenders, 2 midfielders, and 1 forward. In addition, you are only allowed to have up to 3 players from a single team. The 4 players you exclude from your starting 11 will be on the bench for that match week. You must also select one player in your starting 11 as your captain, whose score will be doubled, and another player as your vice-captain (if your captain doesn't play at all, your vice-captain will automatically become captain, meaning that their score will be doubled instead).
Pay close attention to the order of your substitutes. After the end of each gameweek, automatic substitutions are made to replace players in your starting 11 who didn't play with players on your bench who did play. The backup goalkeeper will always be an autosub if your starting goalkeeper doesn't play, but this isn't the case for other positions. From left to right is the order in which bench players (besides the backup goalkeeper) will autosub, so keep this in mind when finalizing your fantasy squad before the beginning of each matchweek.
Line-ups and bench order must be finalized 1 hour before the first match of the gameweek begins. You CANNOT change your line-up or bench order after the gameweek begins, so remember to choose your Starting 11 and the order of your 4 bench players beforehand.
Strategy
Scoring
Here is a table from the FPL website that explains the scoring of the game:
| Action | Points |
| --- | --- |
| For playing up to 60 minutes | 1 |
| For playing 60 minutes or more (excluding stoppage time) | 2 |
| For each goal scored by a goalkeeper or defender | 6 |
| For each goal scored by a midfielder | 5 |
| For each goal scored by a forward | 4 |
| For each goal assist | 3 |
| For a clean sheet by a goalkeeper or defender | 4 |
| For a clean sheet by a midfielder | 1 |
| For every 3 shot saves by a goalkeeper | 1 |
| For each penalty save | 5 |
| For each penalty miss | -2 |
| Bonus points for the best players in a match | 1-3 |
| For every 2 goals conceded by a goalkeeper or defender | -1 |
| For each yellow card | -1 |
| For each red card | -3 |
| For each own goal | -2 |
Yes, it is possible to earn negative points for a player in a matchweek due to yellow cards, red cards, own goals, penalty misses, and for every 2 goals conceded. One time, my captain earned -1 points because he played over 60 minutes but received a red card, so his score was doubled for the gameweek from -1 to -2. That doesn't usually happen too often, but I thought it was a funny anecdote I wanted to share.
Formations
As I previously stated, you must play at least 1 goalkeeper, 3 defenders, 2 midfielders, and 1 forward in your starting 11. This gives you a lot of wiggle room in terms of choosing a team formation. I recommend playing either a 3-4-3 or 3-5-2 depending on the gameweek. Only play 3 defenders because if you play 4 or 5, you increase the risk only getting 2 points for a defender if they fail to keep a clean sheet (shutout). Most defenders have little attacking influence and are unlikely to get a goal or an assist. Playing most of your midfielders is usually a good idea because they have more point scoring potential then defenders or forwards. Midfielders get 5 points per goal, 3 points per assist, and 1 point for a clean sheet while forwards only get 4 points per goal, 3 points per assist, and no clean sheet point bonus. The formation you choose can vary from matchweek to matchweek, but generally, I've found a 3-4-3 and a 3-5-2 to be the most reliable and consistent ones.
Chips
There are 4 types of chips that can be applied once or twice a season to your fantasy team. Chips boost your point potential for a single matchweek. FPL summarizes them nicely in the following table:
| Name | Effect |
| --- | --- |
| Bench Boost | The points scored by your bench players in the next Gameweek are included in your total. |
| Free Hit | Make unlimited free transfers for a single Gameweek. At the next deadline your squad is returned to how it was at the start of the Gameweek. |
| Triple Captain | Your captain points are tripled instead of doubled in the next Gameweek. |
| Wildcard | All transfers (including those already made) in the Gameweek are free of charge. |
The chips are pretty self-explanatory, but I can to clarify a few things. The first is that all chips (except Wildcard) can only be used once a season, so be pragmatic when deciding whether or not to use them for a particular gameweek. Unlike the Bench Boost and Triple Captain chips, the Free Hit and Wildcard chips cannot be cancelled once you decide to use them, so be aware of that. Once you make a transfer and confirm a Free Hit or Wildcard, you CANNOT undo that action. Another special feature of the Wildcard chip is that it is the only chip that can be used twice a season. You get one Wildcard chip from the beginning of the season up to a few days before the winter transfer window and another one during the winter transfer through the end of the season. Remember to use your chips appropriately and don't use them too soon into the season. The Bench Boost and Triple Captain chips really come in handy when multiple players on your team play two matches in one gameweek, a double gameweek (DGW). The Wildcard and Free Hit chips are most useful when you've completely messed up your team and want to avoid the transfer limit point penalty.
Captaining
Captain the player who you think will do the best for that specific matchweek. That goes without saying and is pretty obvious. Also make sure to play a reliable vice-captain that you know for sure will play for their team if your captain does not play for some reason. A good rule of thumb is to captain midfielder or forward rather than a defender or goalkeeper, but there can be a few exceptions to this. For example, Liverpool right back Trent Alexander-Arnold has 3 goals, 14 assists, and 13 clean sheets this season, so he would be a good choice to vice-captain or even captain because he is extremely likely to play the full 90 minutes and get both an assist or clean sheet and possibly pick up some bonus points, which would be a point return in the range of 9-12 points. Also, if a player has a DGW, preferably a midfielder or forward but sometimes a defender, then choose that player as your captain.
Building a Squad
Remember, you only have £100 million to spend on 15 players. In terms of positional prices, goalkeepers typically range anywhere from £4-6 million, defenders from £4-7 million, midfielders from £4-12 million, and forwards from £4-11. In my current squad, both of my goalkeepers cost under £5 million, 3 of my defenders cost under £6 million, 3 of my midfielders cost under £8 million, and all 3 of my forwards cost under £9 million. I suggest using your initial funds to purchase 2 decent, moderately priced starting goalkeepers, 2 expensive fullbacks (wide defenders who are likely to get assists), 2 expensive midfielders (who are either wingers or central attacking midfielders who regularly score goals and assists), and 1 moderately expensive forward (a striker who is likely to score around 20 goals per season). As the season goes one, players in your fantasy team can either lose or gain value in terms of their price based on their performances each matchweek. Buying cheaper, unknown, and unproven players who appreciate in value will allow you to transfer them out at a much higher price and increase your transfer fund.
Another strategy that is widely popularly is buying the so-called "bench fodder" players in the game, which are the cheapest possible players who you leave on your bench in order to splash out the cash on more expensive, quality players. I don't personally use this strategy, but if a player has a price under £4.5 million and starts or comes on as a substitute almost every game, then they would be considered good bench fodder.
Also, just a friendly reminder to avoid choosing 3 players from one team, especially if they all play the same position. Think about it like the stock market. You want to diversify your assets in order to minimize financial risk and losses. The same idea goes for FPL, too. Imagine if you chose 3 defenders all from the same team, and they didn't keep a cleansheet that gameweek. That would be detrimental to your fantasy team score for that gameweek. It's perfectly normal to pair a starting goalkeeper with a starting defender from the same team, but it would be a little extreme to choose 3 starting defenders from the same team. This goes for the other positions too like midfielders and forwards because there are only so many goals a team can usually score and assists that can be given in a match.
The Prizes
FPL is free-to-play, but there are weekly, monthly, and end-of-season prizes. Here is a list of them from FPL's website: https://fantasy.premierleague.com/prizes
Conclusion
In summary, I highly recommend playing FPL in the 2020/2021 Premier League season because it 1) is free-to-play, 2) forces you to watch the English Premier League each week, 3) requires careful planning and strategizing to succeed, 4) has great prizes for the best players, and 5) allows you to engage with a competitive global community.