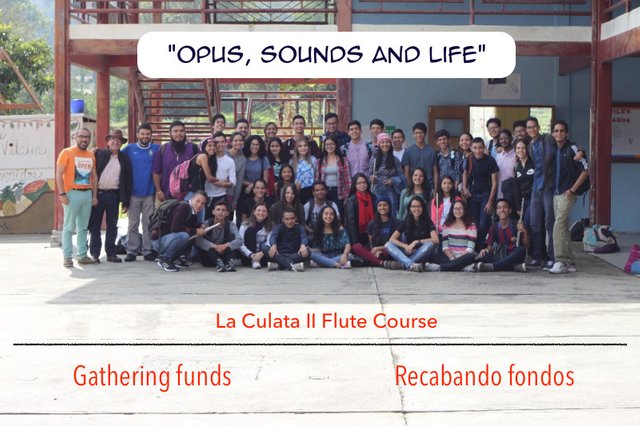 No soy de las personas que andan por Steemit pidiendo cosas banales y sin sentido. En esta ocasión quiero abrir un espacio para una persona que aprecio profundamente y de quien soy casi un tio y, formalmente, soy su padrino.
Saludos Steemianos y Steemianas, espero que estén pasando un muy feliz Steemit. Si aterrizas el día de hoy a la plataforma, no dudes en consultar las guías dentro de mi perfil y pedir ayuda cuando lo necesites. Soy Italiano, por parte de mi Padre pero también soy Venezolano por parte de mi Madre. He nacido en una tierra bendecida con todo lo que un ser humano puede pedir. Tenemos una fama a nivel mundial relacionada con muchas cosas. Dentro de esa fama hoy quiero hacer honor a uno de los aspectos que nos hacen grandes como venezolanos.
Al menos 1 de cada 4 personas dentro de una familia venezolana, sabe tocar un instrumento y cantar. Eso dice mucho. Si profundizo un poco más, en la tierra por donde camino, en Barquisimeto, han nacido grandes músicos de fama internacional. Hablo nada más y nada menos que de la música.
---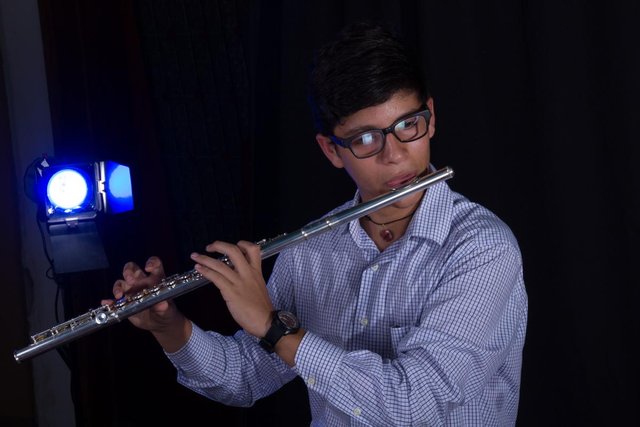 Rama Tona. Mi Ahijado -

Nunca pido ayuda pero la música require que rompa mis propios esquemas
El caballero que ven en la imagen arriba, es mi ahijado Rama Tona. Es un excelente músico a una corta edad apenas. Uno de sus fuertes en la música es tocar la flauta transversa. Desde muy temprana edad se ha formado en el conservatorio musical de la ciudad de Barquisimeto. Mi ahijado es del tipo de personas que nunca me pide nada, a menos que sea estrictamente necesario. Es por eso que me veo en el deber de apoyarlo en su proximo proyecto. Es por eso que les pido a todos y a cada uno un voto y un resteem porque este proyecto, no solo ayudará en la formación de mi ahijado sino también, en muchos futuros grandes músicos venezolanos.
---
Una pequeña muestra del talento de Rama:
Fuente del video
---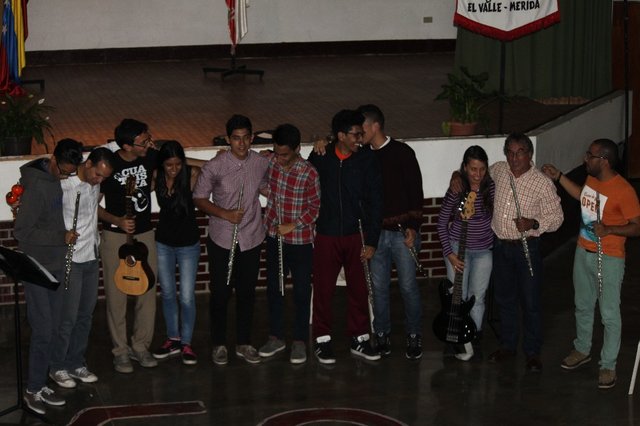 La Fundación Musical, Cultural y Educativa para el Desarrollo Humano "Opus, sonidos y vida".
Somos una organización sin fines de lucro venezolana, a través de la cual desde el 2016 venimos realizando diversas actividades formativas dirigidas a las nuevas generaciones de músicos de nuestro país, abarcando hasta el momento específicamente a la comunidad de flautistas venezolanos. fuente de cita.
La fundación tiene como meta principal:
Nuestro objetivo principal es fortalecer la enseñanza musical, artística y ciudadana de nuestra juventud para aportar desde la trinchera del arte, al desarrollo humano.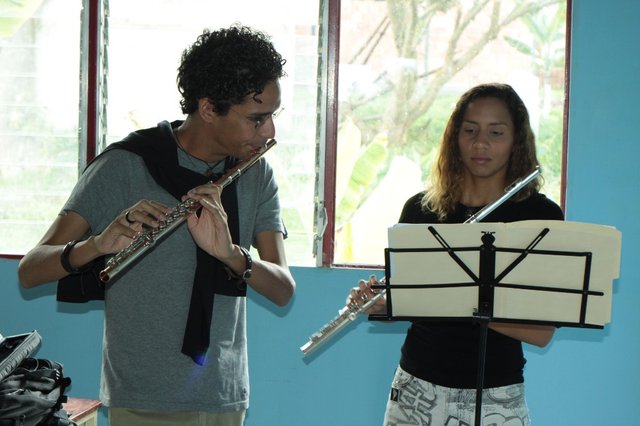 Eventos realizados para fortalecer a los futuros flautistas de Venezuela
Desde nuestros inicios hemos llevado a cabo diversas actividades, entre las que destacan el Encuentro Regional de Flauta Syrinx -Coro 2016-; el Concierto por la Paz "Vientos de esperanza" (realizado en el marco de fuertes disturbios sociales ocurridos en Venezuela durante el primer semestre del año 2017, contando con apoyo de grades artistas y músicos larenses); y la primera edición del Curso de Flauta La Culata -Mérida 2017-. En esta última experiencia compartimos una semana de trabajo intensivo en la que aproximadamente 40 flautistas pudieron recibir clases de grandes Maestros de nuestro país (Manuel Rojas, Luis Julio Toro, Alexis Angulo, Daniel Delgado y Alexi Mosquera) y además, vivieron una experiencia de aprendizaje integral que incluyó actividades musicales y recreativas, con el fin de propiciar el compañerismo y la motivación al estudio del instrumento. fuente de cita
Motivo de la recolecta de fondos actuales
El Curso de Flauta La Culata II es una actividad diseñada para atender a más de 50 jóvenes flautistas provenientes de diversos estados de nuestro país, la cual se realizará durante la Semana Santa del año en curso (del 24 de Marzo al 01 de abril del 2018). fuente de cita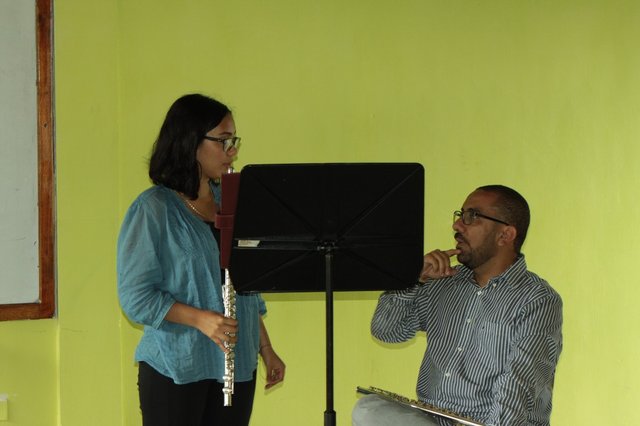 El plan para la destinación de los fondos a recabar
Nuestra meta es obtener 1600$ que beneficiarán a jóvenes flautistas de todo el país, suma necesaria para cubrir parte de los gastos operativos y logísticos de una actividad que tendrá una semana de duración.
Allí se contemplan gastos de:
Movilización del equipo desde un estado a otro dentro del territorio nacional.
Pago de honorarios profesionales a maestros invitados.
Honorarios a los pianistas acompañantes.
Costos de alimentación (incluyendo compra de alimentos y honorarios del equipo de cocina que preparará y servirá la comida).
Costos de hospedaje para 60 personas aproximadamente.
Alquiler de instalaciones para actividades académicas y deportivas.
Costos de traslados (fletes) para instrumentos grandes (piano), atriles, sillas, etc.
Transporte (autobús) para los participantes durante actividades que se realizarán fuera de las instalaciones del curso.
Reproducción de música para el Ensamble de Flautas Opus.
Otros gastos generales. (Para todos los gastos descritos anteriormente destinaremos 200$ del dinero solicitado en la campaña).
Y uno de nuestros gastos principales: cubrir los costos logísticos necesarios para traer a la Maestra Elisabet Franch desde la ciudad de Barcelona-España (para ello destinaremos 1400$).
---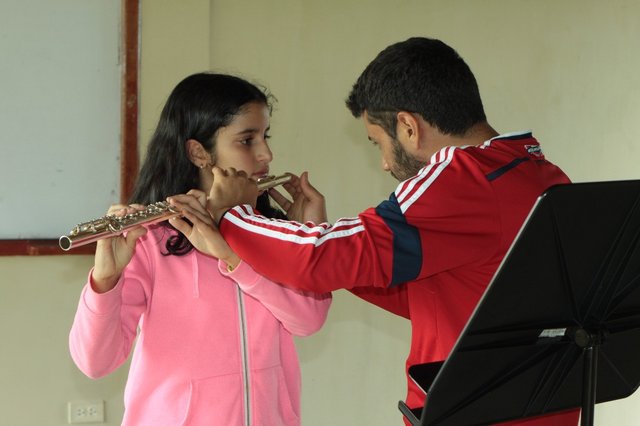 Puedes ir directamente a la campaña de Gofundme.com y contribuir amorosamente para que superen la meta de los $1600.
Puedes dar tu generoso voto en este artículo. Las recompensas líquidas de este artículo, irán directamente a la campaña de recolección en Gofundme.com1. Nota: agregaré un poco de mi dinero para promocionar el artículo y así ganar más votos y exposición.
Si deseas contribuir enviando SBD o STEEM, bienvenido y bendito seas amigo o amiga. Ese dinero será convertido a SBD y sumado al monto total líquido de este artículo.
1: Apenas este artículo se cobre, realizaré la conversión de las ganancias liquidas a Bitcoin. Luego de eso utilizando una cuenta en el exterior, cambiaré de Bitcoin a GBP(libras) y por último daré la donación de manera directa, utilizando mi tarjeta, en la campaña de Gofundme.com. Trataré de hacerlo bajo el alias de Steemit, puesto que esto sirve para atraer personas a la plataforma y para que entiendan que Steemit es tan real como nuestros sueños. Más adelante colocaré un mensaje en comentarios con las fotos y pruebas, de todo el proceso.
---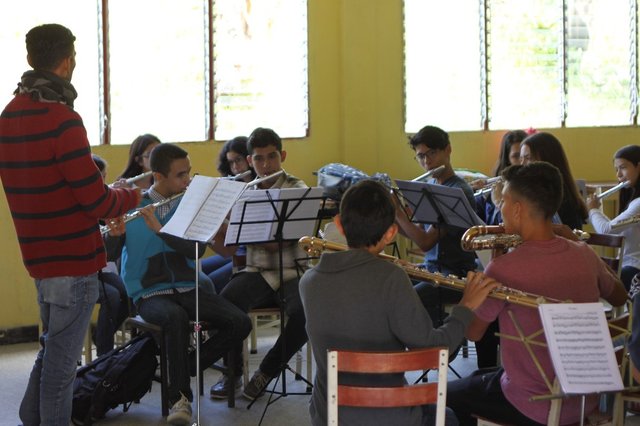 Puntos a considerar
La educación es la base de una sociedad y todas las personas merecen ser educadas y contar con lo necesario para lograr sus sueños.
Venezuela aunque esté pasando por un momento muy duro, nunca ha dejado de tener personas que creen en su trabajo. Los venezolanos somos personas aguerridas y ciertamente valientes. Nunca descansaremos hasta lograr nuestras metas. Esto vale la pena apoyar.
Un día como hoy soy yo quien pide de tu colaboración. El día de mañana, el mundo gira y la rueda continúa en movimiento. Soy de los que opina que una buena causa merece toda la ayuda que podamos brindarle.
Siempre he considerado a Steemit como una manera de recolectar fondos. Este es el momento de darle un muy buen uso. Agradeciendo tu tiempo de vida para leer este artículo y agradeciendo mucho por tu aporte, me despido por ahora. STEEM ON, muchachOnes y muchachONas.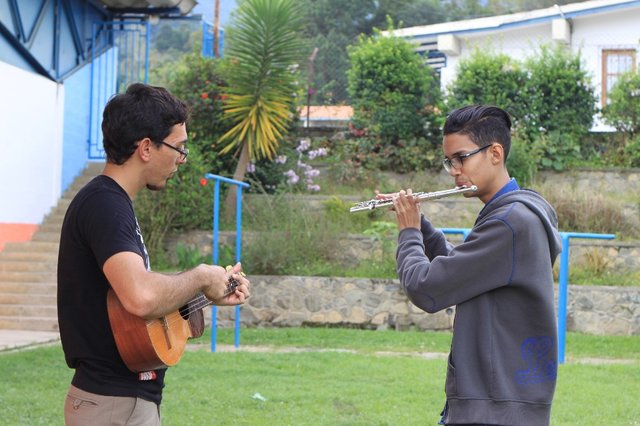 I am not the kind of the people who walk around Steemit asking for banal and meaningless things. On this occasion I want to open a space for a person that I deeply appreciate and who I am almost an uncle and formally, I am his godfather.
Hello Steemians, I hope you are having a very Happy Steemit. If you land today on the platform, do not hesitate to consult the guides within my profile and ask for help when you need it. I am Italian, from my Father but I am also Venezuelan from my Mother. I was born in a land blessed with everything a human being could ask for. We have a worldwide reputation related to many things. Within that fame today I want to honor one of the aspects that make us great as Venezuelans.
At least 1 of each 4 person within every Venezuelan family knows how to play an instrument and sing. That says a lot. If I dig a little deeper on the land where I stand, in Barquisimeto, great musicians of international fame have been born around here. I speak nothing more and nothing less than music.
---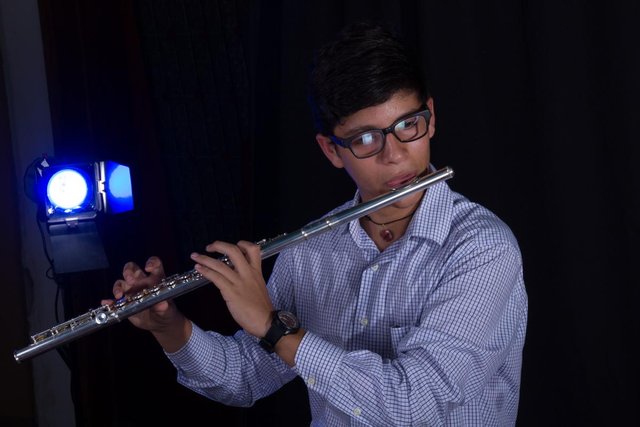 Rama Tona. My godson -

I do not ask for help too often but the music it requires it
The gentleman that you see in the image above, is my godson Rama Tona. He is an excellent musician at a young age. One of his strengths in music is playing the transverse flute. From an early age he has trained in the musical conservatory of the city of Barquisimeto. My godson is the kind of person who never asks me for anything, unless it's strictly necessary. That's why I see myself in the duty to support him in his next project. That is why I ask everyone and everyone an upvote and a resteem because this project will not only help in the formation of my godson but also in the formation of many future great Venezuelan musicians.
---
A small proof of Rama's Talent:
Source
---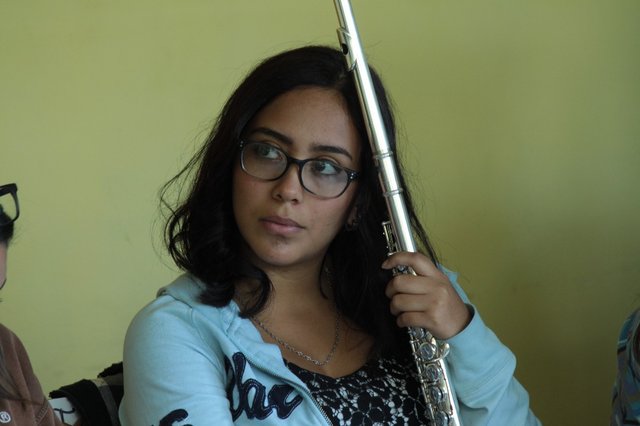 The Musical, Cultural and Educational Foundation for Human Development "Opus, sounds and life".
We are a Venezuelan non-profit organization, through which since 2016 we have been carrying out various training activities aimed at the new generations of musicians in our country, specifically covering the Venezuelan flutist community. Source.
The foundation main goal is:
Our main objective is to strengthen the musical, artistic and civic education of our youth to contribute from the trench of art, to human development.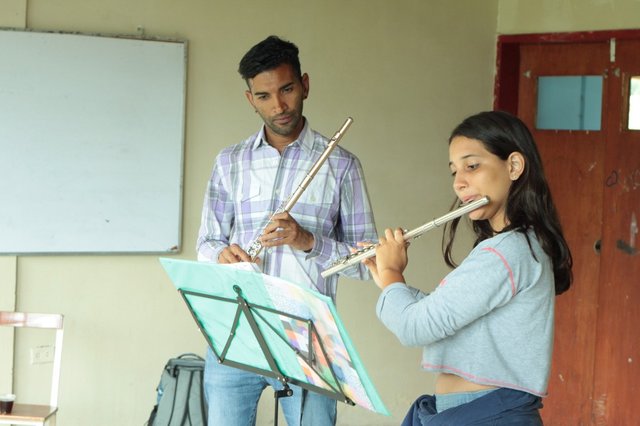 Events held to strengthen the future flutists of Venezuela
Since our inception we have carried out various activities, among which the Regional Meeting of Flute Syrinx -Coro 2016-; the Concert for Peace "Vientos de esperanza" (performed in the context of strong social unrest that occurred in Venezuela during the first semester of 2017, with the support of many artists and musicians in Laredo); and the first edition of the Flute Course La Culata -Mérida 2017-. In this last experience we shared a week of intensive work in which approximately 40 flutists could receive classes of great Masters of our country (Manuel Rojas, Luis Julio Toro, Alexis Angulo, Daniel Delgado and Alexi Mosquera) and also lived a learning experience integral that included musical and recreational activities, in order to foster companionship and motivation to study the instrument. Source
Reason for the collection of current funds
** The La Culata II ** Flute Course is an activity designed to serve more than 50 young flute players from different states of our country, which will take place during the Holy Week of the current year (from March 24 to April 1, 2018). source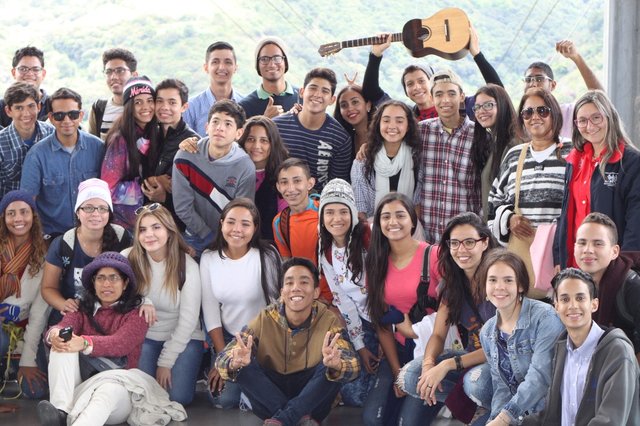 The destination plan for the funds:
Our goal is to obtain $ 1,600 that will benefit young flutists from all over the country, a sum necessary to cover part of the operational and logistical expenses of an activity that will last a week. There are expenses of:
Mobilization of the equipment from one state to another within the national territory.
Payment of professional fees to invited teachers.
Fees for accompanying pianists.
Feeding costs (including food purchase and kitchen equipment fees that will prepare and serve the meal).
Accommodation costs for approximately 60 people.
Rental of facilities for academic and sports activities.
Transportation costs (freight) for large instruments (piano), lecterns, chairs, etc.
Transportation (bus) for participants during activities that will take place outside the course facilities.
Music playback for the Opus Flute Ensemble.
Other general expenses. (For all the expenses described above we will allocate $ 200 of the money requested in the campaign).
And one of our main expenses: cover the logistical costs necessary to bring Master Elisabet Franch from the city of Barcelona-Spain (for this we will allocate $ 1400).
---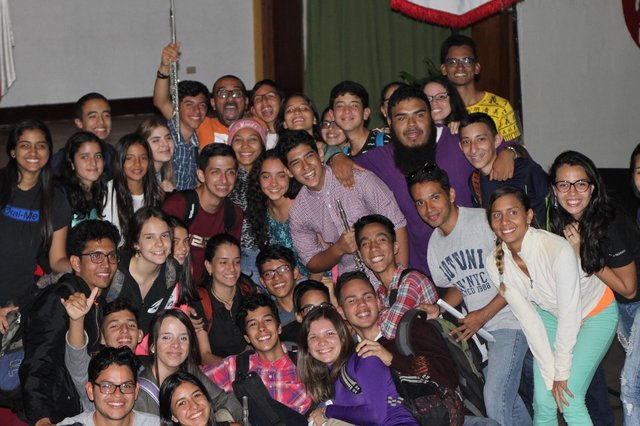 Ok @ theghost1980, how can we help?
You can go directly to the campaign of Gofundme.com and contribute(lovingly) so that they exceed the goal of $1600.
You can give your generous vote in this article. The liquid rewards of this article, will go directly to the collection campaign in Gofundme.com1. Note: I will add a bit of my money to promote the article and thus win more votes and exposure.
If you want to contribute by sending SBD or STEEM, you are the most welcome friend. That money will be converted to SBD and added to the total liquid amount of this article.
1: As soon as this post is collected(After it's 7 days), I will convert the liquid earnings to Bitcoin. After that, using an account abroad, I will change Bitcoin to GBP and finally I will donate directly using my card, in the Gofundme.com campaign. I will try to do it under the alias of Steemit, since this serves to attract people to the platform and to understand that Steemit is as real as our dreams. Later I will post a message in comments with photos and proofs, of the whole process.
---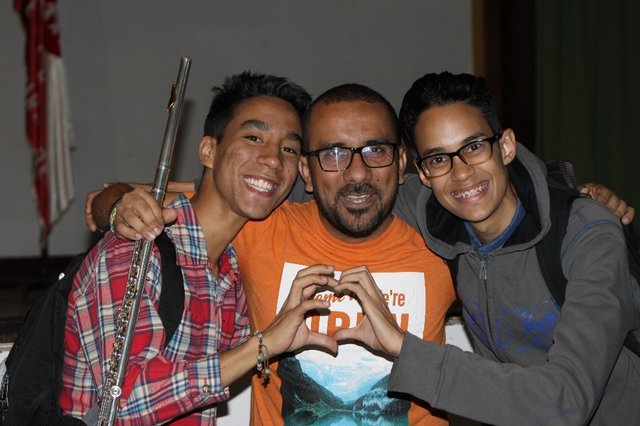 Please keep in mind...
Education is the basis of a society and all people deserve to be educated and get what is necessary to achieve their dreams.
Venezuela, although it is going through a very hard time, has never stopped having people who believe in their work. We as Venezuelans, we are hard-working people and certainly courageous people. We will never rest until we achieve our goals. This is worth supporting.
A day like today I'm the one who asks for your collaboration. Tomorrow, the world turns and the wheel continues to move. I am one of those who believes that a good cause deserves all the help we can provide. You will never know when you will need help of those you have helped.
I have always considered Steemit as a way to raise funds. This is the time to give it a good use. Thank you for your time to read this article and thank you very much for your contribution, I say goodbye for now. STEEM ON, boys and girls.
PS: Google translator is not as good I would like to but, it does it "understandable". Or at least this is what I want to think.
---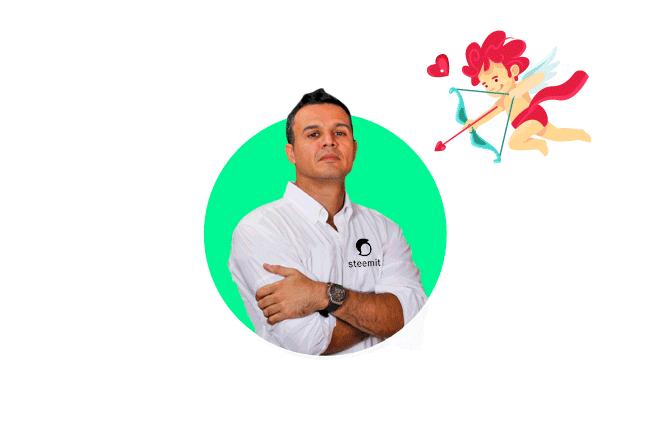 Diseñado por @orelmely


.

.


Saturno Mangieri - Asesor de Tecnologías Blockchain
icons from icons8.com