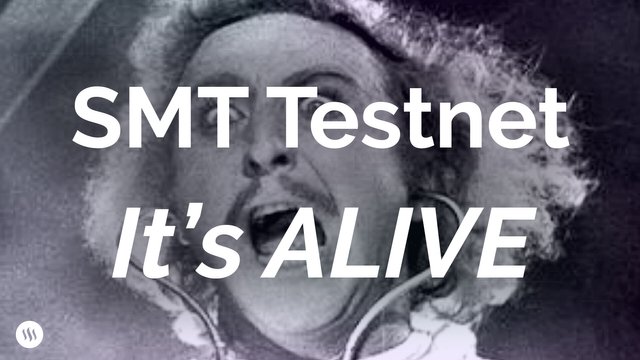 We are excited to announce that the Smart Media Token (SMT) testnet is now live!
You can connect to the testnet by listing testnet.steemitdev.com:2001 as a seed node and by setting your chain id with option --chain-id=46d82ab7d8db682eb1959aed0ada039a6d49afa1602491f93dde9cac3e8e6c32
Entrepreneurs & Developers
This is an especially exciting moment because it means that once the testnet hardforks in SMTs, developers and entrepreneurs will be able to begin playing with Smart Media Tokens in a test environment! This has been 2 years in the making, but the development phase of SMTs is finally complete, and testing has begun.
Testing Philosophy
Testing SMTs is going to be a bit different than testing previous hardforks. The features being added are the most extensive feature set we have ever added to Steem. Most of the preexisting systems in Steem had to be extended to support SMTs. Due to the magnitude of this update, we are planning on an extended testing period to ensure we catch all critical bugs, catch as many minor issues as possible, and to give our developer community as much time as they need to integrate their applications with SMTs.
In the first month or two, we will be liberal with relaunching the testnet when bugs are caught and fixed. The first few of these testnets will have a hardfork date a few days after launch to test the hardfork block. When we feel comfortable with that code path, we will launch testnets with SMTs enabled. Once we feel we have caught the low hanging fruit, we will leave the testnet up for an extended period to give developers some stability in their testing and development.
Hardfork Date
We are not announcing a hardfork date for SMTs because we want to allow for as much testing as needed to ensure a smooth launch for SMTs.
Testing SMTs
SMTs have a number of customizable parameters which enable countless potential configurations. Once SMTs are enabled, and our client libraries updated, we strongly suggest that developers begin experimenting with these different options and testing them in their applications so that they can observe the impact on user behavior. Of course, these will not be "real" SMTs in the sense that none of them will be running on mainnet and all the information will be reset once the code is hardforked in.
Testnet v. Mainnet
SMTs on mainnet will be full-fledged cryptocurrencies with industry-leading features like 3-second fee-less transfers. But they will also feature unrivaled features like Proof-of-Brain which, if tuned properly, can be a powerful mechanism for bootstrapping token usage by turbocharging engagement. But bear in mind that once cryptocurrencies become tradeable and acquire real utility, the way that people interact with them changes and becomes highly unpredictable.
That is precisely why it is so important to test one's SMT as thoroughly as possible before it is released, because like any cryptocurrency, once an SMT is released, its economic properties cannot be altered without a hardfork.
The added benefit of all this testing will be helping the Steem ecosystem by ensuring that these changes do not negatively impact the Steem blockchain. SMTs represent the single biggest change to the Steem blockchain since the original release! Steem will be changing from a platform for sharing and rewarding content, to a platform for releasing state-of-the-art cryptocurrencies that "just work."
Onboarding the Masses
We have long said that our mission is to onboard the masses to the blockchain by tokenizing the web. After SMTs, every website and web application will be able to have their own powerful cryptocurrency customized to meet their own needs and maximize their own business and social objectives.
Steem will be the critical computational layer supporting all of these different tokens, while STEEM is the critical financial layer providing transferability, liquidity, and access to exchanges.
So go forth and test the SMT hardfork! We'll be presenting about SMTs at SteemFest, so if you're going to be there, be sure to attend our presentations.
The Steemit Team