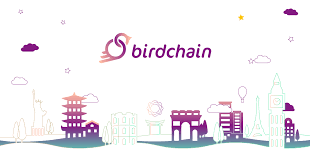 The communication industry has long established a foothold in other industries which means it has been a very profitable business. Due to its mediums like voice call, chatting, and video calls, it has easily adapted to the needs of its million users. The boom of social media and applications jumpstarted a technological revolution for the communication industry. But problems are always unavoidable especially if there are companies that monopolize the use, development, and monetization of these applications. The invention of the instant messaging app has changed the landscape on how people communicate with each other. We can easily download an app like FB messager, Viber, and telegram to communicate with people all over the world. But what if you have all these features and be able to monetize or earn passively at the same time. This is where BIRDCHAIN comes into the picture.
What is BIRDCHAIN? (some info from https://www.birdchain.io.)
So what is all the fuzz about BIRDCHAIN? BIRDCHAIN is a decentralized instant messaging application for Android which gives its users the opportunity to monetize or earn extra income by selling their unused SMS messages, watching promotional videos, and monetizing their personal data. BIRDCHAIN is already ahead of their competitors due to the fact that it's backed by a company which has long specialized in SMS delivery business. This means that it's not a start-up company but has a parent company that guides the growth of the BIRDCHAIN ecosystem. One advantage of this platform is that it has its own token which is the Bird token. The Bird token has some of the workings of a great token just like bitcoin because it works as a utility and trading token. This token will be used as a monetary currency within the BIRDCHAIN ECOSYSTEM for purchasing Birdchain A2P service and rewarding Birdchain app users, ensuring the BIRD token has a real demand. The goal of the company is to have the worldwide circulation of the token because it is believed that circulation and spread of the token is the key to its value. Below are some factors why BIRD token would standout above the rest:
Low initial cost. Right from the get-go, the tokens are sold at its lowest possible price for big fish investors and crypto newbs to take advantage of the benefits of the platform.
Token flexibility and Unique currency. This means that the token was created to serve two purposes: utility and trading token. BIRD tokens are used for purchasing Birdchain A2P service and rewarding Birdchain app users, this ensures the BIRD token will be in demand.
High desirability. Due to the fact that this platform advertises passive income, definitely, it would be the darling of the crowd for all investor and crypto enthusiast alike. The demand would be there for the app because almost all people are looking for ways to earn money.
Embracing the competition. One enticing feature of the BIRDCHAIN platform is the A2P SMS service which will be appealing to all companies that look for lower SMS price and high-quality service.
Why invest in BIRDCHAIN?
For veteran investors and crypto newbs, there are factors to consider before you invest in a token or platform. You don't invest immediately and at the end finds out that its a scam or a losing cause. Below are some criteria to consider. Let's find out if BIRDCHAIN can hit all the criteria.
CRITERIA TO CONSIDER:
UNIQUE PROJECT. BIRDCHAIN is a uniques platform due to the fact that it competes with the big guns of the SMS delivery industry. It is an ambitious but a promising project.

The team that comprises the company must have at least 5 well known reputable members.
I would say Yes to that due to the fact that this is not a start-up but has a parent company which guides them. Based on the background of the company members, they are all knowledgeable and reputable in their own field related to the platform.

Escrow is a must.
This platform doesn't require escrow for their transactions due to the fact that all transactions are done within the ecosystem. The buying and selling of the SMS can be done using the platform.

Detailed Whitepaper. All details about the project and platform are stated in its whitepaper. The whitepaper is simple and can easily be understood by crypto enthusiast and newbs alike.

A precise and clear Roadmap. The roadmap is very clear and precise. It gives accurate deadlines and timetable which the company follows.

Offers 50% bonus on early ICO investors. Yes, birdchain offered a 50% bonus for their Pre-ICO.

Offers dividends to investors. It doesn't offer dividends but has an enticing alternative to earning passively buying and selling of unused SMS.

Officially listed on ICO countdowns or ICO calendars online. Birdchain has been listed in all major ICO countdown sites and calendars.

The existence of a cap in raising funds.
Soft cap of the ICO - 1,500 ETH
Hard cap of the ICO - 10,500 ETH
Transparent breakdown of budget and distribution of funds. This platform/company is very transparent on how they will use the funds that they will be able to accumulate.

Should be put on the exchange. This will definitely happen because of the uniqueness of its Bird token. the token has its dual purpose of being a utility and trading token.

Clean Image – no red flags on any forums online. Birdchain has taken advantage of various social media tools which helps in its advertising. The number of their telegram community has grown widely.
CONCLUSION: This project is worth investing due to the positive things it brings. It doesn't just benefit individuals but companies as well. SMS advertising is also a good ploy to get more customers so this project can definitely take advantage of this. For investors, it's not always about getting the RIO but believing that this project or platform would help in the advancement of any industry.
To know more about birdchain: https://www.birdchain.io