Record Great Audio with your Smartphone Cheap?!!!
So I recently ran across an Amazing Microphone that is VERY Affordable!
Are you tired of your awesome Smartphone that can record in 4K but has horrible sound quality in comparison?
I have the Samsung Galaxy Note 8 and while the Video is amazing the audio is horrible compared to the quality of the video. If like me you enjoy doing product reviews on youtube, or just taking vacation videos etc, You really need a nice bump UP in your audio quality.
I introduce to you The best bang for you buck mic on the market IMO... The Purple Panda Lav Mic.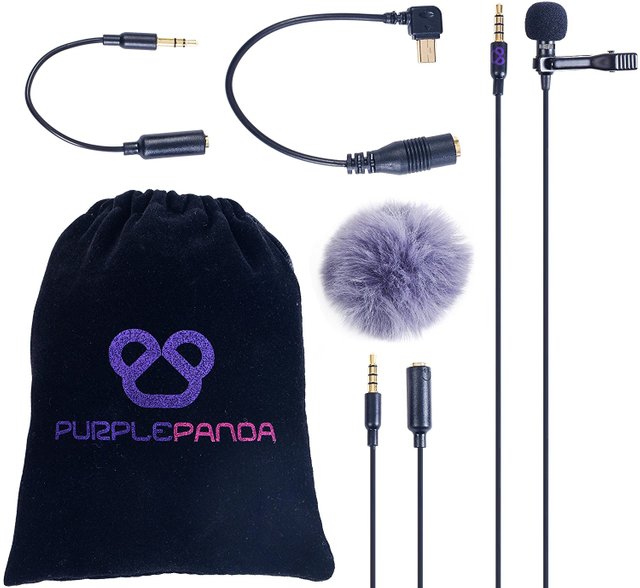 The Purple Panda Lav Mic is a Clip-on Omnidirectional Condenser it works on the iPhone, iPad, Go Pro, DSLR, Camcorder, Zoom/Tascam Recorder, PC, Macbook, Samsung Android, and other Smartphones.
The quality feels Premium ,and I find it has excellent STEREO AUDIO. It is durable, it is lightweight, and it is discreet, it is easy to use because it is plug and play so you won't need anything else no batteries, etc.
This Mic is perfect for vlogging, motovlogging, filmmaking, or gaming, skype conversations, webinars, podcasts, or interviews, youtube videos, and more.
It comes with a 9.8ft extension cord, mini usb adapter, trs (2 ring) adapter, fuzzy windscreen, extra clip, it also has a nice carry pouch with it also.
The manufacturer offers a 60 day money-back guarantee just make sure you purchase it on Amazon Directly from Purple Panda, don't buy it third party like off an ebay seller if you want the Warranty, otherwise go for it.
LINK TO PURCHASE https://www.purplepandastore.com/products/purple-panda-lavalier-microphone-kit
The best part is its ony $23.99 right now !!! Super Affordable.
Here is a Video I found on youtube that really does a good job letting you hear the difference this can make vs. a stock camera be it on a Smartphone, Webcam, or Go Pro etc.
I highly Recommend this mic to anyone that wants to improve the quality of sound in their videos, especially smartphone videos, go pro videos etc.
I hope this helps someone out, if you like it please UPVOTE, if not have a nice day anyway.