What Is The SmartCard? - The Animated SmartBee EP05 For SmartCash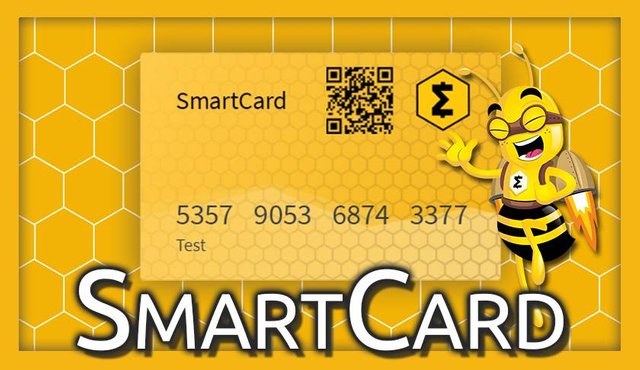 ---
In the fifth episode of the SmartBee we are looking at the brand new feature of SmartCash: The SmartCard. This is an instant payment feature for merchants and buyers that works without a middleman and fees. It enables payments directly from phone to phone without waiting.

Narrator Text
Welcome to SmartCash, a young merchant oriented blockchain technology that offers great features. In this video we have a closer look at one of them: The SmartCard.

Traditional payment systems are facing several problems such as long settlement times, chargebacks and high fees. SmartCash is solving them with the introduction of SmartCards. These virtual cards enable merchants and customers to use SmartCash as an intuitive payment. Using SmartCards is faster and cheaper than the common debit and credit cards from the banking system and is easy to set up.

You can create as many new SmartCards as you like with the SmartCash application. Each card gets a pin code for security and can be limited to a certain area. It contains an encrypted QR code for faster access. The final card can be used virtually or as a printed physical card and does not require any internet connection for the customer.

The merchant has its own point of sale app to transmit transactions for you. It automatically calculates the price from the selected currency into SmartCash. With a scan of the buyers encrypted QR code located on the SmartCard the transaction gets initiated and finally confirmed via the pin number of the card holder. The payment is instant and costs only a small blockchain fee worth a fraction of a cent.

So, there you have it: The SmartCard makes SmartCash an easy-to-adopt solution for real-life payment scenarios. It cuts out the middle-man and benefits both merchant and customer through less restrictions as well as faster and cheaper transactions. SmartCash is pushing the limits of blockchain technology with tools like SmartCard that support entrepreneurship and innovation.

If you want to learn more about SmartCash, SmartRewards, SmartNodes and the decentralized SmartHive check out our other videos. And I – Bee you next time.

The Video
---
▶️ DTube
▶️ IPFS

Links
For more information about SmartCash please see the following links:
Steemit: @smartcash
Website: https://smartcash.cc/
Twitter: https://twitter.com/scashofficial
Discord: https://discord.gg/VMwh3TR