Disclaimer
Instead of putting up disclaimer at the end of this post (like most people would do), i have decided to put it upfront so as to avoid any confusions / flags / misadventures.
This post is indeed an investment advice related to one specific cryptocurrency. It is NOT backed up by tech analysis or any other method out there. The advice comes fron my personal experience in crypto and it is my modus operandi that whenever i see a good oppurtunity in investment, i tend to publicly announce it. The decision to invest is totally yours and I will not bear any responsibility for any loss you may incur..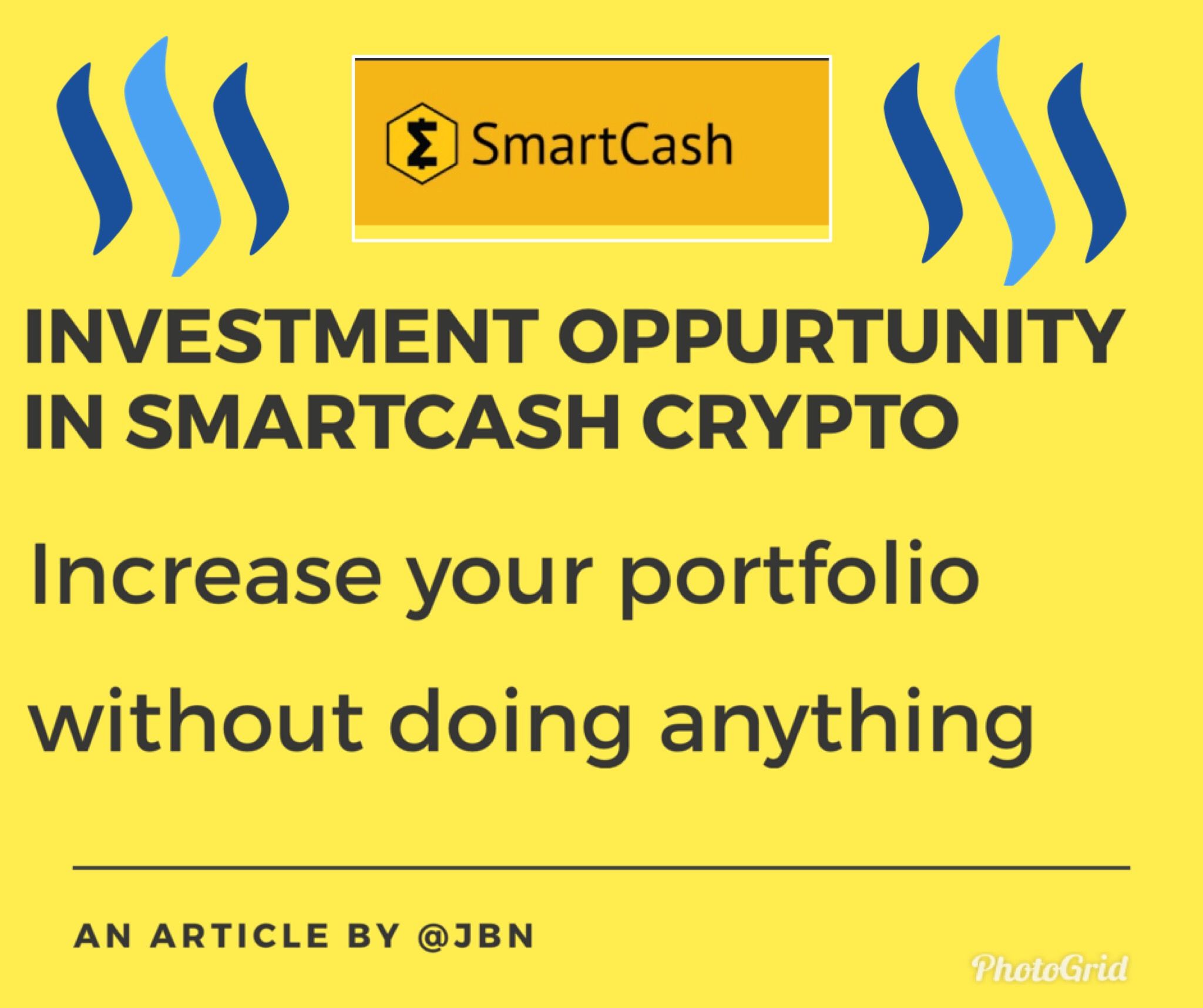 Preface
Most newcomers in cryptoworld tend to buy bitcoins as their prime investment and in later stages of their crypto journey, they discover the power of altcoins.
Well that is the beauty of altcoins. They hide in the plain sight and those who know their importance, are making huge profits off of them.
Somewhere in last year, steem dropped down to its lowest at 0.07$ (appx) and while common sense suggested to sell it before it could hit rock bottom, the whales you see today bought a massive chunk of steem during that time.
I understand that the market seems disappointing these days but imagine the stable price of steem today as compared to 7 cents a piece last year. Those who bought massive amount of steem during that time are now enjoying the massive profits. So the crypto investers of today look for the same kind of opportunity. What if I told you that one such opportunity has arrived?
Enters SmartCash
@smartcash is a cryptocurrency just like any other and thanks to @ilyastarar for introducing me to it. Smartcash rewards its investors, who hold smartcash in smart wallets, with certain amount of percentage of total mined currency every month (much like getting interest on holding steem power).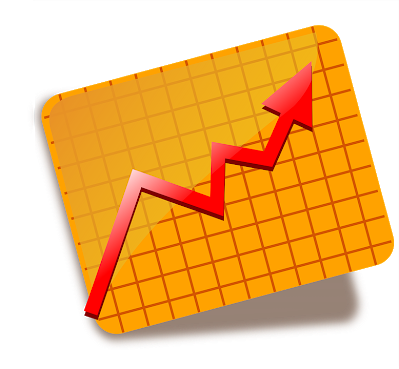 So in a way, your smartcash keeps increasing with time if you keep it in your smart wallet. Every month, a snapshot will be taken of your wallet and your share will be deposited in your wallet.
How to Signup
Its fairly simple. Go to www.smartcash.cc. You can choose to use web wallet or you can opt to download smart wallets for android, mac os x and windows. Use the signup form to fill out formalities like username, password, email etc... and you will be all setup in few moments. (I will write a complete and detailed tutorial on how to sign up for smart wallet in my next post).
Distribution of Smart Rewards
Smartcash is a community centric crypto that funds community driven projects. Below, please find the distribution of mined smartcash amongst all stake holders :-
70% of the block rewards are reserved for funding smarthive community projects.

5% of block rewards is distributed amongst miners.

15% of rewards is distributed amongst those who hold smartcash in their wallets.

10% of rewards is allocated to smartnodes. Smartnodes are servers which handles transactions (kind of like steem witness servers).
Please note that in order to receive smart rewards, you will need to keep smartcash in "rewards wallet" and not "liquid wallet". When you create an account, both types of wallets are automatically created so that you can choose to deposit your smartcash coin in whichever type of wallet you want to.
Exchanges From Where Smartcash can be Bought
Currently few small exchanges are offering smartcash coins for trading. However 2 fairly big names amongst them are :-
HitBTC exchange

Coinexchange.io
There are a lot of methods through which one can buy smartcash from either of above mentioned exchanges. However, the most easiest way is to use @blocktrades for selling steem/sbd for bitcoins and receive those bitcoins to your desired exchange to buy smartcash.
Alternatively, you can purchase bitcoins for fiat to exchange them for smartcash.
More Information On SmartCash
I am, by no means, affiliated to smartcash crypto but i wanted to dish out basic details here. If you want to read more about it, i would suggest you to use your own due diligence and visit their website. Furthermore, smartcash has its own account on steemit @smartcash, which you can follow to get updates on their blockchain and coin.
Investing in Smartcash
Now i will come to the point for which i intended to write this post about in the first place. In December, 2017, when cryptos were booming, smartcash rose to almost 3$ a piece. Today, smartcash is trading at 0.08$ (appx). This scenario resembles with that of steem that i mentioned in the opening paragraph.
In my honest opinion, the smartcash project seems mature and well thoughout and it has potential to go beyond.
So investing in smartcash today will yield heavy profits in future (most likely). It is pertinent to mention that by no means i am suggesting that you will get rich quickly. HODLing is paramount just like it is the case with other cryptos.
Below, please find the screenshot from coinmarketcap website on Smartcash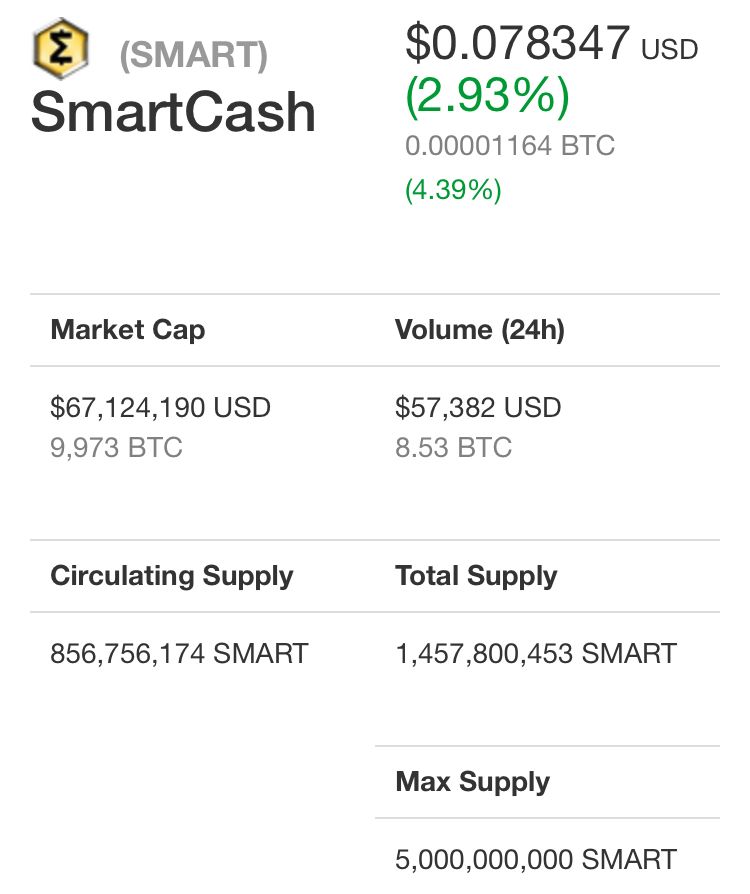 Conclusion
Smartcash is a great incentive for those who want to increase their crypto portfolio without doing pretty much anything. All you need to do is to buy some smartcash, put it in smart reward wallet and forget about it until you want to cash it out for fiat. This way, your total smartcash will keep on increasing when smart rewards are distributed amongst its Hodlers every month.
Furthermore, smartcash is really at the dip right now when I compare its price of today with that of December 2017. Hence, buying smartcash coin at this stage seems to be an intelligent choice for any crypto trader.
I will reiterate that this is not a get rich quick scheme. You will have to show some patience (may be even a lot) but for the profits percentage, this coin has to offer, i am willing to take some serious risks.
Best regards
JBN
---
Kindly consider to upvote and resteem so that everyone can benefit from this opportunity. Also, if you have any questions / comments, please feel free to leave them in comments section..