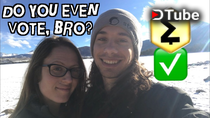 ---
Join us for a Reminder to use your SmartCash wisely. Every SMART in your web/desktop wallet counts as a vote on the proposals you think are worthy of funding. Just click Voting in your SmartCash Wallet to start voting!
---
Let us help you free yourself with cryptocurrency.
Beginners can easily buy Crypto with Fiat on Coinbase: https://www.coinbase.com/join/575b48d839cfb702bc000591
Our preferred Hardware Wallet is the Ledger Nano S: https://www.ledgerwallet.com/r/07e0
Our preferred Centralized Crypto exchange is Crypto One-Stop Solution / COSS: https://sso.coss.io/api/invite/7RCJADC7VX
Our preferred Decentralized Exchange is Bitshares: https://bitshares.org
---
Our favorite cryptocurrency is SmartCash (SMART).
If you hold 1,000 SMART in their official wallet, you earn monthly rewards (Smart Rewards) for not touching them: wallet.smartcash.cc
You can buy SmartCash here at CryptoBridge: https://crypto-bridge.org/
We give away 5 SMART every (brand-new) video to help you get to 1,000 coins! Leave a thoughtful comment with your SmartCash address to be eligible to win.
---
If You like our content, show us your support by donating:
Bitcoin: 1KAzhZsAVEBozbTTFDUtDAH2MECDFNXV8R
BitcoinCash: 1BZCEJSDQ8PLTVpKjwRwaXqai1XYtpqW5d
Bitshares: amvanaken1
BridgeCoin: amvanaken13
Dash: XhbiUrLGTLcyLGXQxDSvCxqw6wCwYm4rHo
EthereumClassic: 0xa14fcd13f3890cc0443008a932cd2c800c9d7b69
Ethereum/ERC20 Tokens: 0x8B22615620B6BDFe7e5634DFf627F67DfBf2CcE5
DogeCoin: D7GXpDgewjX7RxymdXaqXh2YS7Du5FRUTM
Lisk: 9547696002805422173L
LiteCoin: LgjrqMmtJmKkH9xuBqLMMjCMBApSAiFnny
Monero: 4JUdGzvrMFDWrUUwY3toJATSeNwjn54LkCnKBPRzDuhzi5vSepHfUckJNxRL2gjkNrSqtCoRUrEDAgRwsQvVCjZbS2sv7uAUddBDpKauqG
Nano: xrb_3b8aujw3nihjqt6wjs1a6q1cg7gw8jgragkkhfqxna5d7ybsbd73qpigseuh
Neo/Gas/NEP5 Tokens: AMvBQtvuZgJeCK7x8aVeNEqEV1HmrHnWuB
NoLimitCoin: NN5F6WVJgqaPpTPa1YDGUoH3p93YUPr21o
Qtum/QRC Tokens: QQK57BRkcaG196ce7cdkFt8FVyoSZywPnS
ReddCoin: RrEtP1ZPeLAgohZwpb1Q2ShGhveka9jTVd
SmartCash: amvanaken
Steem/SteemDollars: encryptdcouple
Stratis: Sfrmq1nMgENAmsR9EnjtSY5sRmV743Fkte
VeChain: 0x8B22615620B6BDFe7e5634DFf627F67DfBf2CcE5
VertCoin: Vqq9UjT46bctXVNU9hUY7pSB9ccbUzDhtK
ZCash: t1gg4GgExA5pQ6DZijsb8ScsVfVBQWZ38Fr
---
We posted this video on Youtube January 9th, 2018. Our Smartcash giveaways are only on brand-new content. We are gradually uploading our old videos to D.Tube for your viewing pleasure and to help the decentralization movement (; Leave a thoughtful comment with your smartcash address on our NEWEST video for a chance to win 5 SMART! Web Wallet is best, and can be made quickly here: wallet.smartcash.cc
---
▶️ DTube
▶️ IPFS