[v2.0] SmartNodeMonitor update!
SmartNodeMonitor - Payout history + Top nodes + FAQ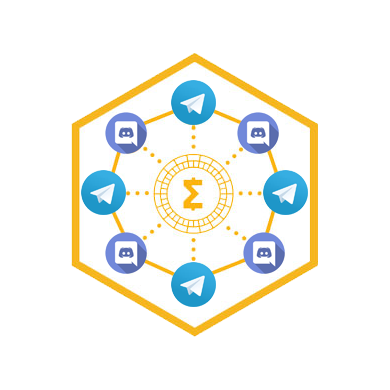 If you never heard of the SmartNodeMonitor i would recommend you to check out the following two links before you continue here.
Changes v2.0
The new update is finally ready! It includes a lot improvements on the backend and three new user commands.
Reward Notifications
Until now the bot had its problems to notify all your received node rewards since not all of them are populated to the nodelist at the moment. From now on the bot keeps track of all node rewards that occur on the SmartCash blockchain by checking the mined coins of each block.
As result all rewards your nodes do receive will become notified from now on! 🎉
New commands
History
By running the new history(discord) or /history (telegram) command you will get information about all past payouts of your nodes. It will also show you some statistics. This is how it looks: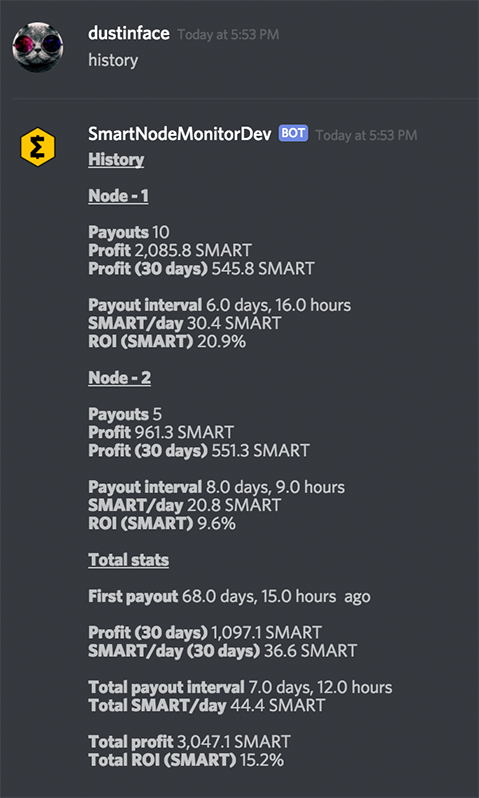 Top nodes
I guess with many nodes it can be annoying to scroll through the whole list of nodes each time you want to check if any of your nodes are at a good position. Therefor you can from now on use the top command to print a list of your nodes filtered by its positions.
You can call it without an argument like the first call in the screenshot below: top for discord or /top for telegram.
This will give you a list of all your nodes that are currently in the top 10% of the queue.
If you want to print another percentage range you can simply add the percentage you want to filter: top <percentage>
The possible range here is: 10 - 100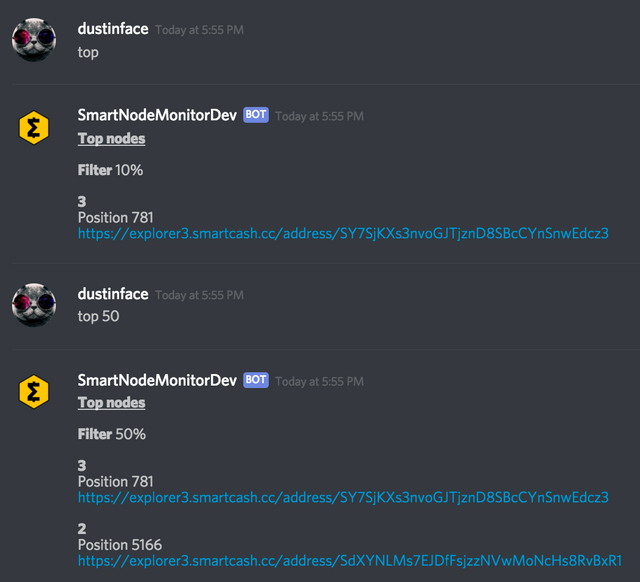 Frequently asked questions
The FAQ command will help the support team and the users to get fast and concrete answers to the most frequently questions related to the SmartNodes. For now there are just a few following topics. If you have any question that you think should get integrated let me know.
Current topics:
Initial wait time
Collateral confirmations
Expected payouts
Position / Queue upmoves
Payout requirments
Node status
To get a list of the available topics just send the bot faq on discord or /faq for telegram. The result will look like this: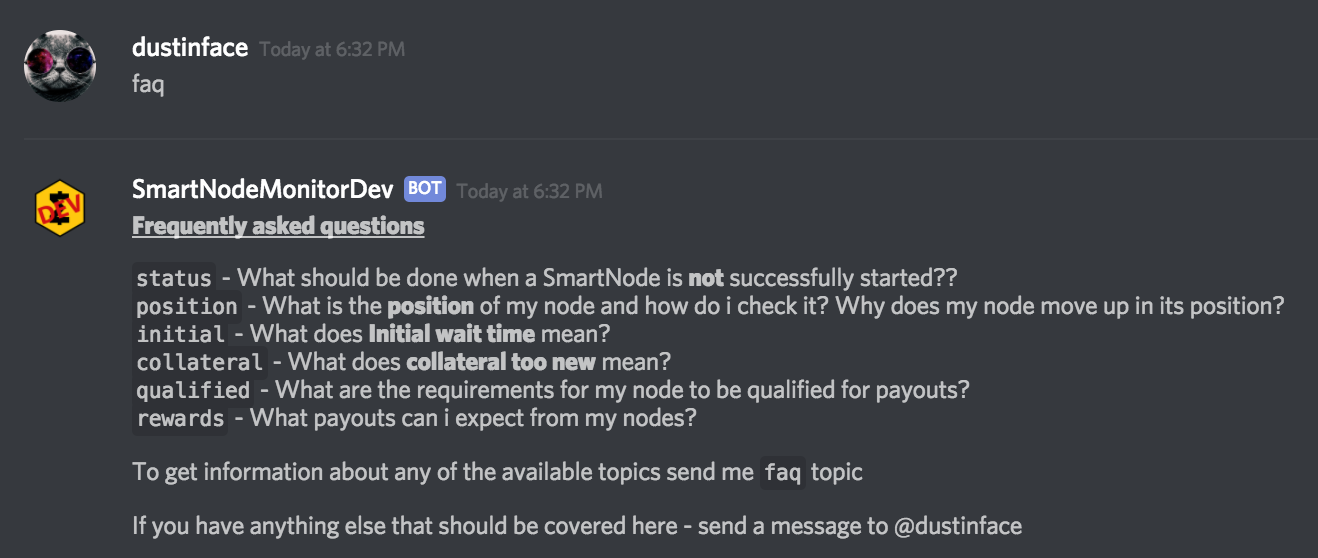 Information about the available topics will be printed when you send the bot faq <topic>
As example here the output of faq rewards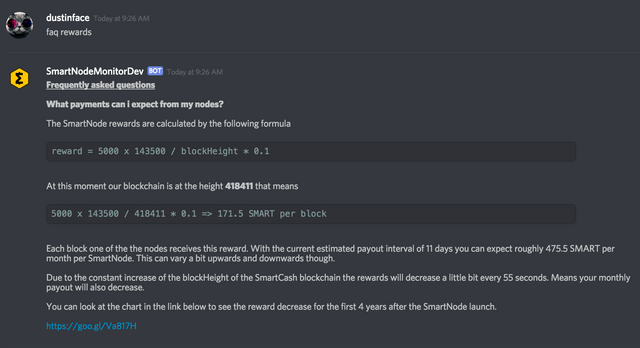 Other improvements
[Discord only] The bot sends a welcome message all users who interact the very first time with the bot in public or private chat.
[Discord only] @Support @Squad => You can now mention the @SmartNodeMonitor and any @otheruser user in one message. This will force the bot to send the @otheruser the new welcome message. Like: "Hey @dustinface check the @SmartNodeMonitor"
The nodes and detail command prints the remaining time of the initial waiting period now.
More realistic calculation of the time between payouts in the info command.
SmartCash voting script
If you are searching for a way to vote with all your node addresses at the time you may also want to look at this
https://steemit.com/smartcash/@dustinface/smarthive-voting-automation-script



🍺 + ☕️
STsDhYJZZrVFCaA5FX2AYWP27noYo3RUjD