Just Got My SmartCash Shirt From The SmartieShop Using The Smart Earned Through Tipping :)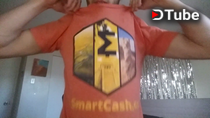 ---
I am happy to report that my SmartCash Shirt has arrived!
I purchased the shirt using the tips that I've earned posting in the SmartCash Discord, which is pretty darn neat if you ask me. It's nice to have tangible items to show friends and family, even if it's something as simple as a shirt.
I intend to document myself with the SmartCash shirt on in various places around Denver, as well as on hikes and at shows. I hope it sparks some interesting conversations. It will be a great way to introduce people I meet to this incredible project.
I ordered the shirt on January 26th, and it arrived almost a week later on February 3rd. I can't speak for international orders, but I was very pleased with the timeliness of receiving my shirt.
Check out the smartie shop to buy your own SmartCash swag!
---
▶️ DTube
▶️ IPFS