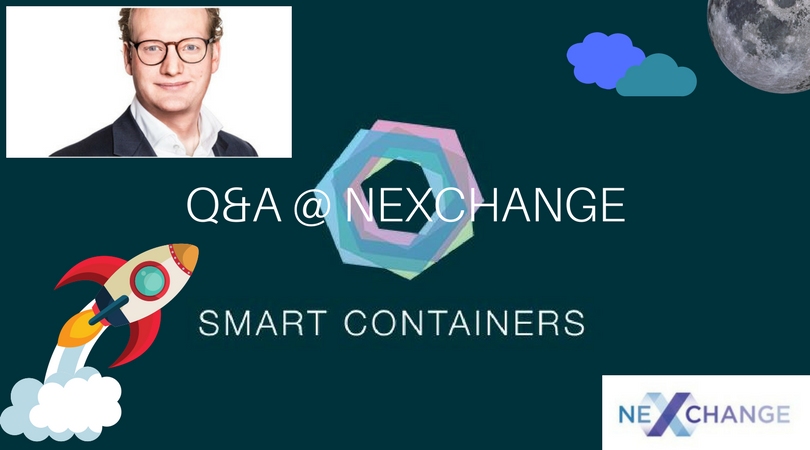 Hi, dear community,
Last week was full of events for us, among those, we will like to share with you another interesting Q&A from our CEO Richard Ettl. In this opportunity, it was with the people from the site NEXCHANGE which is an interesting concept site to help projects thrive in the form of networking (similar to an Incubator), check their site to know more about it.
The title is "Q&A: Smart Containers' Richard Ettl on Blockchain, Pharma, and How His Company's Hardware and Software Is Disrupting the Logistics Industry"
For those who are actively following every piece of information our team provides you, it will give you, even more, highlights of the project and the product.
Personally, I chose the following three sentences to make a nice wrap-up of the Q&A session;
You are currently raising funds to invest in new solutions. What solutions have your developed and put in the field, and what is next to come?
We are raising funds through an ICO to grow our container businesses in pharma and food. We push SkyCell from no. 4 to the no. 1 provider in the next 2-3 years.
You started in Pharma and expanded into food, using your expertise. If Amazon started as a bookseller, where do you see Smart Containers going?
The potential in pharma is big – direct to patient alone will be a USD 2.5bn opportunity. Food is even bigger as consumers want things to be shipped to their homes. Now we are collecting a lot of data – we have collected so far more than 1.3bn datapoints about pharma logistics – so there could be a data element in the future – like offering an insurance solution.
Would you describe Smart Containers as an IOT firm, a fintech firm, both or something bigger?
We are a tech company that combines hardware and software in a new way with the goal to increasing the safety in distribution, reducing cost and the CO2 foot print.
The above extract is just a small part of the material gathered by Nexchange, is at most a 4 minutes read, so please check it out under this link
Remember to check our website;
https://bit.ly/SMARC_ICO_Website
Join our Telegram official channel to never miss an update;