Making art, illustrating with passion | | | · Car Tuning ·
---
---

Final illustration.

Hello world!
My warmest greetings to each of you, my readers, this material is something I had never shown in Steemit and I had never talked about it. Illustrating cars I've always liked, but for some reason I had stopped doing it, however, here I show you a little of what I can do.

Why do I illustrate a car instead of something else?
When I was little, I think my first drawing since I have use of reason was a car, is more, I wanted to study automotive design or another study that seemed to me because I was passionate about making drawings of cars, but little by little I was liking other areas of design and term INE studying architecture.
---
What did I see that made me like to illustrate cars?
Overhaulin' is a Discovery Channel program that is responsible for restoring and modifying vehicles, in charge of this is Chip Foose, a genius in illustrating cars, here is one of my inspirations.

And what is next?
Let's talk about the process!
---
1-First you make a guide line, then you start to draw the vehicle.

---
2-Once the sketches are done with the pencil, you proceed to finish the car, remember that with the help of a draft you can eliminate the parts that you do not like.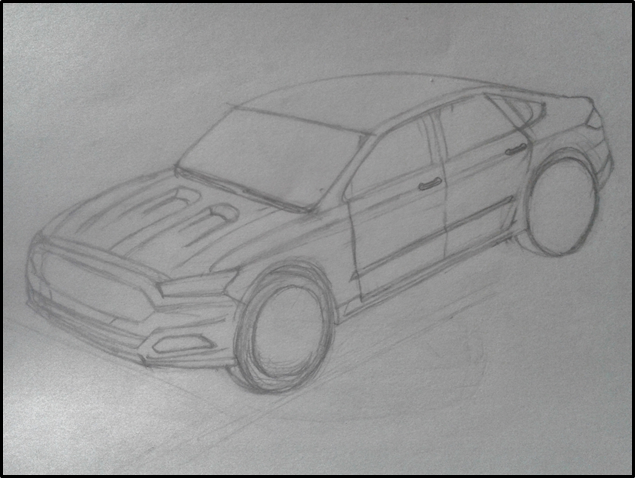 ---
3-When you get to this point what comes is easier, with a marker end point and a ruler, you review the line in pencil to completely cover all traces in graphite and then with the draft, delete those lines guides.

---
4-What you have to do is the accessories that will make the car "tuning " (are to the artist's tastes), to have ready this step, you make the shading of the vehicle and ready.


This car does not exist, it was created by my person, however, I took as reference the Ford Fusion 2015.
---
Don't forget to vote @curie as witness on this page:
A huge greeting and a big hug.