There are many graduates in the world that did not have a job due to one thing or the other. If you are to submit your resume and a certificate in companies, what you will be hearing is what are the experienced you have acquired? Tell me, what will a fresh graduate acquire? When will the graduate acquire the experiences he needed if he will not be employed and start from somewhere. I hope companies will look into these kinds of situation and help fresh graduate to move ahead and sustain themselves as well as acquired skills from them instead of looking for people who have acquired some experience in their field. Well, that is by the way.
Be Skilful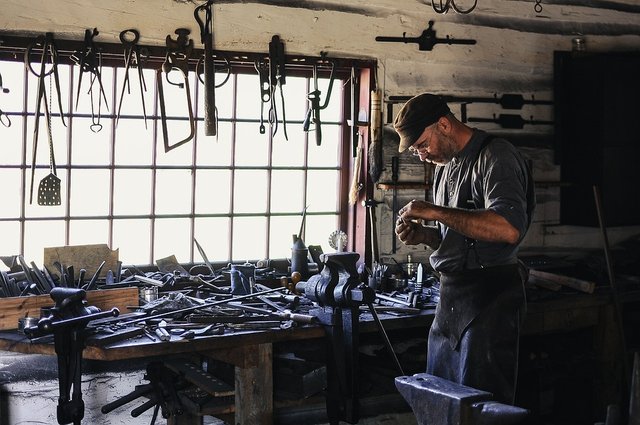 image credit
This is where I am heading. There are so many ways that one can be skilful. A skill can be acquired in school, training centres, depending on what kind of skill you are aiming to acquire. Those who have a handy work has been benefitting the society and themselves. These (handy work) have helped a lot of people around the world as the economy is becoming too hard to even get a white-collar job.
You can easily sustain yourself and even home if you have a handy work. There are so many works you can acquire the skills depending on what your interest is and the society will always be in need of someone who has a handy work. There are so many people out there complaining about not having a job. If you ask a person why he is like this, he will tell you that it's because he did not get a white-collar job. This should not be the case as there are skills that can fend for people without the white-collar job such as
bead crafts
plumbing
embroidery
artistic work
fashion designs
food services
House Painting
crafting
phone/laptop repair
hairdressing and makeup
Interior Decoration
manufacturing skills
and many more.
Don't limit yourself, have something doing, arose your passion, and see how things will turn around. You can ask about the skill that interests you among all listed above or maybe another that is not even listed here in your community on how you can acquire it.
There is something in you that can help you sustain yourself. Even if you don't have it in you, you can still acquire it with determination and focus.
Your society needs you as much as you have a need for yourself.

Official Bitshares account: altruistic-group | Email address: altruisticgp@gmail.com/altruisticcommunity@gmail.com