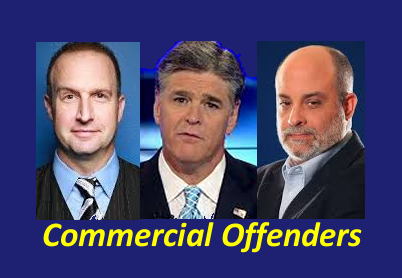 Sean Hannity, Andrew Wilkow and Mark Levin are annoying when they do live commercials on Sirius Radio's Patriot Channel.
Some time ago - at least a few years ago, they'd come out of their commercial breaks (especially at the tail-end of their :20-after breaks) and continue with their shows.
Seems the Sirius Radio talk format has incorporated live reads, from Hannity, Wilkow and Levin, for things like Casper mattresses and Super Beets.
When these great orators hawk products for money, they cheapen their name, their brand, their image and their reputation. Kind of reminds me of when I see has-been sports figures and years-gone-by game show hosts come out of retirement to supplement their income by doing commercials, sometimes hawking questionable products.
It's understandable, that Sirius wants to increase their bottom line, and that sponsors are willing and ready to pay a premium for these pros to pitch their products. But I'm not paying for a premium radio service to hear premium live-ad reads by these guys. (Actually, I guess I am. But only by default.)
It's also very annoying - that Sirius Radio has one guy in particular, who had a loud, abrasive and obnoxious delivery voice, used in many of the commercials they produce and run on their network.
I'm going to still listen, but I've got my remote control ready to hit MUTE at the appropriate times!
Hannity: Let not your sponsors be troubled.
Levin: The great one-minute commercial hawker.
Wilkow: Your show is right, your live-reads are annoying. That is the end of my comments.