NPR'S (National Public Radio's) SINGER-SONGWRITER CONTEST
Yo, Steemians... This is a legit singer-songwriter contest for all US citizens. The deadline for entry is March 30, 2020.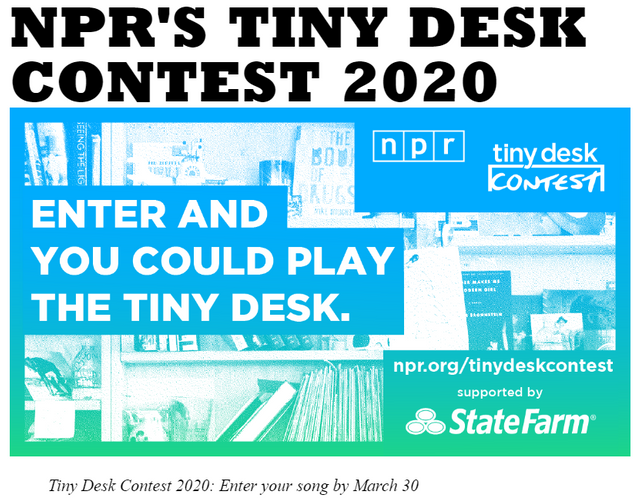 As a past judge for the infamous #openmic contest here on Steemit, I thought it imperative that I reach out to all US-Based TOP-5 and Singer-Songwriter winners/contestants to get in on this unique once in a lifetime opportunity.
So I heard about this listening to an actual fucking NY based radio station! It's an old school station playing new original music from a variety of talented new artists. Sure, they mix in a lot of classics, but it's mostly new original stuff, and it's good - really good. The link to the contest rules is below.
https://www.wfuv.org/content/nprs-tiny-desk-contest-2020
One of the regular DJ's on 90.7 WFUV is Dennis Elsas. He is an American disc jockey in New York City, whose radio and voiceover career has spanned well over forty years. Most notably via his more than 25 years at WNEW-FM in New York City, where he also served as music director.
I expect to see a talented Steemian I know take first prize, get flown to DC, get great exposure, radio play, and possibly a recording deal.
Good luck all...
Peace Out,