# 804 - Early American Commemoratives - Part 21
Most of the info below comes from: https://earlycommemorativecoins.com/
"Commemorative coins were first issued by the United States Mint in 1892 to mark the World's Columbian Exposition. The silver half dollars depicting Christopher Columbus were sold at the expedition for one dollar each. In subsequent years, the US Mint would continue the tradition of issuing gold and silver commemoratives to honor the important people, places, and events of the country.
Early commemorative coins were issued between the years 1892 and 1954 and have included primarily silver half dollars and gold dollars."
I will show the series "Silver Early Commemoratives". It will be presented in alphabetical order.
All coins weight 12.5g, with 90% silver purity.
The twenty-first is a MS66 1938 "New Rochelle" Half Dollar.
"The 1938 New Rochelle Half Dollar was one of several early commemorative issues that celebrated an event of primarily local significance with the issuance of a coin on a national scale. These coins were conceived and planned by the Westchester County Coin Club of New Rochelle, New York. The 250th anniversary of the settlement of New Rochelle, New York was being honored."
PCGS graded 4,784 1938 "New Rochelle" Half Dollars, with 1,077 as MS66 and 349 above. 15,266 1938 "New Rochelle" were minted in Philadelphia.
Today's price of this coin is around $450.00.
"The obverse design would depict John Pell, who sold the land that would become New Rochelle to the colonists, and a fatted calf. One of the conditions of the sale was for Pell or his heirs to receive a fatted calf each year on June 24.
The artist and medalist Gertrude Lathrop is credited with the designs for the obverse and reverse of the coin."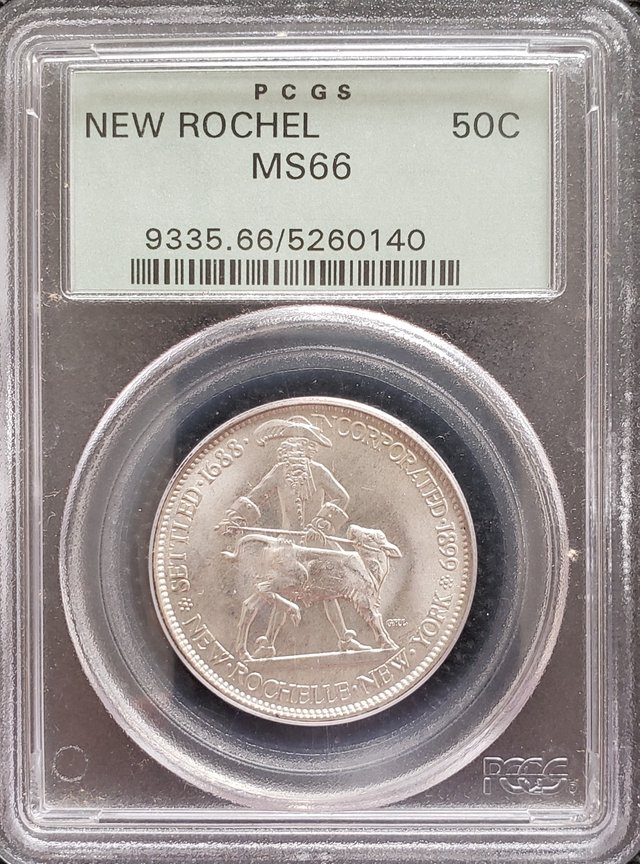 "The reverse design features the fleur-de-lis, taken from the seal of the city. Similar to the obverse, the single design element is presented in a flat and open field with sharply contrasted lettering."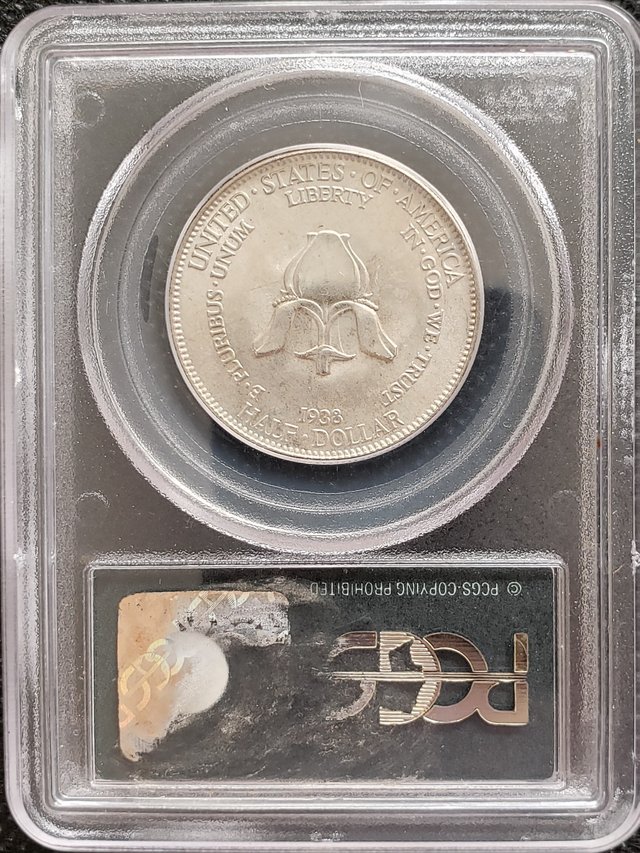 Thank you for reading. Please comment, upvote, resteem and advise me.