"Peewee and Morla (A Busy Ass Weekend!)" by Richard F. Yates
Hey folks! It's Sunday night, as I write this, and it's been a couple of days since I posted anything. I haven't been SLACKING, though, (well…maybe a bit… PRAISE BOB!) Today alone, though, Mariah (the "Wife") and I went to lunch with the younger daughter, got my hairs cut (I look at least ten minutes younger now), shopped for a belt for me, stopped by the craft store and got some big frames, some new paint brushes, and a bottle of glittery-yellow paint (for the new painting, which I'm hoping to start tomorrow.) Then, after all that junk, we went grocery shopping (which ain't fun, but is necessary.) Actually…it doesn't look like we did THAT much stuff today, once I wrote it out, but it FELT like a lot while we were doing it.
But my mundane Sunday isn't what you came here to read about. You wanna hear about Peewee! (Right?)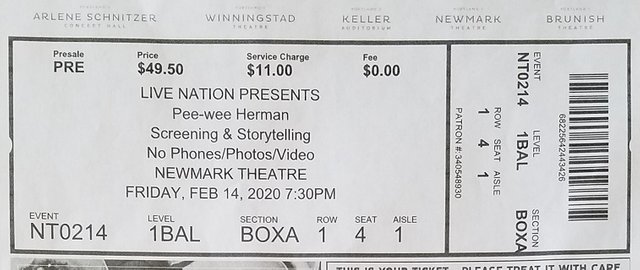 On Friday, (Feb. 14th---aka: Valentine's Day…), after going to lunch with our older daughter, her husband, and the grandkid, Mariah, Elise (the "younger daughter"), and I escaped our small town and headed for the BIG CITY! (Portland, Oregon…which isn't THAT big…unless you live in Longview, Washington, then it seems HUGE.) Several months ago (before Christmas), Ellie bought tickets for the three of us to go watch the 35th anniversary showing of Peewee's Big Adventure, at the Newmark Theatre, WITH a special appearance by Paul Reubens himself!!!
You never know how traffic is going to be in-or-around Portland, so we left Longview about three hours before the 7:00 P.M. show time, to give ourselves plenty of wiggle room AND to find parking. (Luckily, there is a garage right across the street from the theater---or "THEATRE," as they prefer to write it.) We ended up being almost an hour and a half early for the show by the time we parked and got to the venue!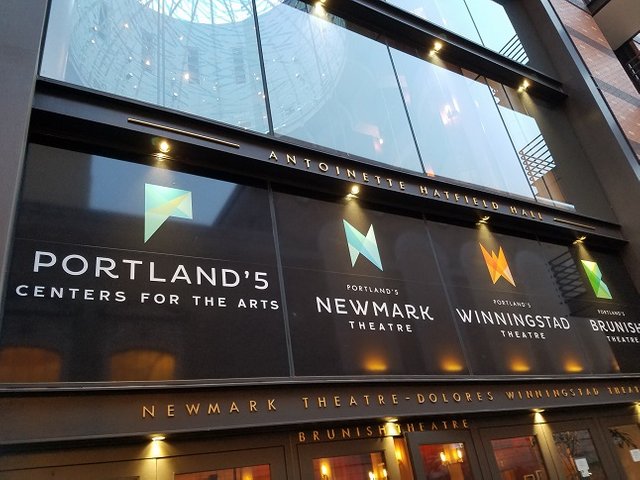 The Newmark Theatre is in a larger complex, called Portland'5 Centers for the Arts, which is a very cool looking building on Broadway Street. And, right as you walk in the main doors (I think they were the main doors), there is a magical looking domed ceiling with mirrored, sparkly effects, that immediately captures your eye. Mariah absolutely LOVED it!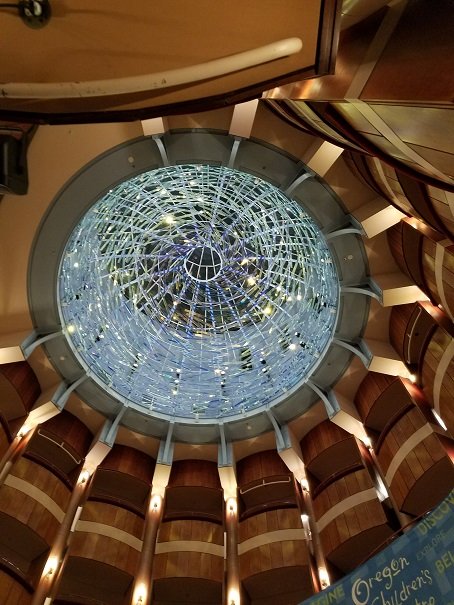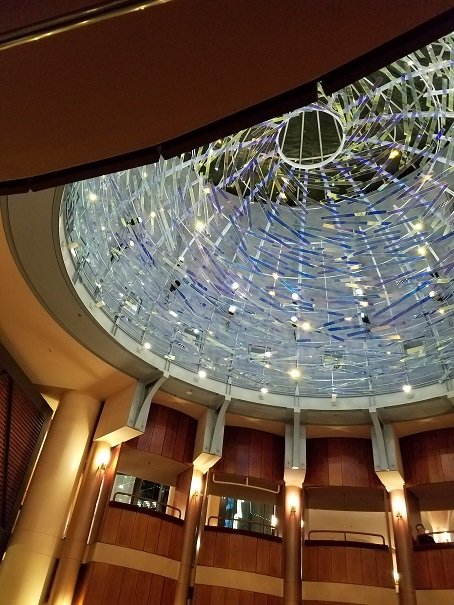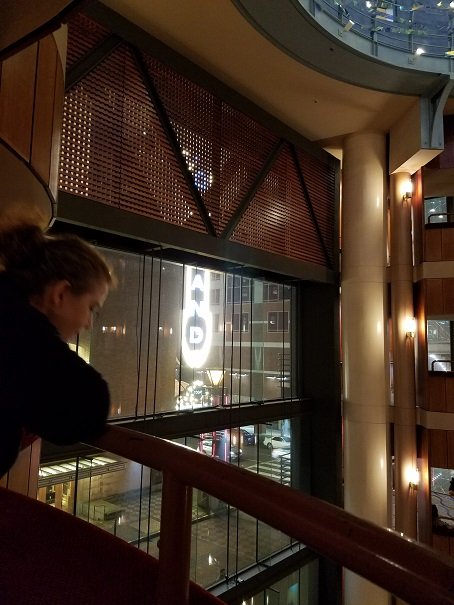 Before leaving town, we made reservations at the ArtBar & Bistro, in the same complex, where we ordered a couple of appetizers (I had a vegan, baby-kale salad with lentils), and then we all split the most FANTASTIC crème Brule that I've had in a couple of years! Probably didn't help my DIET much, but it was worth gaining the extra weight, it tasted so good. While we were consuming our pre-show snacks, we spotted a guy DRESSED just like Peewee standing out in the lobby near the bar. Mariah and Ellie wanted to ask him if they could take his picture, but they chickened out. (It was an excellent cosplay, though!) After finishing our food, we lined up in the lobby and stared up at the ceiling, waiting for the staff to start letting people up the huge, spiral staircase to the upper floors, where the Newmark Theatre is. (Our seats were on the first balcony.)
Normally, I would have taken a bunch of pictures of the theater and the décor and such, but this venue (or Paul Reubens, perhaps) is VERY against letting phones and cameras inside during the show, (like, they kick you out IMMEDIATELY if the catch you taking pictures or video), so while we were waiting to get our seats, some usher-types came around and gave everybody these weird, locking BAGS that we had to put our phones into. We got to keep the phones with us, in the bags, but you needed a special magnetic key to get the bags open, so nobody could make any calls or take photos or check to see what time it was during the show.
The theater itself was very neat, blue velvet everywhere, stars on the ceiling, like the operating room scene in Rocky Horror Picture Show, and two balconies stacked above the main floor---Elizabethan style (if you're a drama type.) The theater supposedly held over 800 people, and it was FULL! (Aside from one row of about eight seats---which we decided must have been left empty for the GHOSTS. Don't most theaters have ghosts?) The show, apparently, sold out almost instantly, but Ellie was RIGHT THERE and got tickets as soon as they went on sale.
The movie was fun---I don't think I saw it in the theater when it first came out, but Mariah says SHE saw it at the local drive-in, AND, in a very cool add-on, they played a video of the Hollywood premiere of the film, with Reubens doing several quick interviews with people, like Mr. T, David Lee Roth, Eddie Murphy, Steve Martin, the Fat Boys, and Danny Elfman (who looked VERY young!) They also did a quick "after-party" video after the film, with footage of people dancing and having a great time (including Phil Hartman, who was one of the co-writers of the movie and a good friend of Reubens.)
DURING the movie, again like when going to see a cult film, like Rocky Horror, you had people cheering, reciting the words alone with the actors on the screen, and laughing hysterically and clapping at every joke. I thought that was a fun element of the show, but Ellie started to get annoyed after a bit. Overall, though, it was very fun to see the movie on the big screen…
AND…
AFTER the movie, Paul Reubens came out and sat at a little table, and he talked for over an hour and half, telling stories about the filming of the movie, his biggest inspirations, and several personal moments. It was FANTASTIC! He was clever, snarky---a total smart ass! (He kept making jokes about people taking pictures---which nobody could do, of course!) It was funny and emotional and well worth the time and money. I was a little worried that Ellie would maybe be bored, since it was more personal storytelling than "Peewee Herman" joke time, but she said she really enjoyed it, too! I've been a fan or Reubens since the early 1980s, and it was a real treat to see him up close! (We were in box seats on the first balcony to the left of the stage, and we were close enough that we could have hit him with a water bottle, if we'd wanted to---and if they didn't cost FIVE BUCKS EACH!)
If you get a chance to see this show (and you're already a fan), it's well worth it! An excellent way to spend Valentine's Day! (SO romantic!!! Ha!)
We got home after midnight---partied hard with Peewee (as Mariah said) and crashed. The NEXT day, we got up late-ish, and we didn't feel like going to our Weight Watchers meeting, so we skipped. (We're TRYING to be good---but the crème Brule from the night before might have influenced our decision…) Instead, we lounged and watched t.v. until Frankie (the "older daughter") arrived with the grandkid. For the next several hours, I watched the kid (listening to tunes and watching her crawl all over the place), while Mariah and Frankie cleaned her house, then Mariah came back home while Frankie got ready to go out on a date with her husband. (They went out to dinner and then saw the movie, Birds of Prey. They really enjoyed it!) At about NINE P.M. (WAY PAST MY BEDTIME!!!), I left Mariah and the baby at the house and headed to The Chinese Gardens, a local restaurant with a lounge that lets local bands play from time to time.
A couple of friends of mine, who are in a band, occasionally invite me to their shows, (and even more rarely, I even GO sometimes), but for THIS show, my friends brought a band to town from Portland, called MORLA THE ANCIENT ONE, who (according to them) they thought might be too weird for Longview. Tyler and Hilarie, the friends who invited me to the show, thought I might enjoy them, though. (Apparently, they think I like WEIRD stuff---and, of course, they're right!)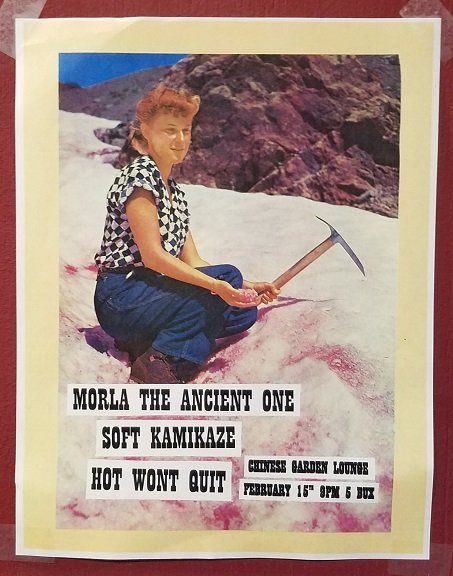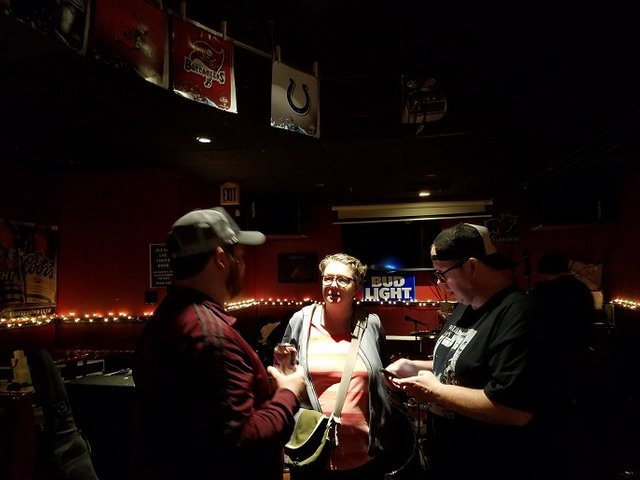 (This is Keenan, Hilarie, and Tyler from the band, Soft Kamikaze.)
The lounge at The Chinese Gardens isn't very big, but this show was still rather sparsely attended. The first band, Hot Wont Quit, was just starting when I arrived. They were a hard rock / punk / garage band, who I thought were pretty solid. Interestingly, they had CASSETTE tapes for sale, instead of records or CDs. (The guy at the booth said the tapes came with a download code, though.) Rock and roll! and the audience seemed to enjoy the performance.
I've interviewed Kepi Ghoulie from the punk band, Groovie Ghoulies, a couple of times, and he told me during one of those interviews that he didn't mind driving a few hours to play a show for half a dozen kids, if the kids had a great time at the show, and I would argue that, although THIS show wasn't packed---in fact there was maybe only 20 or 30 people there at the height---the people who WERE there all got to experience some great performances! There were a couple of "kids" there (I don't know how old they really were, but they looked young to me) who kept a swirling mosh-pit going for all three bands. (Although, they were so exuberant that they frequently slammed into tables near the dancefloor, and Tyler and Hilarie BOTH said they were worried for their teeth!)
After Hot Wont Quit finished, my friends took their turn, and they rocked the house. Hilarie is a great vocalist, the drummer (Jeremy) is a beast, Keenan kept the rhythm moving on the bass, and both Hilarie and Tyler played guitar, with Tyler blasting some heavy duty, often wonderfully fuzzy tones. (I'm always glad to come to their shows---even if the music IS too loud! I'm a damn grandpa, for goodness sake!) Soft Kamikaze! (Honestly, there was almost NOTHING soft about that performance.) Brilliant, as always.
The final band, Morla the Ancient One, was very entertaining. They were a psychedelic space-rock act, with keyboards and echo effects and fun make-up. Hilarie said she thought they reminded her The Birthday Party (the classic goth / post-punk act that introduced Nick Cave to the world.) Personally, I thought they sounded like California psyche-punk band, CHROME, but with vocals similar to bands like Orgy or Deadsy. In their more intense moments, I almost heard some hardcore noise-metal, like Today is the Day or Agoraphobic Nosebleed. And, honestly, I really did enjoy the show, and afterwards I went to talk to the band and see if they had any CDs or records for sale. Unfortunately, they said they hadn't actually recorded anything beyond basement demos, yet. (They said they have a few demos on Bandcamp, but I haven't listened to those yet…I will, though…) Supposedly, they are heading into the studio in April to do some recording. I hope it goes well!
Overall, it was a good night. Not a packed house, but a very entertaining show, with three rocking bands, all different, but all good. I'd happily see any of them again.
So there we go. Busy weekend. I went to two different shows and had a great time at both. Spent time with family and friends, got to see one of my heroes in person, and enjoyed myself! I didn't post anything Friday or Saturday, but that's okay. I've got a painting to finish, a book to review, and more artwork to share over the next few days, so I think you'll be hearing from me more frequently… Maybe I'll even get back to a seven days per week posting schedule again (now that we're getting my health issues under control.) We'll see! Meanwhile, my advice is this: Go out to eat with your family, spend time with the kids (or grandkids), make time to do stuff with your friends, and try to catch a show every now and then! These things will help keep you young!
---Richard F. Yates
(Primitive Thoughtician and Holy Fool)
SUPPORT INDEPENDENT FOLKS WHO ARE JUST MAKING STUFF BECAUSE THEY LOVE IT!!!
https://steemit.com/@richardfyates
https://noncom.art.blog/reviews-books-movies-music/
https://makersplace.com/store/richardyates/
https://primitiveentertainment.wordpress.com/