MA Secretary of State Has US Senate Anti-Lockdown Candidate's Twitter Shut Down, Candidate Sues for $1.2 Billion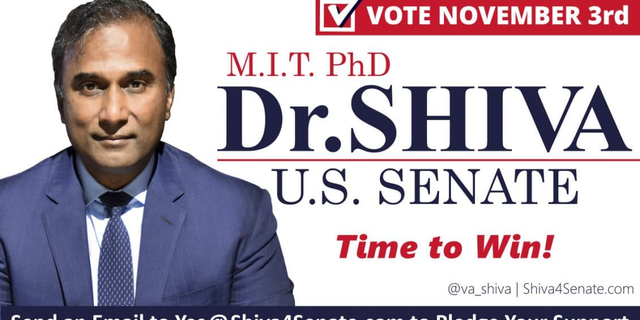 Voters of any party concerned with election fraud should demand secretaries of state preserve ballot images.
As if US Senate candidate against Ed Markey, Dr. Shiva Ayyadurai, did not have enough clearly documented legitimate complaints over his election - the destruction of ballots, more votes than voters, the fishy fact that the only district he won, was the one that was hand-counted - Massachusetts Secretary of State William F. Galvin has also succeeded in shutting down his Twitter account.
Shiva's Twitter account had a quarter million followers.
Dr. Shiva, who was born to abject poverty in India but went on to MIT in later life and became a successful entrepreneur, made waves with his campaign poster in his prior run against US Senator Elizabeth Warren. Shiva, born a lowest-caste "untouchable" in India's rigid class system, adopted the slogan "Only a real Indian can defeat the fake Indian."
The Twitter account is how Shiva kept his supporters abreast of developments in his write-in campaign, as well as his criticism of the law-breaking in his primary race. Shiva lost to an unknown establishment GOP candidate who did not campaign, in order for the right to challenge US Senator Ed Markey.
It is unknowable if Shiva could have won in the Blue State, but his unabashed style and fierce outspokenness over the COVID lockdowns was bound to put Markey in the spotlight.
Shiva campaigned heavily throughout the year. His standouts and rallies were a regular feature of the Massachusetts political landscape for months. Shiva's message was to "Be the light." As a multiple advanced bio-sciences degree-holder from MIT, Shiva gave free lectures on the wonders of the human body's natural immune systems, and how to keep them strong.
In his official complaint, Dr. Shiva specifically alleges:
-That Secretary of State William Galvin's office spokeswoman admitted, on or about September 25th, that her office had contacted Twitter for the purpose of "suppressing" Dr. Shiva's (the name he does by) account.
-That the candidate was notified by the Secretary of State's office that the ballots counted by electronic paper ballot vote-counting machines were "not stored." In other words, they destroyed them. The technology for counting many of the ballots in MA is such that it is digital images made as the ballot is fed into the machine which are what the machine counts votes from, not the paper ballots.
-That the Shiva Campaign discovered numerous districts in which there were more votes than voters.
Page From Massachusetts Write-In Candidate Shiva's Legal Filing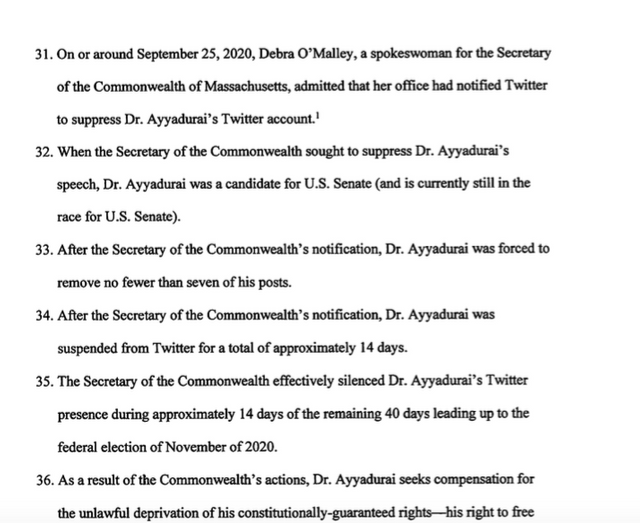 Shiva lost by a consistent margin of 40 - 60 in all jurisdictions, not counting the one that was hand-counted. The campaign argues this is impossible, as working class, high minority districts which were Shiva's strongholds recorded exactly the same margins as wealthy, surburban towns. Demographic differences are almost always discernible in political campaigns.
The large amount Shiva is suing for is justified, he says, as a result of the indeterminable cost of fatih lost in the US election system, where primaries are where peoples' choices are determined. The nation recently has been hampered, many say, by a system in which citizens are forced to choose "the lesser of two evils."
Dr. Shiva is asking his supporters to write him in on the November 3rd, 2020 ballot in Massachusetts. Shiva says that a write-in campaign has an advantage for the outsider in that the ballots must be hand-counted.
Citizens concerned with election fraud, not only in MA but across America, should contact their Secretaries of State and demand that the digital ballot images be preserved. Around 60% or more of US jurisdictions use vote-counting machines which operate similar to those in Massachusetts. (See Alternet.com: "Voting Machine Digital Ballot Images Could Let Public Recount Elections, But Many Locales Aren't Saving or Sharing This Data")
URL:
https://shiva4senate.com/1-2-billion-lawsuit-filed/
Shiva Poster from Prior Independent Campaign Against Senator Elizabeth Warren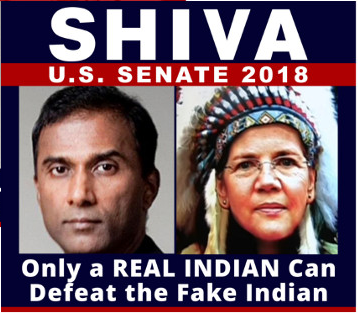 BREAKING : Young ,Healthy COVID Vaccine Trials Subject Dies, Doctors Call for "Nuremberg Trials" Over Lockdowns
The Trump Fact-Check the Media Missed Because It's True: 99.9% COVID Survival Rate