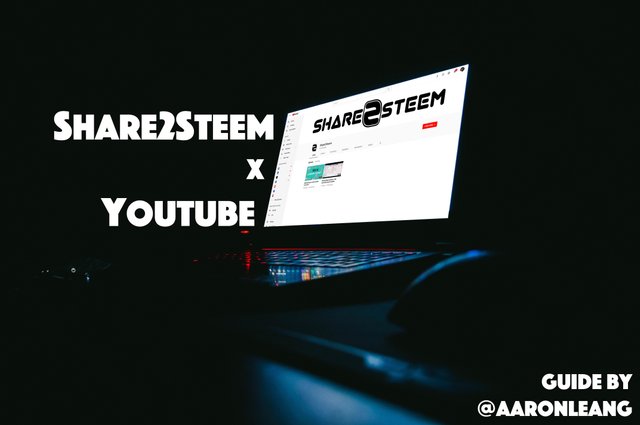 Share2Steem (S2S) is a bridge that links mainstream social media platforms that you've been using over the past few years like Twitter, Instagram, Youtube, Twitch and Medium (Beta). More services will be added over the period by the team (@sebbbl and @algo.coder)
It allows your posts in the respective platform to be cross-posted automatically into the Steem Blockchain with the proper setup. This post is focusing on setting up Youtube to Share2Steem.
Follow these few simple steps below to start using Share2Steem:
---
Login to Share2Steem
The site has been upgraded recently with a better design and navigation was improved a lot. Hence it should be easily understandable, so firstly, log in Share2Steem site with your own Steem account via the SteemConnect(1) option and if you do not own a Steem account, be sure to click on Create Steem Account (Red Button)
Remember to use only your Active Key(2) to sign in and not your Owner or Master Key to sign in with SteemConnect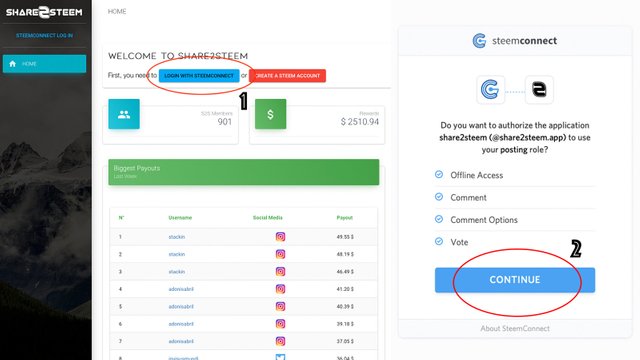 ---
Dashboard and Link Account
When you have linked an account before on your share2steem, it no longer prompt you to link account so in order to link other accounts, click on "Social Network(3)" on the side tab and it will load up the page showcasing what account has been linked with.
Click "Link Account(4)" and select "Youtube(5)" in order to begin the linking process with.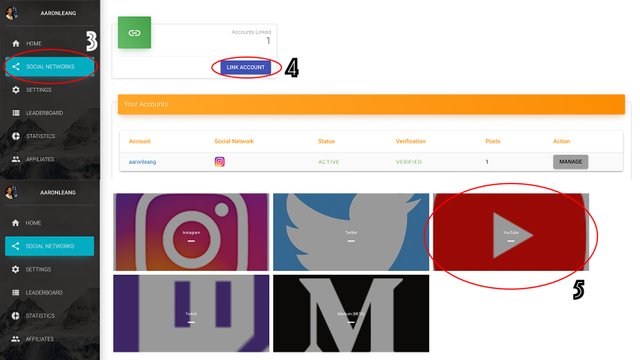 Enter your Youtube Channel ID into the given field and click "Check Account(6)". Once your account has successfully linked as shown on the image below, it's time to verify your account by click on the "Verify Account(7)"
*Note - Youtube Channel ID is shown at your Youtube Settings > Advance Settings (Desktop)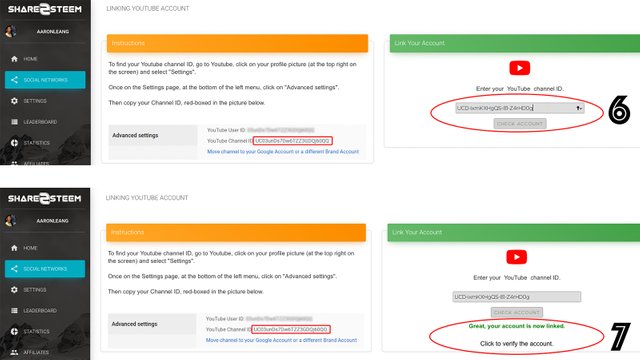 Everyone will get a different "unique verification key(8)" assigned by S2S when you're doing the account linking. You'll need to use this given key onto your Youtube Channel About section shown on the image below.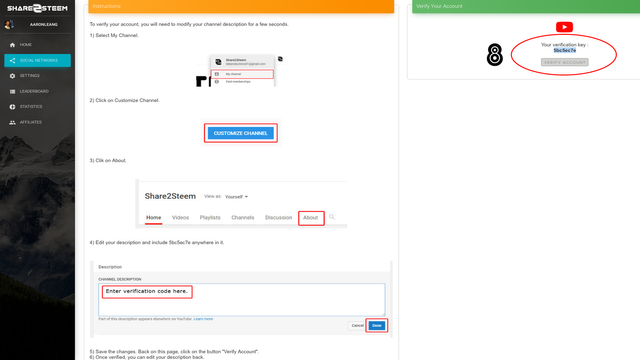 Inside Youtube App, click on your "Profile(9)" at the top right corner, select "Settings(10)", click on the "Gear Icon(11) to access your Channel Settings", click the "Edit(12)" to add in your "Unique Verification Key(13)" given by S2S and save it! Return back to Share2Steem and click "Verify Account(8)" to complete the process.
All the steps are shown on the image below here,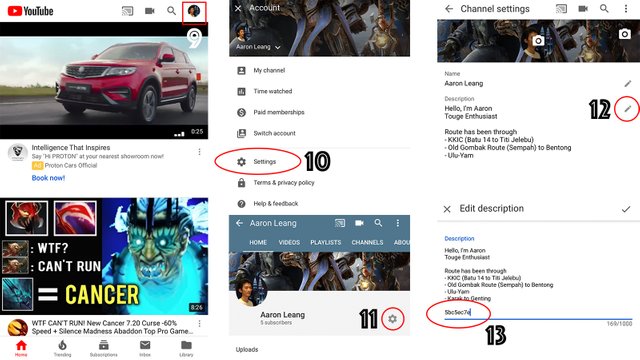 Congratulations! Your account is now being verified and you can start posting video via Youtube and cross post your videos to Steem Blockchain but do note that there are some steps you'll need to perform in order to successfully post in Steem Blockchain as well.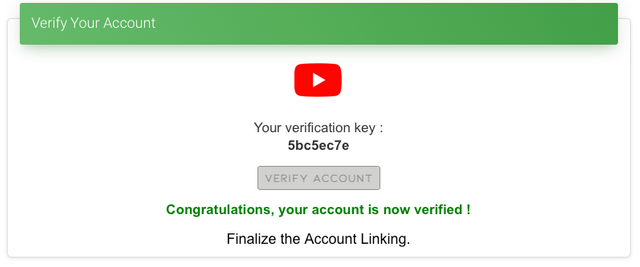 ---
Post Videos to Youtube and Steemit Together
Starting off by uploading your video into Youtube via the upload button
Now! In order to post in Steemit together as well, you'll need to include "#share2steem"(14) inside your post. Up to 5 hashtags/keywords will be shown on your Steemit post, any extra will not be displayed.
If you do not want to post in Steemit but Youtube only, then just post normally without include the #share2steem tag.
Click Upload on your Youtube and voila! Your post will be displayed onto your Youtube and Steem Blockchain within few seconds!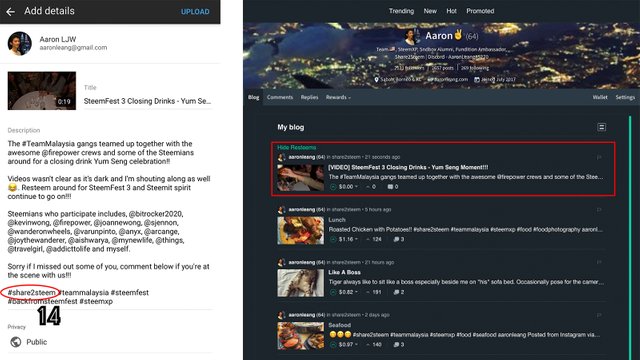 *Note - Make sure post is set to Public
---
We hope this guide was helpful and if you have any question, suggestion or encounter any bug while using Share2Steem, please join our Discord here, https://discordapp.com/invite/FTAkf and share with us!
---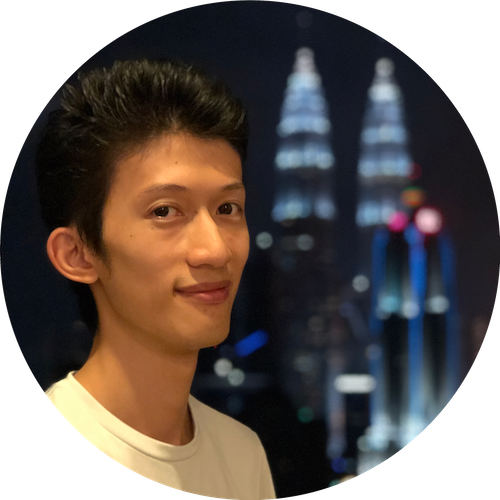 Hello Steem Blockchain,
I'm AaronLeang from the World's Third Largest Island, Borneo!
My Steemit journey started off on the November 14th, 2017 and it has been a wonderful journey knowing lots of Steemians, running meet-ups and organizing events!
I've been participating myself in building and shaping up local and online communities + that's only just the beginning!
Together!! we can build an awesome community and I'm always there to help out through online or offline! Feel free to contact me via Discord (AaronLeang#5270) and let the discussion brings us forward!
---

Members of TeamMalaysia and SteemXP


Alumni and Members of the Sndbox Family

Empowering Projects with @fundition on Steem Blockchain.

Monetize your Social Media Account with @share2steem Today!!

Been There, Done That for SteemFest 3 🙌🏻 in Kraków, Poland.
See You All on SteemFest 4??