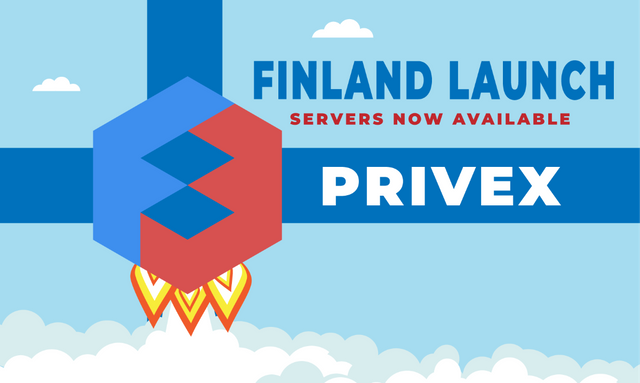 Introducing Finland
Finland is a Scandinavian country located in Northern Europe. Thanks to it's cool climate and good connectivity to the rest of the world, it's an ideal location for datacenters.
We're proud to announce we're now offering servers in Finland.
We've been offering Finland for a few months now as a private beta, to ensure that any problems are identified and worked out before we make it available to the general public. We even operate a seed (steemseed-fin.privex.io:2001) there, to ensure good connectivity to the Steem network.
So far we've found that Finland is rock solid stable, with newer hardware, better cooling, and better networking than our German region. We're happy to announce that our Zero Block Miss™ SLA for Steem witnesses also covers Finland.
Many of our most popular i7 and Xeon servers are now available to order today in our Finnish region.
SPECIAL PROMO
For a limited time only, our i7 servers in Finland are available at a discounted monthly price compared to Germany. This promotion will only be active for a few weeks, so be sure to grab a Finnish server soon.
Unlike other hosts, the monthly price you get during the promo period will stay with you until you cancel your server :)
Unmetered Bandwidth in Finland and Germany
Recently our datacenters in Finland and Germany changed their traffic policies. Thanks to this, we no longer apply a bandwidth cap on servers in Finland and Germany. This applies to all existing and new customers in our German and Finnish regions.
WHEN SWEDEN!!?!?!
We know many people are excited for Sweden, our first step into becoming a fully fledged hosting provider. But what's taking so long?
We own and manage the hardware and networking
@someguy123 (our CEO), and our newly hired network administrator have been working around the clock to get our physical network rock solid stable.
But there's a lot of moving parts due to the fact Sweden is a fully independently managed region - we own the hardware, the networking equipment, and the systems for deploying your servers. No magic APIs to set up a server.
We've become a real ISP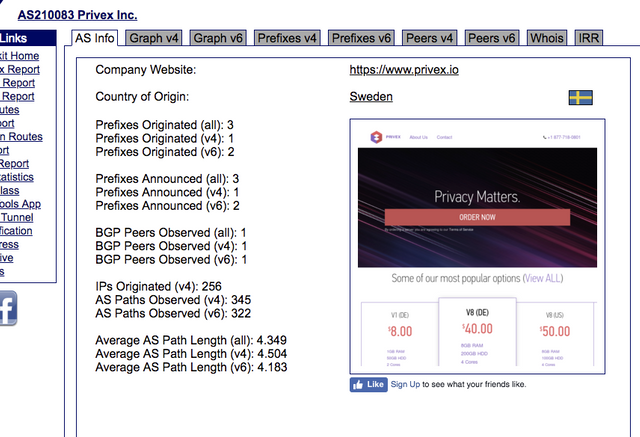 Last week, we became a member of the RIPE Network Co-ordination Center (NCC). This has allowed us to become a real ISP, with our own IPv4 and IPv6 space, an AS number, and the ability to handle abuse emails ourselves.
We're now registered as AS210083 (Privex), making us effectively an ISP.
This means for Sweden, the "provider" listed on the IP addresses for your server will correctly show as Privex Inc.
As an ISP we will have full control over the content that can be hosted at Privex, and our network abuse policies.
We're proponents of internet freedom and privacy, so in Sweden this includes allowing TOR exit nodes, VPN services, and other services which many other hosting providers would normally terminate you for.
Those kind of services are currently not allowed in our current regions (US, Germany, Finland) due to the usage of our datacenter's IP space.
We're launching a real panel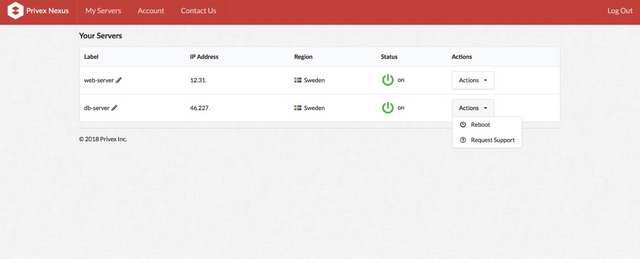 We know that the lack of a server management panel has been one of the biggest problems for our customers.
We're resolving this finally, with a real panel for managing servers in our Swedish, German, and Finnish regions.
The screenshot above is not a mock up, it is a functioning panel that has been under active development over the past few months.
A private beta will be rolled out to some of our customers in the upcoming weeks, to ensure a smooth experience when Sweden is launched to the public.
Upgrading our datacenter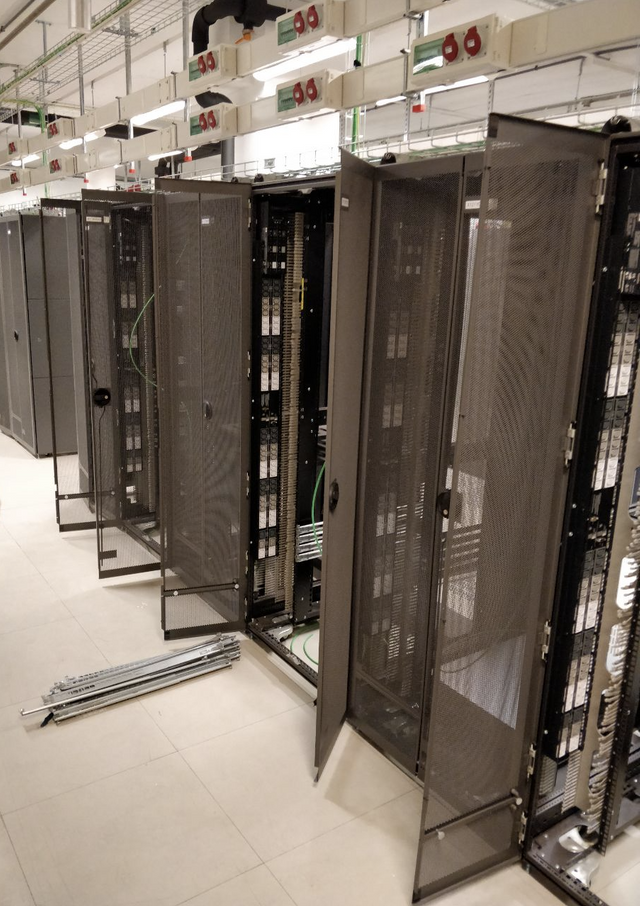 (image courtesy of ObeHosting, our Swedish datacenter. All rights reserved by ObeHosting/ObeNetwork)
Our friends at ObeNetwork (our Swedish datacenter) have been kind enough to give us early access to their newest datacenter in Kista, Stockholm, with more power output, more power redundancy, newer and more powerful core routers, among many other improvements.
We moved to the new datacenter in mid-September, to ensure the most reliable and fastest network for our customers servers.
Status Report
What's ready
All servers and networking equipment transferred to the new datacenter and working
Two 10gbps fibre optic uplinks, one for normal customers, and one for witnesses. Both setup with IPv4 and IPv6 support
BGP Announcement of some of our IPv4 and IPv6 address space
Provisioning system works over both IPv4 and IPv6
Basic listing of servers in the panel, with the ability to reboot them
Reverse DNS

Two (and soon three) nameservers for handling Reverse DNS. All IPv4 and IPv6 ready.
An internal API for setting reverse DNS records for both IPv4 and IPv6 addresses
DNSSEC set up for reverse DNS records, preventing forgeries

Ability for staff to re-install servers, customise the disk layouts, and networking
Serial over LAN access, for staff to adjust BIOS options of the servers, and debug problematic servers
What's under development
Properly isolating servers to prevent network interference such as malicious DHCP servers, MAC/IP spoofing, etc.
Correctly routing customers and witnesses over the correct uplink
Bandwidth usage monitoring

We do not monitor the contents of the traffic, just the amount of traffic passed, which IP sent it, and where it went to (so we can check if it was internal, external, or via an ISP we have free/low-cost peering with)
To protect your privacy, we only keep a few hours of the to/from data. Once the traffic has aggregated and correctly added to your total traffic this period, within a few hours we simply remove the IP addresses and store only AS numbers (a unique ID which identifies the ISP that owns the IP address)

Correct handling of bandwidth overuse (we won't disconnect you for going over a bandwidth cap, we'll simply limit your server to 10mbps)
Setting up systems to correctly allocate customer's IPv6 addresses and subnets. Customers should get a /64 of IPv6 addresses by default, with a /56 or /48 available for free on request.
Ability to set reverse DNS for your IPv4/IPv6 addresses from the panel
What's planned AFTER Sweden is launched
Purchasing more server hardware in Sweden
At some point, we may make Serial over LAN available to customers, which works similarly to a KVM, but with text (much easier to copy and paste things, and no keyboard layout issues).
Ability to reinstall your server from the panel

Customisable disk layout
Multiple OS choices

More automated dedicated server provisioning
Peering at Internet Exchange Points such as STHIX and AMS-IX so we can increase our network capacity
Expanding to more regions
Witness Reliability
With the potential of disruptive services such as TOR, VPNs, and IPFS, we've planned our networking accordingly
Quality of Service (QoS) rules are set up to prioritize traffic to and from the steem network.
Witnesses are kept on a separate uplink, preventing attacks on our standard customers from interfering with customers under our Zero Block Miss™ SLA.
We will aim to operate a Steem seed and potentially a light rpc node on every rack
We will mirror the block_log throughout the datacenter, allowing potentially up to 10gbps download speed, helping to ensure a fast replay.
Thanks for reading!
Please vote for our witness to help us fund more infrastructure like this for Steem projects. To vote for @privex, go to https://steemit.com/~witnesses and enter in the box at the bottom "privex", and press VOTE.

Thanks to everyone for all of your support. Without the Steem community, we would have never managed to get so far.
If you'd like to grab a server, just go to our website: https://www.privex.io - we accept STEEM, SBD, LTC, and BTC as payment. We offer both Virtual and Dedicated servers (all the way from 1gb up to 256gb RAM, with 512gb coming soon).