Footage found of a woman signaling the Camera Man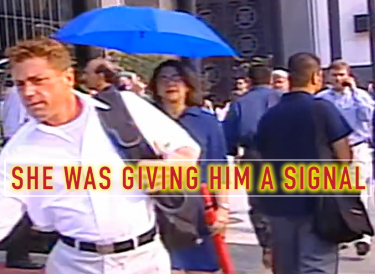 I was watching 911 footage and I came across this video that I found a little suspect.
You can't really find amatuer footage of a second plane hitting the twin towers, this is the closest I came. BUT at the last second, the cameraman pans away to a woman who is looking right at him while holding up a Blue umbrella and holding a Red umbrella in the other hand on a beautiful sunny day!! And right after she walks by, BOOM he misses the plane hitting the tower! How convenient.
No one reacts to the INCOMING PLANE!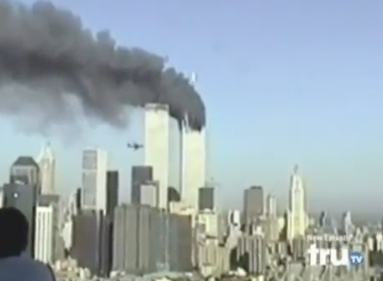 In this video you are going to see a clip from Jessie Ventura's "Conspiracy Theory" show on #911! Notice how no one on the roof - who are watching the first tower burn don't notice the plane approaching the second building. Nobody screams, "Look another plane is coming, OMG!!!" ....No, they react AFTER the plane hits the towers, which leads me to believe the footage was doctored. (you guys we kinda blindly believe everything we see on TV, and I was watching a TED talk about reality. The speaker said that we only believe its real because everyone agrees it is. We are easily manipulated you guys. Guard your Mind)