So as we start 2018, I have a sense of change - change for the better!
I feel as though this year is going to be happier, healthier, fitter, wealthier, just huge changes coming!
I feel for my family and I massive things are going to change, but maybe it's my drive to want this year to be different!
Although this year has started with a lot of debt, and normally I'd be down and stressed - but I don't really care.
There is so much more to life than worrying and stressing about stuff that has always been, my outlook for not just me - but for my children is way more positive than ever before.
I honestly believe that in previous years, I felt trapped under water not being able to breathe and this year I feel like I am pushing myself harder and being more positive.
I can almost feel myself metaphorically coming out of the water, to take a massive breath of desperately needed fresh air!
So can i ask you all a general question?
Whats your favourite affirmation or quote?
I love paying it forward! I love helping people and I want to start to do this a lot more in 2018, I'd love to start by giving away A FREE T SHIRT
I own my own t-shirt printing business and would love to give away a free shirt, best of all the lucky person who receives this t-shirt will have the ability to pick their favorite self love quote/design - because we all need a beautiful reminder, about how amazing we all are!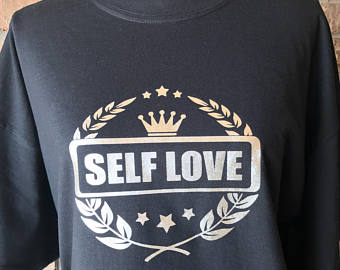 Just an example of what you could win!
So how do you go in the running to win this personalised T shirt?
To be in the running you have to tell me :
What's the nicest thing you've ever done for another person?
I will choose the winner in a week when my post pays out, I will be looking for the most inspirational and encouraging story - but feel free to get creative and funny if you like, as this is all just for fun!