Selfkey on Kucoin: Trading Starts On January 15, 2018
Selfkey on Kucoin : Trading Starts On January 15, 2018- Do not miss this chance!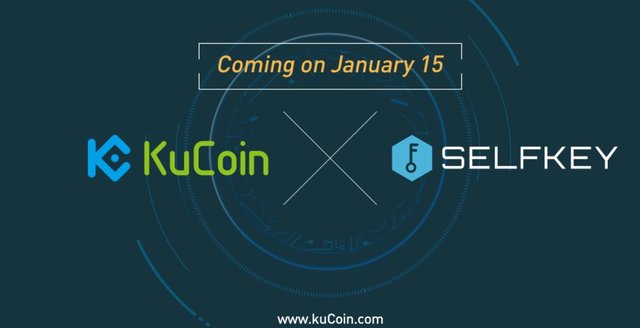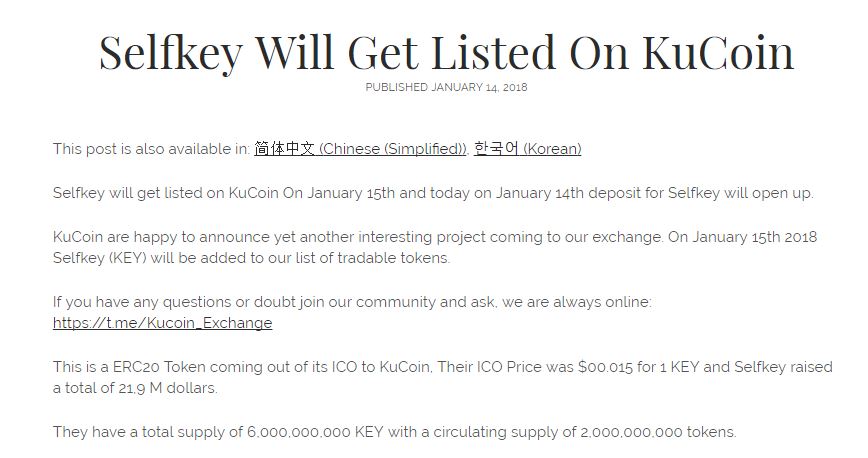 Information About Selfkey
SelfKey is a ERC-20 blockchain based end-to-end token for digital identity system with an integrated marketplace, designed so that the owners are in control of their personal data, the users have to stake their KEY in order to perform functions on the marketplace which will allow them to request identity claims attestations and to instantly apply for passports, residency and financial services, sign up for exchanges and participate in token sales in a safe & secure way. With this system from Selkey KYC will be much easier to perform and the users can store their identity in the Selfkey identity wallet.
SelfKey (KEY) Review- Digital Identity Management System
For more information about Selfkey visit : https://selfkey.org/
Selfkey Telegram Chat here : https://t.me/selfkeyfoundation
Kucoin review : There are a tons of Promising coins to trade at Kucoin exchange example, Kucoin Share, Red Pulse,IOTA , NEO , Digibyte , Dent, Power Ledger , Kyber Network , Substratum, TenX, Walton , Hshare, Civic, Modum, BlockMason, Quantstamp, Dragonchain , Selfkey etc Please visit Kucoin.com
Bitcoin information for newbies visit ; Bitcoinnewbies.com