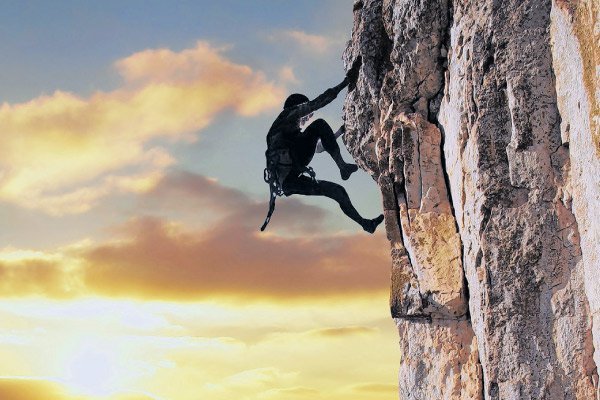 Hello fellow Steemians ,
I thought this rock climber (at this particular vertical angle) would be appropriate to help communicate where I am at and how it feels right now. It's a real uphill climb/battle.
However,
I just got home from work not too long ago, and for the first time in a very long time I was looking forward to something else instead of video games <3. I was looking forward to you all, a community, willing to hear my journey. I am not sure everyone will have the same results if you are following this story simply because this has been a long time coming for me and I have longed to gain back control of my priorities in life. I am feeling much more productive today, one of the most glaring differences I can notice, is that I am not as bothered to take care of my normal responsibilities because I Have more time!, and well for once I have taken more advantage of my hard earned "Free Time". I woke up early got some good priorities knocked out and went to the gym.
I have to admit that this isn't easy and I've also put off friends that aren't so happy about that either.
It's coming down to focus at this point, and it's working. I was thinking about it today like flossing. For those of us that do it regularly , there is no worry of bleeding or too much irritation because it's a habit. For those of us who don't we will sometimes find these spurts maybe here and there when we just had some corn on the cob, etc., and are vulnerable to the bleeding immediately don't have a good experience and probably won't do to again for a while. I guess what i am trying to say is I am simply training myself at this point , one step at a time, one planted seed in the garden at a time. Thanks for Reading! :D
Thank you for your Comments, Upvotes, Repost.
Email me about an issue you are having , I am more than happy to help and share. contact info below!
Gmail: currentwave.write@gmail.com
With Love,
Current Wave