Upmewhale writing contest! Restricted & Unrestricted Internet - Freedom World
Hello everyone, we welcome you to the first ever contest hosted by @upmewhale to enhance the #NewSteem advent!
This is simply a writing contest about internet restrictions in your country.
TOPIC: Restricted & Unrestricted Internet - Freedom World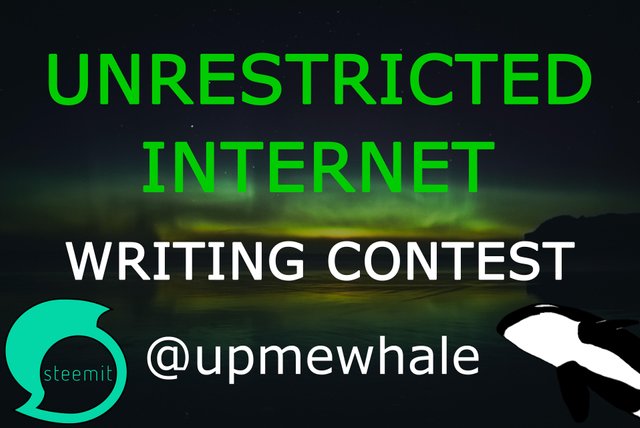 The point of this contest is for you to write a high-quality post about internet restrictions in your country. There are no limitations as to whether your entry is cryptocurrency/blockchain-related or not. Lately, internet restrictions and/or banning has taken place in several countries like China, Russia, India, Pakistan and many more. One example is China banning Steemit.com. While some users know how to bypass IP restrictions, at the same time there are many who don't.
You can participate in the contest even if you are fully satisfied with the Internet restrictions (or lack thereof) in your country.
We are organising this contest to enable users to share their point of view on internet restrictions. We are now living in the 21st century, and believe that there should be total freedom in the world (freedom of speech, assets control…) and we believe this is why blockchain projects are taking the lead in technology innovations, because many people don't want to be a smart slave anymore.
For your entry to be considered, please write at least 500 words accompanied by at least one image. We want users to author a meaningful post while also engaging with other users through comments. The best comments will receive some tips from us.

Your entry has to be written in English, with a minimum of 500 words.
Only one (1) entry per user is allowed.
The post must be of the highest quality and free from plagiarism.
You can use text and/or images that are not your own, but you have to put the source(s) right next to it/them.
You must use the tag #self-power as the FIRST tag (mandatory). Also, try to use other tags related to this contest, such as #freedom-word, #unrestricted-internet, etc. (optional).
This contest will be active for ten (10) days starting today, closing on the 21st of November 2019 at 23:59 UTC.

🥇 Good posts will be rewarded with high upvotes according to their effort and originality of the content they have created.

The contest judges will be @theycallmedan, @yabapmatt and @pennsif. We want to thank them for helping us with this.
Good luck!