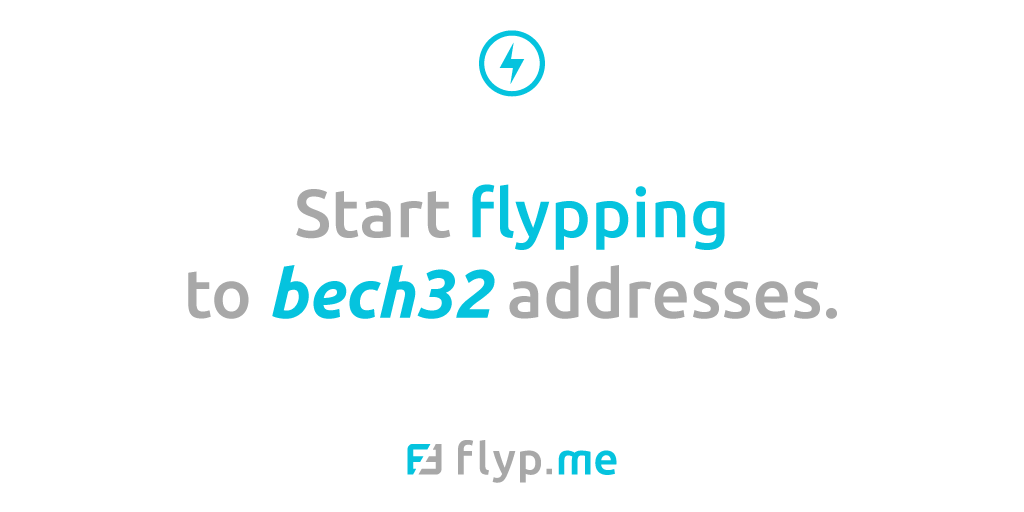 We are very excited to let you know that after testing, Flyp.me has finally implemented support for exchanges to Bitcoin bech32 address formats on the platform. You can now enter a bech32 address as the receiving account and exchange 20 different cryptocurrencies directly to your Bitcoin bech32 SegWit address. The Flyp.me accountless exchange is always on the forefront of technology adoption and with this innovation, continues to move forward.
Native SegWit address bech32
The Segwit bech32 format has some technical benefits over the already used SegWit address format including decreased transaction fees and increased throughput. Moreover, the new address format starts with "bc1", is case-insensitive, and consists only of lower cases so the chance of typing an error is lower.
SegWit
SegWit makes it possible to rearrange the information in a block. Consequently, the block can contain more information and it makes transaction processing more cost-effective. Therefore, the blockchain can process much more transactions per second. This is a big step for the entire cryptocurrency community. Make your part and choose SegWit.
About Flyp.me:
Flyp.me is the Professional tool, for private and instant crypto trading, created by the team of HolyTransaction. It is also the first accountless exchange with FYP Payout for community members. There is no registration necessary and no hidden analytics tracking you. Moreover, Flyp.me does not host any wallets, so your coins and private keys are not at risk of being held on a third-party service.
Flyp.me currently supports 20 cryptocurrencies and are continuing to add more: Bitcoin, Syscoin, Blackcoin, Dash, Decred, Dogecoin, Ethereum, Faircoin, Flyp.me Token, Gamecredits, Gridcoin, Litecoin, Pivx, Peercoin, Creativecoin, Zcash, 0x, Vertcoin, Basic Attention Token and EOS.