Security token projects reviews - Blocktrade.com
original post can be found on my blog http://crocotrading.com/cryptocurrencies/security-token-projects-review-blocktrade/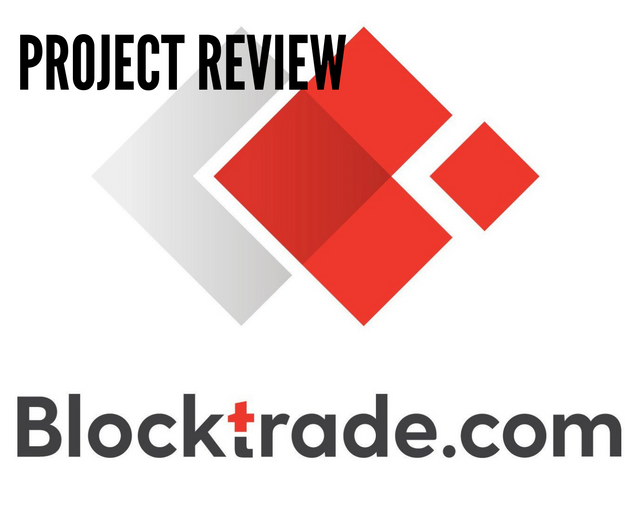 Blocktrade.com is an European crypto trading exchange based in Liechtenstein focused on security tokens, crypto assets and other tokenized assets. The exchange is open to institutional as well as retail investors.
According to their website, the exchange is able to process over 1 million trade requests per second with a clear objective to attract large institutional investors that would need such features.
The team is on the process of acquiring a trading facility license under the MiFID II regulation. MiFID II is basically a legislative framework adopted by the European Commission which aims to strengthen investor protection and improve the functioning of financial markets making them more efficient, resilient and transparent.
The exchange is live since October 2018 but is currently listing only utility tokens (December 2018).
What I really like about them is their pro-activity when it comes to partnerships. Blocktrade.com has already partnered with a lots of prominent actors inside the security token industry amongst which primary issuance platforms like Securitize, Neufund, Tokeny, GoSecurity but also security token related projects like Polymath and Own. Those partnerships will definitely help Blocktrade.com offering a wide variety of security tokens and legitimise their position as a main actor of the tokenization industry.

The Trading Experience
As an active daytrader who has been trading on dozens of exchanges, the trading experience is probably the area on which I am the most demanding.
First, let's point out that right now there isn't much volume and liquidity which is perfectly normal for a new exchange and even more when it is only listing utility tokens while its main focus will be on security tokens.
About the user experience. I think they have made an absolute great job for the mobile app. It is easy to use, convenient and intuitive as a mobile trading app should be. Concerning the web-based exchange, there is still room for improvement ( it would be nice to have charts with more options such as tradingview charts, the size of the order book and the buy/sell boxes could be reduced, it is not convenient and fast to go from one trading pair to another) . I have read that they have limit orders but I couldn't find information about stop orders, a must have feature for good trading exchanges.
EDIT: Since this article was written, a team member indicated that a pro trading terminal would be coming in next months so that people will have access to both a clean simple coinbase-y interface for weekend traders and a terminal for daytraders.
Also note that they have an API which is also a must have.

Investing in Blocktrade.com
As a retail investor, you can invest in Blocktrade.com by buying
Blocktrade Token (BTT).
BTT is a token based on a really smart token economics.

The token economics
Even if I would have preferred BTT to be a security token, Blocktrade.com managed to make it interesting to hold BTTs.
As stated on their website, BTTs will be used for payment of services at Blocktrade.com AND after the payment is made, BTTs will be burnt forever.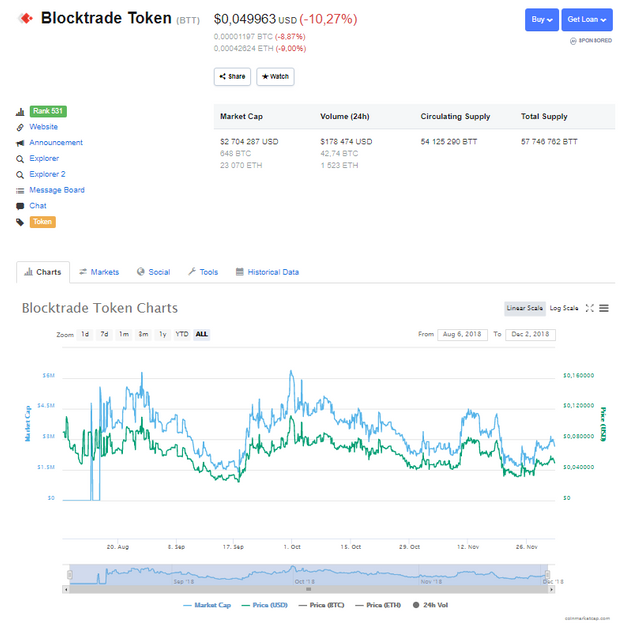 How does it work? There is a limited supply of approximately 55 millions BTTs. Each time someone pays a service with BTTs, the Blocktrade.com team will remove forever the tokens from the circulating supply (burning mechanism). On one side, people will buy BTTs on the secondary market to access some services on Blocktrade.com increasing the demand for BTTs and on the other side, BTTs will get gradually burnt decreasing the supply. This mechanism should logically have a positive impact on BTT price.
For now, both membership fees and listing fees can be paid in BTTs. I have asked the team if they would make BTTs payment available for potential future services and they told me it would be probably be available if there are no direct costs that the team has to pay. The CEO explained in an interview that the team is working on other features and use-cases of the token in Blocktrade ecosystem.
I couldn't find additional information about the listing fees. Details of the membership fee schedule can be found in the following screenshots. Memberships allow users to reduce trading fees and grant API access for institutionals . As you can see, the choice is given to pay with BTTs or with euros. If payments are made in euros, no tokens are burnt. However, users are greatly incentivized to pay fees using BTTs since it's 50% cheaper than with euros.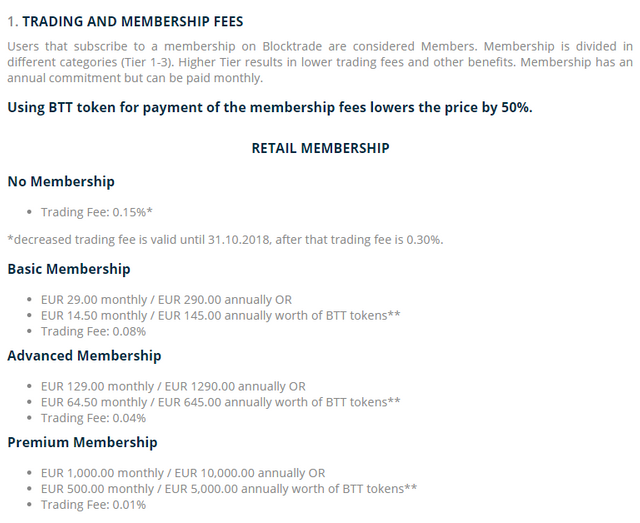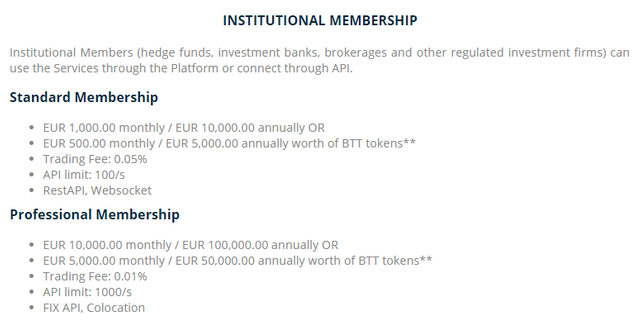 My main concern is the lack of guarantees that the mechanism won't change over the years. I have read the team had already changed the token economics "rules" during a rebranding so how could we be sure it won't happen in the future at the expense of token holders ?

Competition
The security trading industry is still in its infancy, yet there are already dozens of security token exchanges projects ready to compete in order to secure the largest market share. It will be a major challenge for Blocktrade.com to earn its way next to well established cryptocurrency exchanges, stock market exchanges as well as new projects with significant financial capacity.
Summary
Category
Trading exchange
Pros
institutional oriented
convenient mobile application
high regulation standards
already secured strategic partnerships
API
token economics favorable to holders
low market capitalization
Cons
lack of volume and liquidity
lack of features on the web-based exchange
lack of guarantees concerning the token economics
highly competitive sector
Investment score
7/10
The scores I am giving are purely from the standpoint of an individual investor (estimation of the risk/reward ratio) and in no way is here to give a note on the quality of the project.
Website : http://crocotrading.com/
Steemit : https://steemit.com/@focuscrypto
Tradingview : https://www.tradingview.com/u/crocotrading/
Twitter : https://twitter.com/crocotrading
Legal disclaimer : Opinions, markets informations, analyses and any statements made on crocotrading.com website constitute on no account investment advices. The information provided on this website and any accompanying material is for informational purposes only. It should not be considered financial or investment advice of any kind. One should consult with a financial or investment professional to determine what may be best for your individual needs.