Memories of Easter | Jan Zwart, Fantasie "Daar juicht een toon, daar klinkt een stem"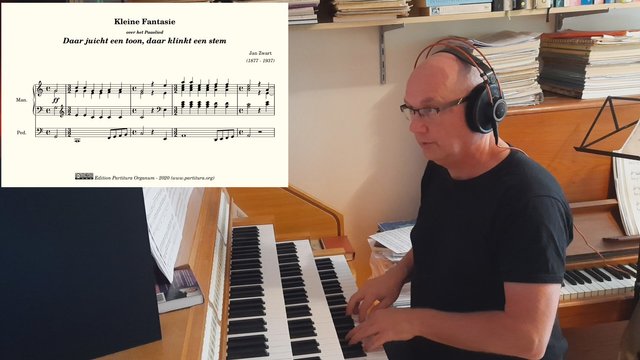 The Dutch hymn "Daar juicht een toon, daar klinkt een stem" (imperfectly translated as "There is a tone cheering, there is a voice sounding") was in my youth one of my favorite Easter hymns. Not only expresses the joy of Easter very good and is it fantastic to sing. It also gives ample opportunity to the organist to throw in whatever means he has at his disposal. This is a melody that can be played fff and sounds better because of it. Hearing a full church sing this choral lustily is an impressive experience. And I only need to hear this choral, or even think of it, to be once again back in my youth, and remember the Easter services we went to as a family.
The Dutch composer Jan Zwart (1877 - 1937) wrote a very nice fantasy on this melody. It starts with an introdution based on the first two phrases of the choral melody. After about one and a half minute the choral melody is stated in full for the first time. Then follows a nice variation with the choral melody in the left hand, accompanied in the right hand with the choral melody in dimunition. A second variation with rapid broken chords the leads to a final statement of the choral in full tutti.
As this is the perfect music to play with Easter, I should have had it ready yesterday. It was however only yesterday that I thought of this piece. It took some time to write out the score, practise the piece and perform it. So, on the brink of second Easter day, here it is. Enjoy my little venture down memory lane.
The recording was done with the Hauptwerk software and the sampleset, made by Sonus Paradisi, of the Ibach organ in the St. Gertrudis church in the Bergen op Zoom (http://www.sonusparadisi.cz/en/organs/netherlands/bergen-op-zoom-ibach-organ.html).