기관 투자가를 대상으로 한 비트코인 선물거래 서비스 백트(Bakkt)가 서비스 출시 이후 거래량이 지속적으로 늘고 있다고 합니다.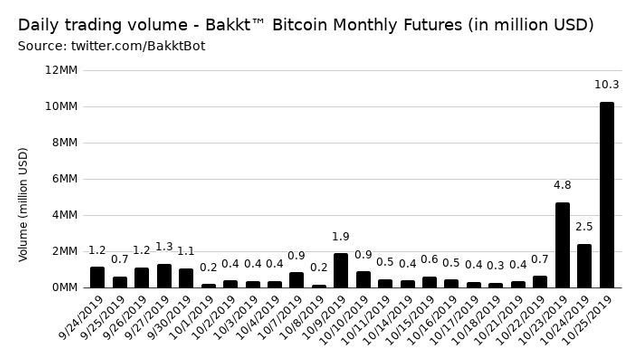 아마도 블록체인의 주도권을 가져오기 위한 시진핑의 발언이 지대한 영향을 미쳤을 것으로 생각됩니다.
또한 백트(Bakkt)는 비트코인 옵션과 커스터디 서비스를 출시 준비중인 것으로 알려졌습니다.
백트 "내년 상반기 결제 앱 출시…첫 제휴사는 스타벅스"
이러한 백트가 내년 상반기에는 결제 앱을 출시할 예정이라고 공식 발표하였습니다.
백트는 출시에 앞서 이메일 및 홈페이지를 통해 사전 Sign Up for Updates를 독려하고 있습니다. 아래 링크에서 간단한 정보 제출 후 Sing Up Subscription을 할 수 있습니다.
https://www.bakkt.com/contact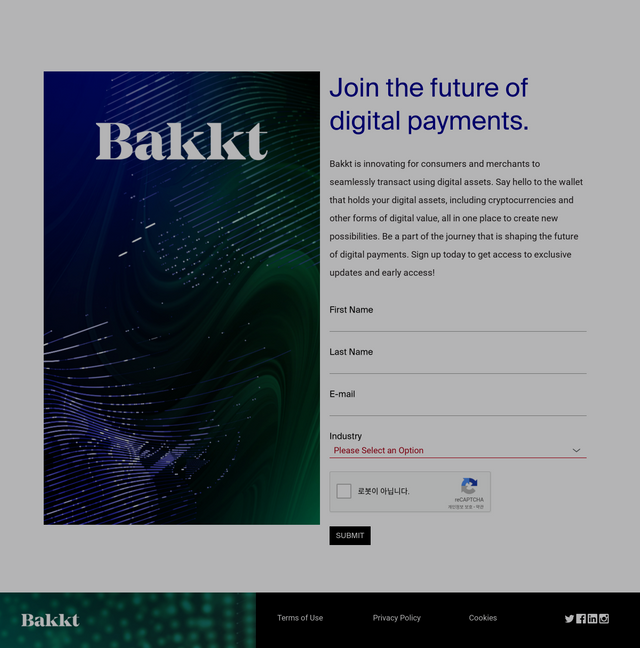 아래 미디엄 글을 통해 확인해 보면 백트의 4가지 key area를 아래와 같이 정의하고 있습니다. (대충 의역함)
https://medium.com/bakkt-blog/unlocking-the-value-of-digital-assets-bdda43214720
ㅇ Digital asset infrastructure
엔터프라이즈급의 인프라 제공을 통해 빠른 결제, 저렴한 코스트, 효율성 등을 제공함
ㅇ Marketplace access
컨슈머 앱 론칭을 통해 Merchant와 Customer를 연결하여 소비파워를 확대할 것임
ㅇ Maximizing control
소비자와 머천트의 디지털 에셋에 대한 유연한 통제권을 제공할 것임
ㅇ Establishing trust
블록체인 시장에 미진입한 소비자와 머천트들에게 최소 리스크화된 수단을 제공할 것임
또한 그 첫번째 제휴사는 스타벅스가 될 거라는 계획을 공식적으로 내어놓고 있습니다.
We're now focused on the development of the consumer app and merchant portal, as well as testing with our first launch partner, "Starbucks", which we expect in the first half of next year.
Don't forget — you can receive exclusive pre-launch updates and early access to the consumer app by signing up for updates from our team.
드디어 소비자로서 백트의 첫번째 작품이자 실물경제에서 가장 대중적 인기를 누리고 있는 스타벅스를 통해 블록체인 생태계를 경험할 수 있는 날이 얼마남지 않았나 봅니다.
스타벅스는 여러모로 커피전문점 업계의 리더로서뿐만 아니라 다양한 IT를 결합한 소비자 중심 서비스를 내놓음으로써 혁신기업의 면모를 보여주고 있습니다.
저도 스타벅스의 다양한 서비스를 즐겨 사용중에 있는데요,
Silent Order를 위시하여 Drive Through 매장을 통한 자동결제, 최근에는 몇킬로 밖 원거리에서도 사전 주문할 수 있는 서비스를 내놓고 있습니다.
백트를 통한 암화화폐 수단을 사용한 결제까지 내놓는다면 전세계적으로 사용자 기반은 더욱 늘어날 것으로 생각되네요.
국내에서만큼은 신세계에서 50% 가량의 지분을 소유하고 있다는 것이 그나마 다행이 아닐까 생각해봅니다.
2020년이 블록체인 Dapp 서비스를 본격적으로 경험할 수 있는 원년이 되지 않을 까 조심스럽게 예측해 보며, 약간의 흥분과 설레임으로 백트의 첫 Payment 시장 진출을 기다려 보도록 하겠습니다.