We are likely just getting started
If history is any indication, this bull market is just getting started.
Everyone has been pretty excited about the move up from $3k all the way to $9k...
However, there is likely a lot more to come.
If we go back and look at the trend since 2010, the bull market cycle have been getting longer and longer.
Not only that, but the price has peaked higher and higher each time!
A lot more bullishness to come?
We likely are at the very beginning of this next bullish price cycle.
Check out the chart: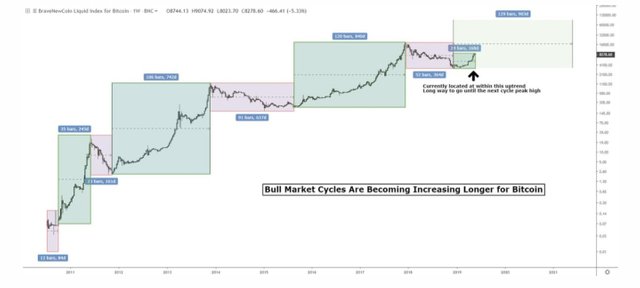 (Source: https://twitter.com/Josh_Rager/status/1134458358814203904)
As you can see, we are likely only about 1/5th of the way into this next bullish phase.
And prices are likely to go a lot higher than even the previous peak of $20k...
If they do not, it would be the first time they haven't during this bitcoin price cycles.
But this time it's not different!
Not sure about you, but I like betting on history instead of betting on "this time it's different".
This entire model changes if bitcoin goes on to make a new low in the next couple months of course, but the odds of that happening are extremely unlikely at this point.
I will keep my money on a trend that has played out several times already likely due to the block rewards halving.