Hello friends
Currently Bitcoin prices below 9000 US dollar and this price seems to be a bit stable between 8 to 9000 USD range. I feel this is a good news for cryptocurrency traders. Experts are saying that this price can go upto 12000 US dollars within few weeks which can be by end of this month or maybe in July.
---
I have reviewed top 10 cryptocurrency from https://www.coingecko.com/en website and I see that all these are in green colour except EOS.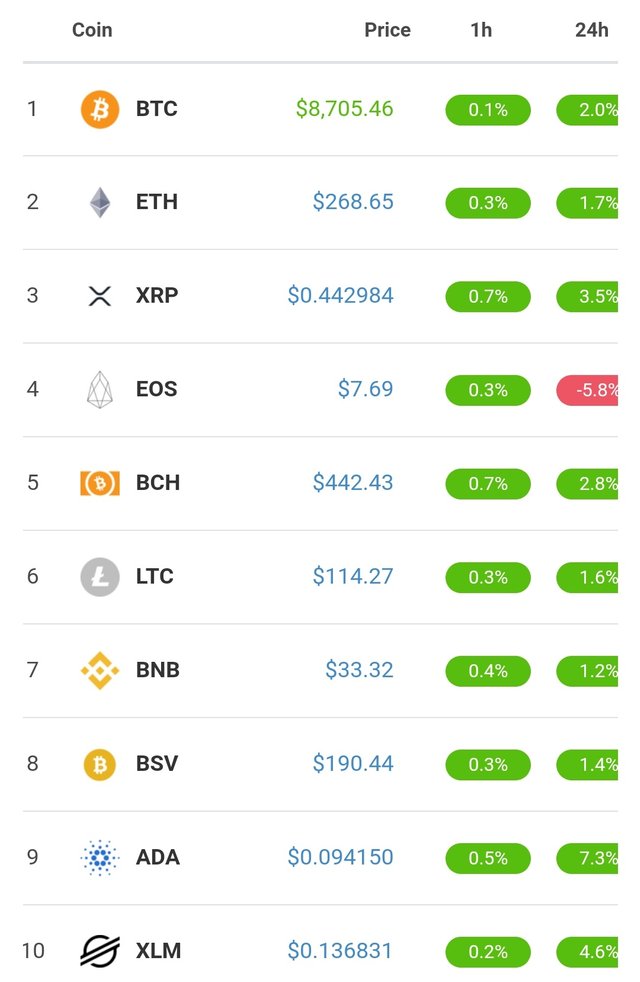 Altcoins are influenced by Bitcoin price and when Bitcoin price is stable then alts start growing as we can see in this snapshot.
Bitcoin is up by 2% and major movement we can see in ADA Which over 7% in last 24 hours. Not just ADA, other coins also recorded pretty good growth. Apart from ADA, XLM has shown a good movement in price and gone up by 4.6%. Stellar network is getting adoption by multiple big tech giants and this is going to boost it. XRP is trading at 0.44$ and by July it's expected to touch 0.7 $ price mark.
Overall Cryptocurrency Market seem to in positive movement and hopefully it stays the same way. But again this Market is not 100% predictable and it can go any direction anytime so before making any investment Please do your own research.
---
This is my first post using Steemcoinpan and I find it pretty nice to use. Can't more about it as of now but will share my experience of this platform once I try out its all features.
Thank you so much for your time.
Have a great time.
Follow: @alokkumar121
Twitter: @alok9811