1990s Screensavers: Flying Toasters (With song)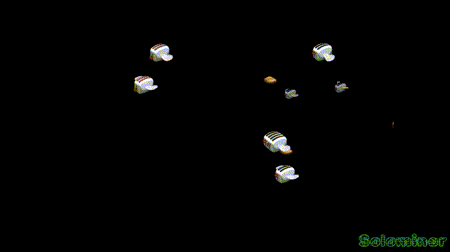 The flying toasters is probably the best known module for After Dark, this module also has a song that plays along with captions below on the lyrics. Chrome toasters with wings fly by. Along with toasted bread, some having jam on them and others being bare.
Lyrics:
"Flying out of the sun
The smell of toast is in the air.
When there's a job to be done
The Flying toasters will be there.
And it's flap! Flap! Flap!
Now help is on the way.
This victory song they sing.
We pop up to save the day
Oh might -ty Toast -er Wings!
In the bright -est day or Af -ter Dark
When times of trou -ble are at hand,
The Fly -ing Toast -ers set a spark
And hope is blaz -ing 'cross the land!
And it's flap! Flap! Flap!
Sal -va -tion from a -bove
A pre -cious gift they bring:
Gleam -ing An -gels of Love
On Might -ty Toast -er Wings!"
---
Screen savers in the 1990s had a purpose, to stop screen burn in. Afterdark is a screen saver application released in 1989 and produced many versions of their screen saver app up through the 2000s. I will be showing off the various modules included in this thirty year old application (Version 4.0) released in 1996. Some may remember the Flying Toasters as a screen saver. Or maybe some other, but as an early Mac user myself these all bring back memories for me.
I run the screensavers on a Windows ME virtual machine, and capture the screen using OBS. Some of the screensavers crash, probably due to emulation of the virtual machine. But others run flawlessly. The computers during the days of these screen savers only had a few hundred megabytes of RAM and few hundred megahertz of processing power. Even with these constraints some amazing screensavers were designed by Berkeley Systems and Sierra.
Addresses below to help me buy better camera equipment and support me to travel to locations to do photo and video and overall great blogs in new places. I would be happy to list some of the contributors in my posts for donations that help me along the way.
| Coin | Address |
| --- | --- |
| BTC: | bc1qhfmvd2gywg4fvrgy2kkkkyqta0g86whkt7j8r7 |
| LTC: | ltc1qdyzm5cwgt8e2373prx67yye6y9ewk0l8jf3ys9 |
| DASH: | XkSqR5DxQL3wy4kNbjqDbgbMYNih3a7ZcM |
| ETH: | 0x045f409dAe14338669730078201888636B047DC3 |
| DOGE: | DSoekC21AKSZHAcV9vqR8yYefrh8XcX92Z |
| ZEN: | znW9mh62WDSCeBXxnVLCETMx59Ho446HJgq |