What is Scorum Exchange Betscorum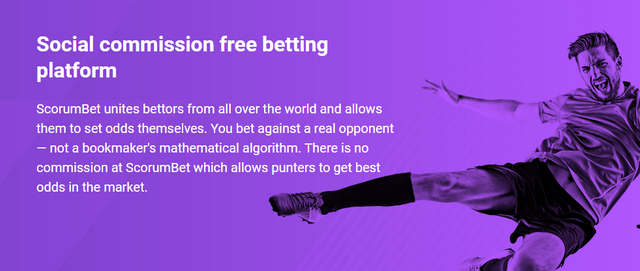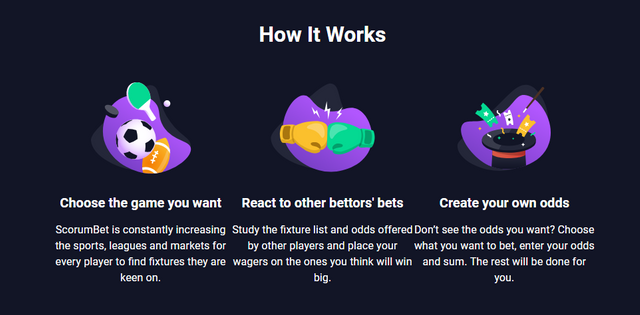 What blockchain does ScorumBet use? Why?
ScorumBet uses the Scorum blockchain based on Graphene technology. All transactions are free in Scorum's blockchain, which makes commission-free betting possible. Scorum Blockchain is 1000+ times quicker than Bitcoin and Ethereum which enables live bets and fast payouts.
Why does ScorumBet use a blockchain?
Blockchain technology allows maximum honesty and transparency of bets and protects users' funds reliably.
Why bets are not taken instantly?
All bets are recorded into the Scorum blockchain where blocks are formed every 3 seconds. After the block containing your bet is confirmed, your wager is shown in My Bets.
What is Scorum Coins (SCR) and where you get them from?
Scorum Coin (SCR) is a cryptocurrency like Bitcoin and Ethereum. It is used for betting on ScorumBet. SCR can be bought directly from your Scorum wallet or on cryptocurrency exchanges HOTBIT and OpenLedger.
How betting line is formed?
Users offer their odds and sums of bets for different sports events. For every offer a bet and sum are recalculated for an counter-event and a sum of bet for a counter offer is formed. Such offers form the line. For example: a bettor bets 100 SCR for home team win (1) in a football game at 1.5 odds. A counter-event for this outcome is a draw or away team win (X2). Counter coefficient for 1.5 is 3.0. Counter obligations for 100 SCR at 1.5 odds is 50 SCR at 3.0 coefficient. Correspondingly 3.0 odds for a draw or away team win will appear in the line with a possibility to bet 50 SCR on it.
What does Place Bet phrase instead of odds mean?
It means that there are no counter coefficient for the chosen event in the game. In order to bet for this event, a bettor needs to enter the desired coefficient themselves.
What do the figures under the odds mean?
It is the sum of SCR that can be bet at these odds to react to existing bettors' offers.
Why do the same events in a game have different odds?
Players can offer bets with different coefficients which then form a pool of offers for each market. The best offers in the market are always shown first.
What are unmatched bets?
These are bets that still do not have a corresponding counter offer. Bettors can cancel unmatched bets, otherwise they will remain in the line until market is closed or until they are cancelled. SCR placed in unmatched bets will be playable again as soon as the markets close.
Where do unmatched bets go when the game starts?
When a match goes live all unmatched bets are cancelled and players start to form the new betting lines depending on what is happening in the match.
I created a bet, why didn't anyone accept it?
Your offer did not appeal to any other users and did not find opponents. Other players probably did not like your odds.
How to cancel a bet?
If a bet is matched (there is an opponent who accepted your conditions) it cannot be cancelled. Unmatched bets can be cancelled in My Bets.
What are the maximum and minimum odds on ScorumBet?
Minimum odds are 1.001. Maximum odds are 999.999.
What is Matched in the markets?
This is the sum of funds already matched in the chosen market.