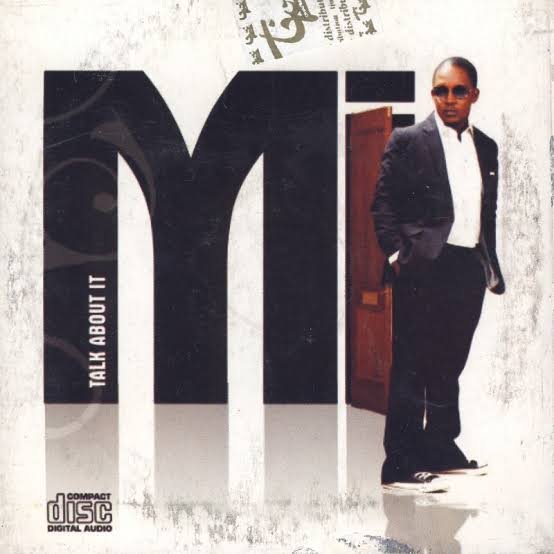 Source
Now we're gonna talk about something serious
Yo! M.I
Yo! Chocolate
City
Yo! Rythchus Era
...
If you don't have a mind of your own
Don' be disappointed, this is fine; be a clone
Listen to me rhyme,
I'm done trying to be mine all alone
And to make things connect like a spine to a bone
I've changed my mind
I would rather be the same as
All these fake ass entertainers
Make bad music just to rock in arenas,
Use words like (no bad language on radio)
Cos I tried hard to make the difference
Make the kind of music youse can use as reference
Everybody else say: let's dance
Who am I to tell them otherwise? That's a job for Reverends
So I'm ready now to join the movement
Together press for negative improvement
...
Everybody unite
To forever end the search for life
...
So when I say jump (jump)
Everybody in the place dance (dance)
Everybody in the place move (move)
Everybody in the world just scream (scream! scream!!
When I say jump (jump) Everybody in the place dance (dance)
Everybody in the place move (move)
Everybody in the whole world stop (scream? Huh? Oh-uh?)
...
If you don't have a mind for yourself
Don't be disappointed,
this is good for your health
It's the road to riches and to diamonds and wealth
...
Redesigned it myself,
to all Black people put your mind on your shelf
It's Ok to be poor,
be needy Better yet still care for more, be greedy
Everybody get mis-educated
Be lazy, fat, stupid with your mind sedated
No matter how many songs I sing About truth,
honesty, it'll never change a thing
I just wanna be rich and famous
The world is screaming out: Please entertain us!
Yo, the whole world is glass or plastic
It's split like refraction, need action drastic
So forgive me I'm a tad sarcastic
These venomous lyrics on my lips like chopsticks
...
So when I say sit (sit)
Everybody in the place stand (stand)
...
Everybody in the place jump (jump)
Everybody in the place scream (scream! scream!!)
When I say sit (sit)
Everybody in the place stand (stand)
Everybody in the world just jump (jump)
Everybody in the world be yourself (be yourself, be yourself) Yeah, break it down, break it down, break it down Hereeeee weeeee go!
...
So the moral of this song is
There are people walking around just like zombies
And it's so strange, how people are afraid of change
Afraid of what would happen if we re-arrange
So most Black people are just doing what the crowd do
Doing what the system say, that we're allowed to
So break free from the crowd mentality
...
And then we can start to build a new reality.
...
(Now you've got to know
Said you've got to know
And you've got to know
Who you are)
...
So come on,
Everybody in the place fly Everybody in the place dream
Everybody in the place be yourself (be yourself, be yourself)
When I say shine (shine)
Everybody in the place fly (fly)
Everybody in the place dream (dream)
Everybody in the place be yourself (be yourself, be yourself)
When I say sing (sing) Everybody in the place speak (speak)
...
Everybody in the place c'mon shout (shout)
Everybody in the place be yourself (be yourself, be yourself)
When I say sing (sing)
Everybody in the place speak (speak)
Everybody in the place shout (shout)
Everybody in the place be yourself (be yourself, be yourself)
...
Be yourself Yo!
Be Black, BeBeautiful, Be Strong, BeCorrect, Be Nice, BeGood
Be Right, Be Tight, Be Alright
Be Creative, Be Native, Be Real
Have Skills, Stand Tall And be all you can be
...
(Now you've got to know
Said you've got to know
...
And you've got to know
Who you are)
Lyrics Source
Reflection
Many atimes we tends to forget who we are as a person, we immediately loose the ego that we were born with all in the name of being under a new religion or been colonised. The fact is, we aren't suppose to be at all. We are suppose to be upright in thinking not inferior to the other person. We are suppose to always look after each other and breed unity at all time. It's very important to know this fact.
Whenever I listen to this song it makes me want to stand up straight and put one hand on my chest to boost my confidence that I ain't no inferior to anybody.
...
How to Enter the @Steemitcentral Quote Challenge
Post the lyrics from your best song (in words or pictures) for the day and reflect on it using a few words (100 max).
Use the "steemitcentral tag" in your blog posts.
Make sure the source of the lyrics is cited properly to avoid plagiarism.
Do well to number your entries. E.g Day 1/60, day 23/60, etc.
Link your entry to this post.
Use the hash tag #sclyrics in all your entries. This will make us find you easily.




Posted using Partiko Android