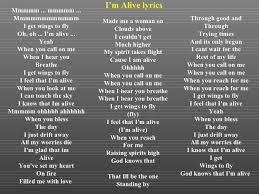 Source
...
Mmmmm ... Mmmmm ...
I get wings to fly
Oh, oh ... I'm alive ... Yeah
...
When you call on me
When I hear you breathe
I get wings to fly
I feel that I'm alive
...
When you look at me
I can touch the sky
I know that I'm alive
...
When you bless the day
I just drift away
All my worries die
I'm glad that I'm alive
...
You've set my heart on fire
Filled me with love
Made me a woman on clouds above
...
I couldn't get much higher
My spirit takes flight
'Cause I am alive
...
When you call on me
(When you call on me)
When I hear you breathe
(When I hear you breathe)
I get wings to fly
I feel that I'm alive
(I am alive)
...
When you reach for me
(When you reach for me)
Raising spirits high
God knows that...
...
That I'll be the one
Standing by through good and through trying times
And it's only begun
I can't wait for the rest of my life
...
When you call on me
(When you call on me)
When you reach for me
(When you reach for me)
I get wings to fly
I feel that.
...
When you bless the day
(When you bless, you bless the day)
I just drift away
(I just drift away)
All my worries die
I know that I'm alive
...
I get wings to fly
God knows that I'm alive
Lyrics Source
Reflection
Love is truly a great thing, those who fly in the arms of love knows fully about this, it's a very great thing to fall in love and be blessed by this. It not only gladdens the heart but makes you boundless in things.
...
How to Enter the @Steemitcentral Quote Challenge
Post the lyrics from your best song (in words or pictures) for the day and reflect on it using a few words (100 max).
Use the "steemitcentral tag" in your blog posts.
Make sure the source of the lyrics is cited properly to avoid plagiarism.
Do well to number your entries. E.g Day 1/60, day 23/60, etc.
Link your entry to this post.
Use the hash tag #sclyrics in all your entries. This will make us find you easily.
Posted using Partiko Android