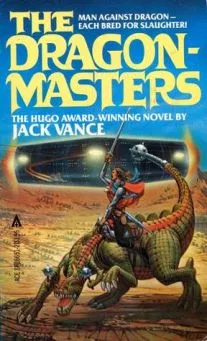 I don't know exactly where to start on this book. It's fantastic and the author is amazing. I give it my highest recommendation and suggest it to anyone who is a fan of science fiction or fantasy.
The book starts out in the past. This is on a distant world called Aerlith in the far future (relative to us), but the past is showing the history of this world. Long ago, the world was ruled by reptilian masters, aliens who had advanced technology and the ability to breed humanity to serve them.
Mankind, in their own way, bred the eggs of those aliens into dragons for themselves to ride. The eggs were bred into submission and became dragon mounts, able to bring their masters across the rocky, mountainous terrain.
This book packs in so many unique ideas and science fiction concepts. It's fascinating to see how Vance is able to weave in interesting characters and ideas with plot progression. About the only thing I didn't like was the aliens themselves. They seemed flat and uninteresting, even though they had an element of mystery.
The main character is Joaz Banbeck, descendant of Kergan Banbeck who defeated the aliens once long ago. He's an interesting character, with his own goals and such. But he's missing anything that makes him really unique as a person. He never really felt fully fleshed out.
The other humans were interesting, but some of the side characters were passed over quickly, such as the characters of Phade or Bast Givven. I get that it's a short book (a novella, really), but it still felt frustrating when so many of those characters were interesting in their own right.
The ending really is bittersweet. Not bad, mind you, but a little sad.
All in all, I recommend this book highly.