The SmidgION: A portable DNA sequencer that runs on an Iphone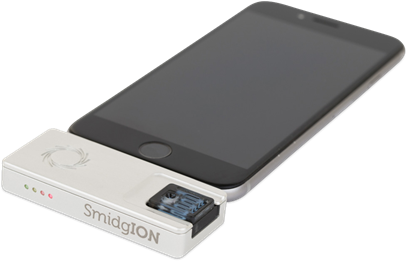 This week I went to a science conference in the heart of Boston called the Festival of Genomics. The purpose of this conference was to bring together genomic scientists with all of the latest innovations in genomic sequencing (1). It was a great experience, and I might write a separate post about it and the role of conferences in a scientist's career. However, today I want to talk about a very cool piece of technology that was shown:
The SmidgION
What is it?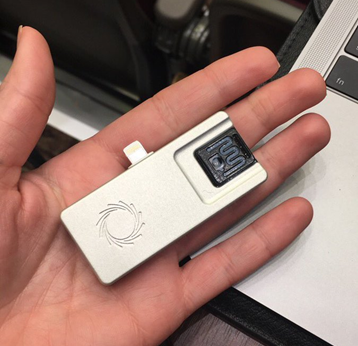 A SmidgION (2)
The SmidgION is a small DNA sequencer from Oxford Nanopore Technologies that can run on a smart phone (2). DNA samples are loaded into the tiny instrument shown to the right. The instrument can then be plugged directly into a smart phone (notice the Iphone lightning connector on the top of the device). The image at the top of this article shows what the SmidgION looks like plugged into a phone. The phone's battery powers the device and the data it generates is either saved to the phone's hard drive or uploaded to the cloud. All of this is mediated by an App downloaded to the phone.


To put this in perspective, 20 years ago we had just sequenced the simplest bacterial genomes and 10 years ago genomic sequencing required a prohibitively expensive equipment and a laboratory of specialists to run it (3). Now, you can sequence a genome on the same thing you use to check Facebook in the bathroom.
How does it work?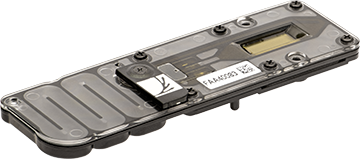 A Flow Cell (2)
Surprisingly, the mechanism of this sequencer isn't too complicated. Each sequencing reaction requires a disposable flow cell (shown on the left). Flow cells contain sequencing reagents, a specialized membrane embedded with hundreds of proteins called nanopores (4), and complex circutry designed to monitor the membrane. To begin a sequencing reaction, DNA is spread over the membrane. A slight voltage is applied to encourage DNA to migrate across the membrane through the nanopores. When DNA encounters a nanopore on the membrane, one of its strands will pass through the membrane as shown below.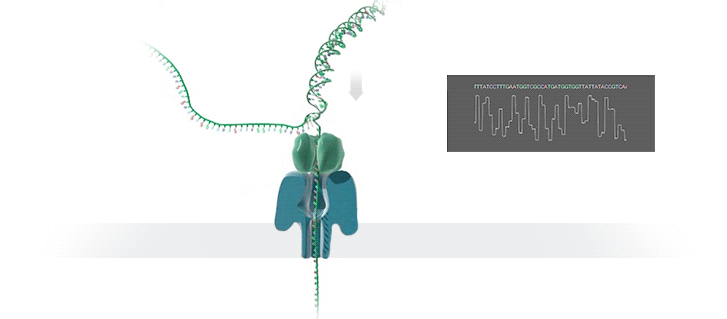 As DNA passes through the nanopore, the current changes are measured to determine the DNA sequence (2).
As the strand passes through the nanopore, it causes a slight change in current that can be detected by the flow cell circuitry. Each nucleotide will change the current by a known amount so the instrument can determine the sequence of the DNA strand by measuring and analyzing the changes in current.
Will it work?
The instrument is set to be released in the next few months, and many are excited to see its impact on the market. The SmidgION gets its name because it's a smaller version of the MinION, a popular genomic sequencer from the same company. The technology behind the sequencing itself is quite well validated (5, 6), so I fully expect this instrument to work fine right out of the gate.
However, the more difficult question to answer is whether or not this product will be useful to anyone. Even though the SmidgION can work anywhere, You can't just pipette blood or tissue samples into it and expect sequencing results. DNA samples still need to be extensively purified and prepared in a lab. The lab itself doesn't have to be big, but some reagents need to be frozen, others need to be kept in a refrigerator, sterile pipette tips are required, and additional lab equipment like centrifuges and thermocyclers might be used (2). The MinION itself is fairly small and runs fine on a mid-range laptop and there is no reason why a reasonably equipped lab would want a SmidgION instead of a MinION. Some outlying cases might find the product advantageous, but it seems a bit gimmicky to me at the moment
If this is gimmicky, is it still cool?
Damn straight this is still cool! Despite the limitations it still lets you sequence DNA with the phone you're probably using to read this post. Genomic sequencing is one of the fastest growing fields in the biotech industry and is notorious for using large instruments and being quite complex. This little device brings us one giant step closer to simplifying the process for the consumer market. Sure we may not be able to easily create DNA samples now, but future advances may circumvent the need for laboratory equipment to prepare DNA for the SmidgION.
To put it another way, this device is important because it brings us one step closer to the illustrious "lab on a chip" That every biotech company would love to develop. The idea behind a "lab on a chip" is to be able to perform complex laboratory analysis using a simple instrument in a non-laboratory setting. If such an instrument became a reality we can make major advances in health care and research. With it, a clinic in a third world country can screen for a unique virus in patients in seconds, researchers can obtain real time DNA sequences while sampling environmental sites, and deadbeat dads can get a paternity test without having to go on Murray.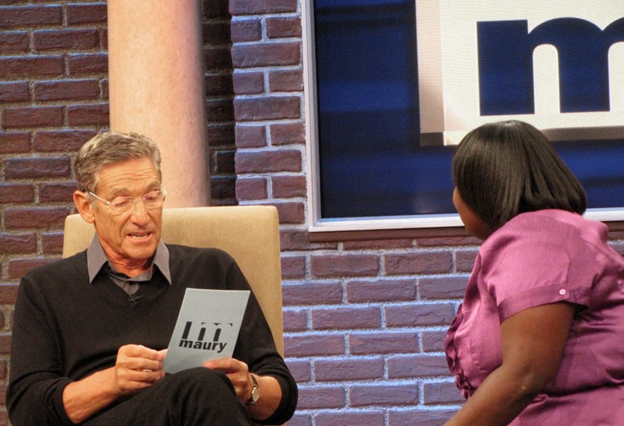 Easy inexpensive sequencers could put this poor man out of business (source).

We may not be there quite yet, but the SmidgION is the closest I've seen us get to this point. To be honest, it still blows my mind that this technology is possible on such a small scale. If we end up with consumer grade sequencing in the next decade or so, I wouldn't be surprised if this little gizmo plays a pivotal role in making it happen.
References
(1) http://www.festivalofgenomicsboston.com/
(2) https://nanoporetech.com/products/smidgion
(3) https://en.wikipedia.org/wiki/Whole_genome_sequencing#History
(4) http://www.nature.com/nbt/journal/v30/n4/full/nbt.2181.html
(5) https://www.ncbi.nlm.nih.gov/pmc/articles/PMC5093776/
(6) https://www.ncbi.nlm.nih.gov/pmc/articles/PMC5408847/
About the Author: I'm a research living near Boston. I recently left academia to work in in industry, but I miss teaching so I decided to start writing articles on interesting discoveries in the world of microbiology. My goal is to uncover subjects that are unusual, unique, and might one day have a major impact on our daily lives. If you like this work, please consider giving me a follow: @tking77798
SteemSTEM
I've decided to start putting my support behind the @steemstem project and I encourage you to do the same. SteemSTEM is a community driven project which seeks to promote well written/informative Science Technology Engineering and Mathematics postings on Steemit. The project not only curates STEM posts on the platform through both voting and resteeming, but also re-distributes curation rewards as STEEM Power, to members of Steemit's growing scientific/tech community.
To learn more about the project please join the steemit.chat, they are always looking for people who want to help in their quest to increase the quality of STEM (and health) posts on our growing platform, and would love to hear from you!