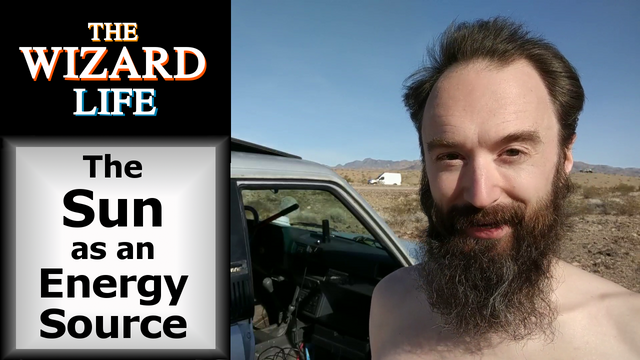 ---
Today on The Wizard Life I'm going to be talking to you about the Sun and how it's just so awesome! First I'll show you how I'm using a Solar Panel to power all of the technology I'm using while I'm living in my truck out in the middle of the desert, and then I'll discuss how the Sun actually adds energy to our human biological system by interacting with the water in our cells. The Sun is Life!
So let's talk about the technological side of things. In the image below you can see the 100 Watt Solar Panel* I'm using. It's moderately flexible and very flat so it's ideal for packing into the back of the truck when I'm on the move. It runs directly into the little 12v Lithium Iron Phosphate Battery* you see on the ground next to it to store the power of the sun!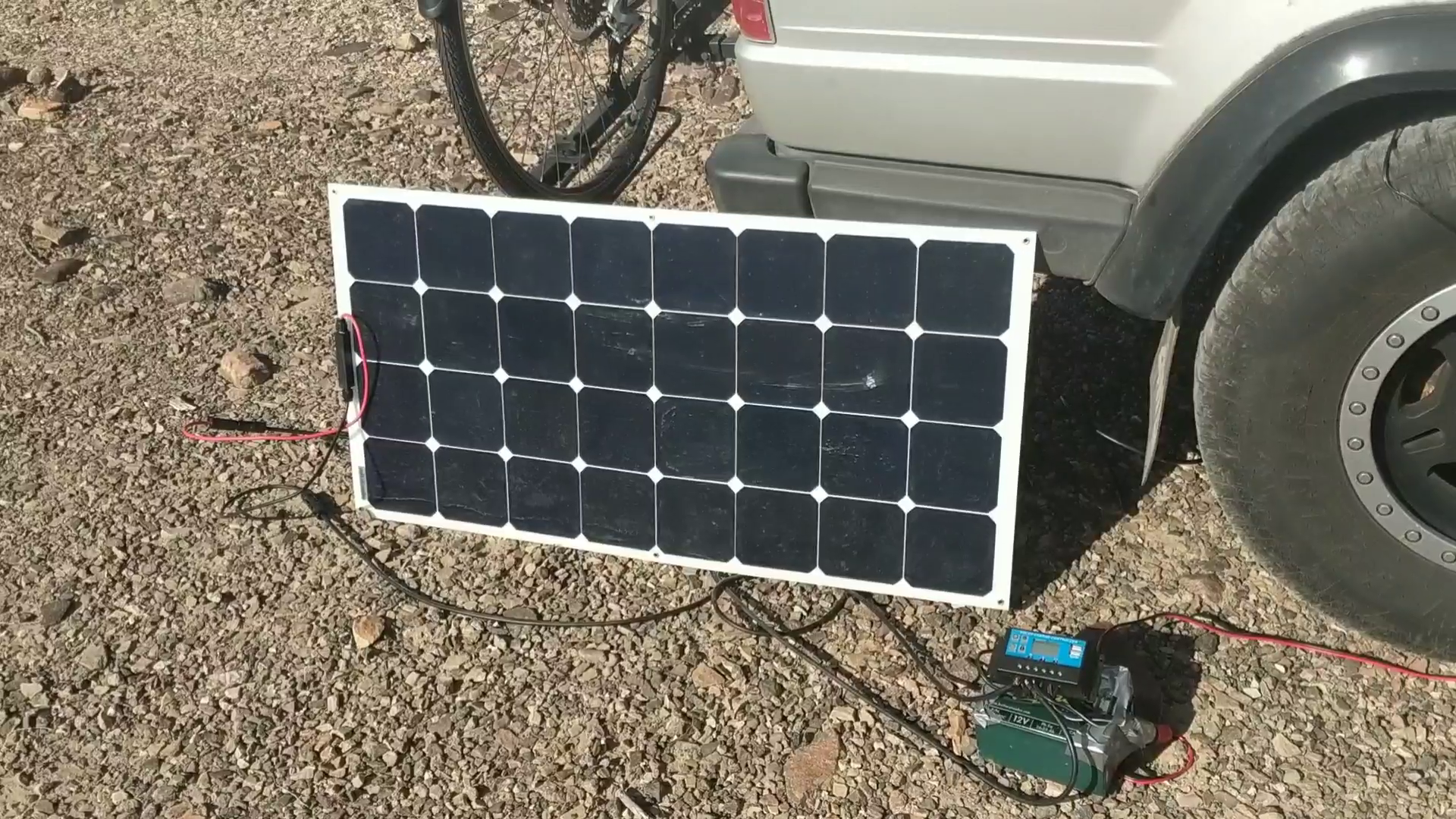 I have an even bigger 12v Lead Acid Battery* connected to this system which sits up in the front of the passenger side of the truck. This thing is massive and holds 100 Amp Hours of power! That's enough energy to run a 100-Amp appliance for 1 Hour, or a 1-Amp appliance for 100 hours. Almost everything I use runs off the 12v Direct Current (DC) stored in this battery, which I prefer because Alternating Current (AC) generates dirty electricity which can be biologically harmful.
I also have a 1500-Watt Power Inverter* which converts DC to AC so that I can use standard household appliances if I need to. Currently the only thing I use this for is running my Whole Body Vibration Plate.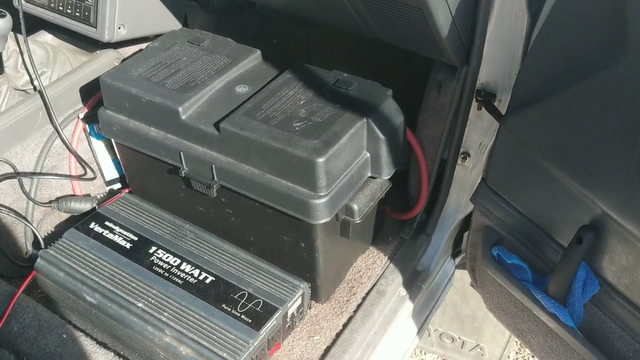 There's a long list of things I run off of the Sun's energy out here, and the image below gives a decent sampling. On the right is my 12v Hot Water Boiler* which I use for making Hot Chocolate every morning. In the middle is a 12v Slow Cooker* which makes delicious and inexpensive meals with very little effort. On the left is my Acer Laptop* which I use to do things like make videos and write this article! In the back in the Whole Body Vibration Plate I mentioned, which takes 850-Watts to start up!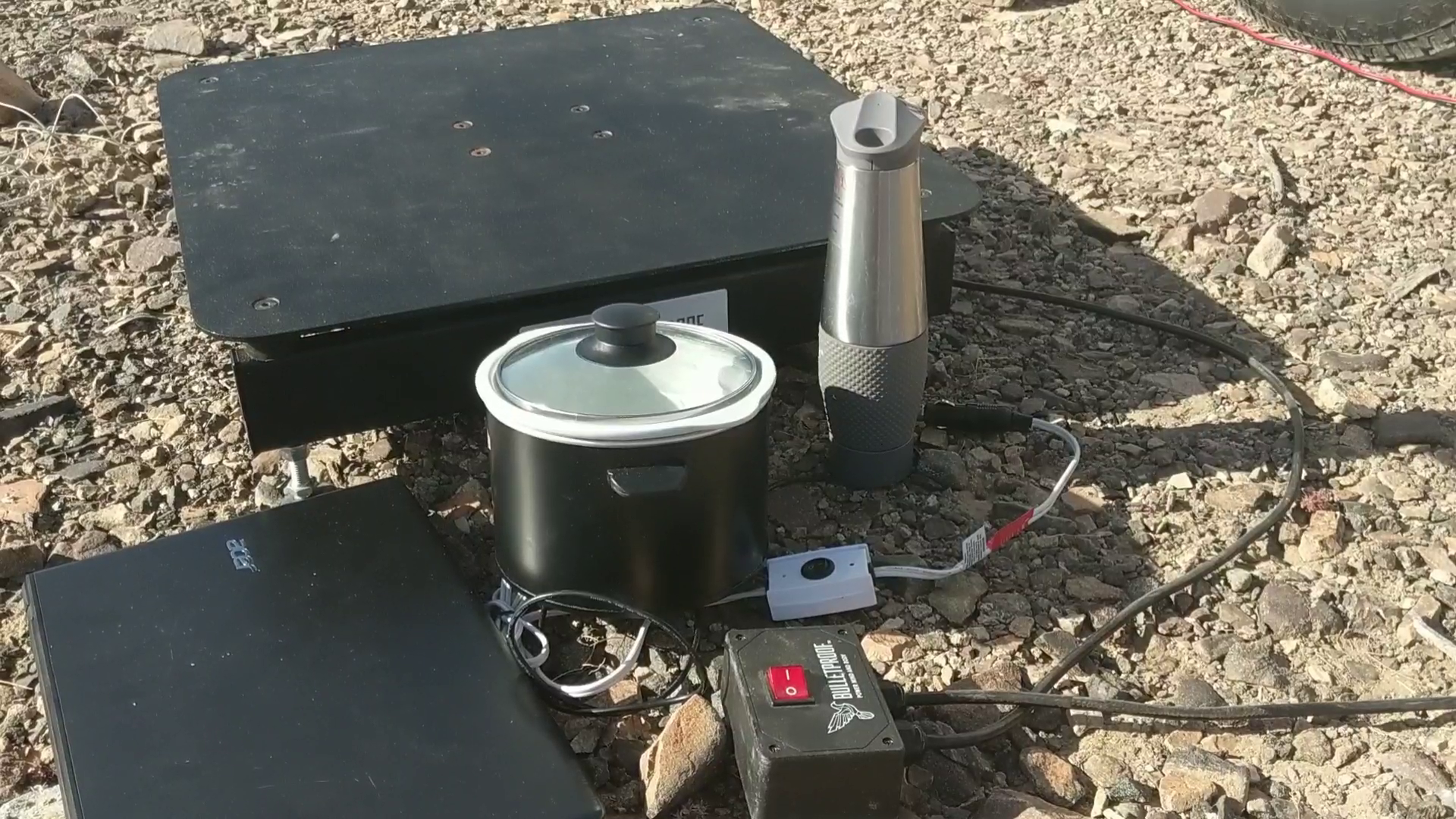 The Sun doesn't just provide us free energy for our appliances, it's also been fueling life on this planet since it's been here! Even we Humans receive energy from the Sun through our skins.
One way this happens is through the generation of what's called Structured Water. This is where the infrared energy from the Sun causes the water molecules in our cells to form a more organized structure which pushes dissolved solids (e.g. salt) out into the non-structured water directly adjacent. This creates two sections of water with different electrical charges, which means energy is being stored which the body can use... AWESOME!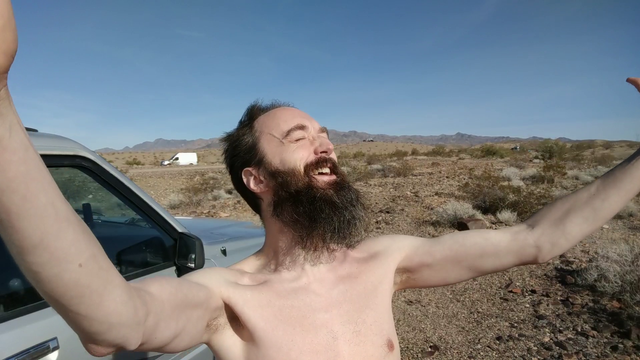 If you want to learn more about Structured Water, I recommend watching Bulletproof Radio Episode #304 with Dr. Gerald Pollack. He's a researcher at the University of Washington and the discoverer of Structured Water or what they're also calling the 4th Phase of Water. You're probably familiar with the other 3 Phases: Frozen, Liquid, Steam. It's an amazing podcast episode, so I hope you have the chance to check it out.
---
---
Thanks for stopping by!
@cahlen


---
To learn more about Cahlen you can follow him here:
YouTube, Facebook, Twitter & Minds
---
*Affiliate Link
---
▶️ DTube
▶️ IPFS