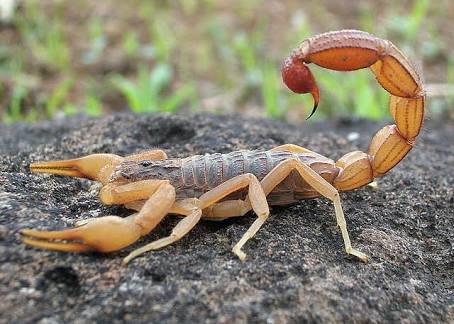 Although about 2000 species exist, only about 25-40 species can deliver enough venom to cause serious or lethal damage to humans. One of the more venomous or potentially dangerous species, especially for infants, young children, and the elderly in the United States is Centruroides exilicauda or bark scorpion. Contact with scorpions is usually accidental. Scorpion stings are painful, and they can be fatal, particularly to children. scorpions may sting more than once, the stinger, located at the end of the tail segment is usually not lost or left in the person's tissue after a sting.
Symptoms at the site of the sting can include:
intense pain
tingling and numbness around the sting
swelling around the sting
breathing difficulties
muscle thrashing or twitching
unusual movements of the neck, head, and eyes
dribbling or drooling
sweating
nausea
vomiting
high blood pressure
accelerated heart rate or irregular heartbeat
restlessness, excitability, or inconsolable crying.
If a scorpion stings you or your child, follow the suggestions below. Healthy adults may not need further treatment, and these tips can help keep children safe until they see a doctor:
Clean the wound with mild soap and water.
Apply a cool compress to the affected area for 10 minutes. Remove it for 10 minutes, then reapply it. This helps reduce pain and slow the venom's spread. This is most effective in the first two hours after a sting occurs.
Don't consume food or liquids if you're having difficulty swallowing.
Take an over-the-counter pain reliever as needed. You might try ibuprofen (Motrin IB, Children's Motrin, others) to help ease discomfort.
Mango:
Crush a handful of fresh Mango tree leaves and extract the sap.
Apply the mango leaf sap on the sting area. Let it sit for an hour or so.
Repeat the process twice daily for 2 to 3 days.
Garlic:
You can also take 3 – 4 pods of fresh garlic. Wash, peel and crush to make paste.
Apply the paste on the sting area. Allow it to sit for a couple of hours.
Repeat the process if required.
Basil:
Take a bunch of fresh Basil leaves. Crush the leaves to extract the juice.
Add a pinch of salt and apply the juice on the sting areas.
Allow it to sit for a few hours. Repeat the process if required.
Turmeric:
Mix 2 teaspoons of pure Turmeric powder with 1 teaspoon of sesame oil.
Apply the paste on the sting area. Allow it to sit for a couple of hours.
Repeat the process if pain and swelling persist.
Image Copyright: https://www.google.co.in/amp/s/sanfrancisco.cbsloc