Candles in the Dark
Adding to the chain
After reading
this
post by
@infovore
, then the post by
@stellabelle
here
relaying some thoughts on writing motivations, including;
I write to hopefully help people who are suffering, to give them a little spark, a feeling of hope
~ @stellabelle
I felt inspired to examine what i might be able to contribute in this area. With that in mind I am going to write a short series of posts, hopefully sharing with you all, some of my 'candles in the dark'. By that i mean people, or books or just 'things' that have helped me through some dark times in my life and given me that spark of hope. With one additional criteria; That they are at least somewhat accessible to 'You', should you want to seek them out.
So - Post One!
Cara Santa Maria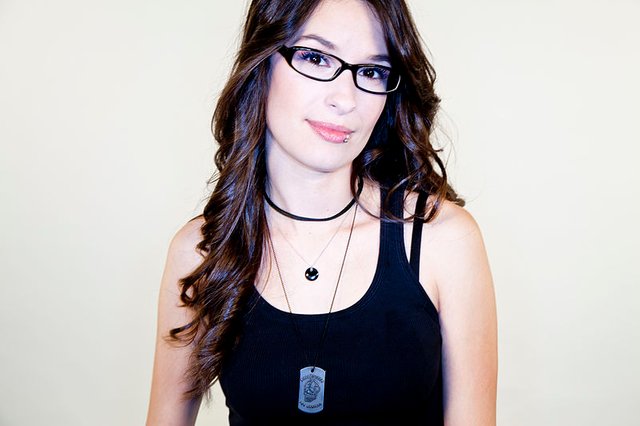 source, Photographer: Bob Nybe
Cara Santa Maria is a Science Communicator, journalist, host and presenter (TV and online), Podcaster, and i'm sure more. Originally from Texas.
Like most (if not all) of the people I will cover in this series. I've never met Cara Santa Maria. However, I first came across her work with the Huffington Post in a science communication series called 'Talk Nerdy To Me'.
I enjoyed the few videos that i saw and the accompanying blogs and would generally click on the posts as i saw them - These didn't change my life (except perhaps for when she went after the brontosaurus ...feels bad man) but the content was still fascinating.
Some time later I saw her name pop-up on a podcast so i checked it out
(Only slightly hoping to hear that there was a mistake and brontosaurus was legit again)
It seemed like this kind of format suited her much better and indeed there was talk of starting her own podcast: Talk Nerdy - With Cara Santa Maria which happened not long after.
This was really the catalyst for why Cara Santa Maria is one of my 'Candles in the dark'. Firstly her love of Science and understanding the world and indeed universe around her is infectious. Like other great science communicators (Sagan, Feynman, Tyson, Cox) not only is she curious, but she wants to share that curiousity and the results with others. Importantly for me at many times, is how she spoke about Mental health, depression, therapy and other topics usually so carefully navigated or outright ignored in such a straight-forward manner. She was not afraid to admit her own struggles with depression, bad reactions to medications, on-going treatment/therapy.
It's hard to explain, but the way that she owned such a thing, but wasn't allowing it to define her. It made me feel far less ashamed of my own depression, and even moreso to try to follow her example. Aknowledging the issue, dealing with it as best you can, and figuring out how to make your way through the hurdles to still achieve what you want in life. Looking back, I can't help but laugh at how "Sneaky" i find that now. Using your fancy science to open up my mind to new ways of thinking about things, then slipping in a positive influence about managing mental health when i wasn't looking.
I've learned a lot from Cara Santa Maria, and not all of it about science, and for that I only have gratitude. So if you regularly listen to podcasts, or even if you've never tried it. I would strongly recommend giving this one a chance.
A couple of recent favourite episodes are:
Episode 105 and 107 with Neil Shubin paleontologist, geneticist, anatomist, and popular science author (Your Inner Fish, The Universe Within). They discuss Tiktaalik's place in our evolutionary past and also episode 100 Which is more AMA style with just Cara.
I would love to hear from others in the community, who do you look-up to? Who are your beacons that give you hope, comfort or insight/knowledge? Who are your Candles in the Dark?
PS I'm not really sure where to put this, so i'm just going to tag it #science and #writing but let me know if you don't think it fits, or would be better somewhere else.