DEFINITION OF FRUIT
A fruit is a mature fertilised ovary of a flower containing one or more seeds. However, in a certain plant, e.g banana and pineapple fertilisation is not necessary for fruit formation. Fruit which develops without fertilisation is known as parthenocarpic fruit they are often seedless. Generally, the result of pollination and fertilisation in flower is the formation of fruit and seed.
STRUCTURE OF A FRUIT
The structure of a typical fruit, e.g mango is made up of an outer covering called the epicarp, middle layer called the mesocarp and an inner layer called the endocarp. Within the endocarp is the seed.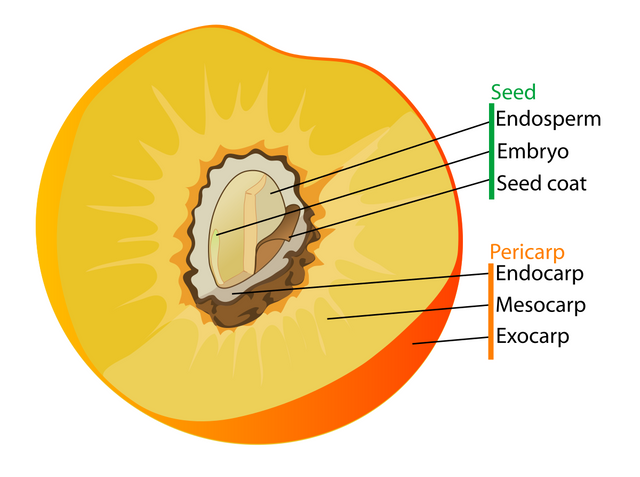 credit
The epicarp, mesocarp and endocarp of a fruit is collectively called the pericarp. A fruit normally consists of the following parts.
The fruit wall or pericarp
The seed or seeds inside the fruit
The remains of the style or scar showing point of attachment of the style.
The attachment of the fruit to the plant.
DIFFERENT BETWEEN A FRUIT AND SEED
FRUIT
Fruit develop from an ovary and so contains seed
It has fruit stalk or a scar
It bears remain of style or scar left by it.
It has no micropyle
Fruit has a pericarp and one or more seeds.
SEED
Seed develops from an ovule and so contain an embryo
It has a scar formed by attachment of funicle
It does not bear remains of style
It has micropyle. the seed has a seed coat and a single embryo.