Call this theory if you will.
While science is pretty badass and has enabled us to create a lot of marvels, it has its limits. Namely, we still don't have all the means to prove what science is there to be unveiled. As such, Truths may be presented - yet in the eyes of conventional institutional science, amount to no more than "hypothesis" because the tools to measure these new dimensions of scientific realms do not exist yet.
Nonetheless, just because we don't know how to prove something with the limited means at hand doesn't mean it's not true. In time, all those formal verifications will come. In the meantime, a few must risk the inevitable resistances and challenges of speaking out what can't yet be backed by science's limited methodologies in order for certain insights and Truths to spread such that it eventually will be.
What you read herein, you've probably never heard before.
Yet, this is insight that shall profoundly transform entire fields of neuroscience, psychology, biochemistry, human performance, and beyond. For centuries, man has sought the "holy grail" of eternal youthfulness and superhuman powers - diving deeper into the sciences in hopes of finding exactly what makes man tick and how to take control over the human body and brain for our own constructive benefit.
This is as close as it fucking gets. Seriously.
This will only be grazing the surface of a much deeper and broader body of knowledge wherein the "secrets" to the architecture of reality itself - man, the conscious observer and creator in the center seat - are revealed level-by-level to those who undergo the process.
With all that context established, here we go...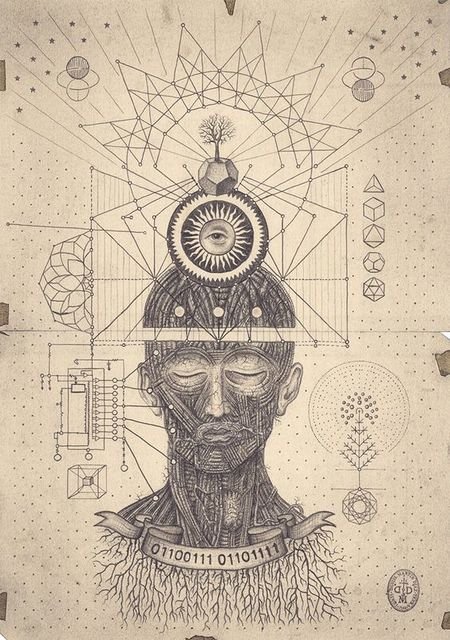 Photo credit: Daniel Martin Diaz
In all man's quests to understand the fundamental reasons for disease - and even death itself - he has overlooked one critical domain, wherein the answers he craves lie:
Memory.
Really, our modern-day doctors and scientists know infinitesimally little about exact how the dynamics of memory function in the integrated brain-body-genetic human vehicle.
Yet it is within these dynamics which the keys to unlocking our greatest potential - health, infinite intelligence, exponential performance enhancement, and perhaps even immortality - lie.
Simply put, our body-brain-genetic systems are memory processors and storage centers.
We input mass amounts of data - vibrational, chemical, emotional, informational, and sensory - process these different forms of energy through conversion circuits interlinking DNA, cellular protein synthesis, neurotransmissions, and brainwaves - and store these energies (both processed and unprocessed) simultaneously in our genetic coding and cellular tissue.
Here is the key...
Both processing and storage require energy.
Typically, more than is extracted and reintegrated into the system through the processing.
Day-by-day, as we use up more energy for storage than is converted for functional reuse, our energy levels deplete.
Consequentially, there is less and less energy available for fuelling the body's innate healing mechanisms. Senses begin to dull as there is less energy available to process input. The body descends further into survival mode, conserving its depleting energy reserves for basic functions until its systems break down and are unable to self-repair due to the lack of resources to regenerate healthily.
As Nas rhymed on Illmatic, Life's a bitch and then you die."
Of course, this is a highly simplified overview - and there are also infinite complexities as to how different diseases correspond systematically to the precise coding within a person's (genetic) memory system. However, at the core, this is the foundational principle at root of understanding disease, declining human performance, and death:
Our bodies are outdated, the equivalent of an old first-generation personal computer from the 80's: incapable of the processing power required to keep up with our daily flow of information input, too slow to run the conversions on incoming memory to free up the energy required to fully self-regenerate our physical bodies healthily and access the levels of senses & abilities possible were processing power and energy abundant.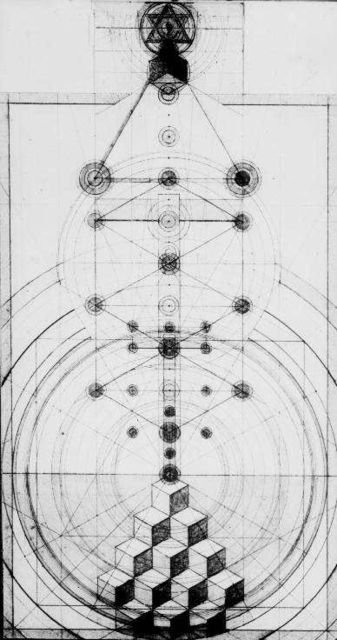 Within this framework, lie profound potentials.
For starters, a solutions-based approach to the challenges of the bodies' innate limitations on processing power and storage capacity could begin to preemptively create the conditions for increasing energy to healthily regenerate and self-heal - as well as process memory at root of disease.
Though beyond that... well, this is an entirely new domain.
What some have envisioned as cloud-based memory uploading is on the way - if not already here, awaiting to come to market. However, it may not come in the form of biosynthesis with some computer interface - though there are companies, scientists, and organizations working in that direction. Rather, what may come as an alternative is a completely different quantum system operating on networks of brainwaves already connecting the human bodies.
Considering possibilities of distributed, quantum-cloud-based processing power and memory storage - that infrastructural component may only the foundational layer for the development of applications for the human consciousness itself.
If that seems difficult to comprehend, it kind of is. Though at one time decades or centuries prior to the internet, if you had told people of the capabilities of what would come via its arrival and expansion into societal & cultural integration as it has today, people would probably look at you pretty oddly then too, unable to comprehend.
The field of epigenetics has been uncovering how external vibrational input alters our genetic code. And genetic modification technologies such as CRISPR are paving the way to programming genetic code in a lab. Yet, there are still yet realms to be explored as to how we may more directly tap into the quantum networks within which our DNA acts similarly to a receiver/transmitter and develop the abilities and capabilities to consciously interact with and direct the programming languages used within the architecture of creation itself to intentionally direct the projections of what is processed and extracted through our active memory.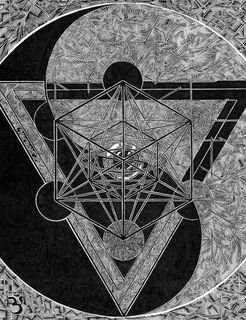 Consider...
The majority of mankind believes themselves to have only 5 senses, which pick up and translate a very narrow band of frequencies in comparison to the broader spectrum of what others exist simultaneously in the same space which they do not perceive...
Though what if the reason most people don't perceive what lies within different spectrums not because our brains/bodies don't have the potential to, but because the senses have not been activated - or most don't have the energy & processing power to convert additional data beyond what our bodies prioritize for survival needs?
Combine the conscious connection into a quantum network of distributed processing power and memory storage, with the potential for expanded senses and abilities to perceive frequency spectrums outside "the norm," plus the prospect of what types of programming could take place with access to control the dynamics of how memory is encoded, processed, and extracted out into the experience of reality...
Well, it's a fascinating ride ahead, we're in for...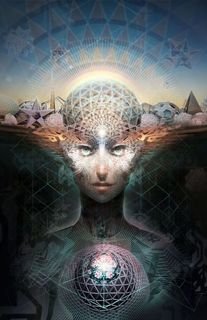 Photo credit: Android Jones