Orvium launches its Ambassadors Program
We make a living by what we get, but we make a life by what we give. — Winston Churchill
A strong community is the essence of any good project. Therefore, Orvium is thrilled to have an amazing community that supports us in our vision of a better future. With your support, we are able to spread out the word about Orvium and enhance people's knowledge of our product.
To reward our loyal supporters, we are proud to announce the launch of Orvium Ambassadors Program.
How does it work?
We have created a knowledge test that contains 10 questions. Starting today, everyone will have the opportunity to take the test and 10 people who perform the best will become our new Orvium Ambassadors. In case we have a tie score between members, the first 10 people who complete the test successfully will be chosen.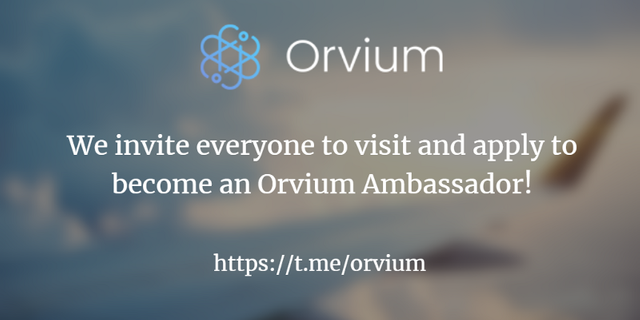 https://t.me/orvium
Once you become one of our Orvium Ambassadors you will enjoy a better rating within our community, and of course, a better bonus, based on your activity. The details of the program will be explained to the ten lucky winners :)
Apply here: https://www.flexiquiz.com/SC/RG?p=69d82dcc-46ff-4c2d-81bb-f169b7b8159f
(We will need to contact you, so please provide us with your real name and contact information)
Deadline: End of June 2018
Our Telegram link: https://t.me/orvium
Restrictions: Afghanistan, Belarus, Bosnia, Burundi, Central African Republic, Comoros, Congo, Eritrea, Guinea, Guinea-Bissau, Haiti, Iran, Iraq, Libya, Myanmar, North Korea, Puerto Rico, Somalia, Sudan North, Sudan South, Syria, Yemen, Zimbabwe, Philippines, Cuba, Mali, Tunisia, United States of America or any other US possession